Josef von Sternberg may have crafted his own goddess in the form of leggy, sunken-cheek-boned and languid Marlene Dietrich, but Marlene took his tutelage and made herself ... Marlene. With classic, otherworldly, baroque beauty, the Sternberg Dietrich duo created their iconic masterstrokes The Blue Angel, Dishonored, Shanghai Express, The Devil is a Woman, The Scarlet Empress and Blonde Venus. Though I love them all (all of them), Blonde Venus always stood out as the ultimate blonde-semble with Dietrich playing the full spectrum of dar superblondine.
Here's the flaxen facts: She's an ex-German café singer who marries a good-hearted Englishman. She's a happy hausfrau and adoring mother. And then she's a cabaret star and harlot (but of course!) who dances in a gorilla suit and becomes incredibly famous. You know, the whole blonde journey. The picture features two iconic blonde numbers with Miss Marlene in her famed white tux, tails and top hat and, quite unforgettably in a gorilla suit. In one of the movie's most gorgeously surreal moments, Marlene removes her gorilla head to reveal her blonde-haloed face, grabs a handy golden Afro wig, places it on her head and sings "Hot Voodoo." Describing this moment requires two words you don't often see together, but should: blonde genius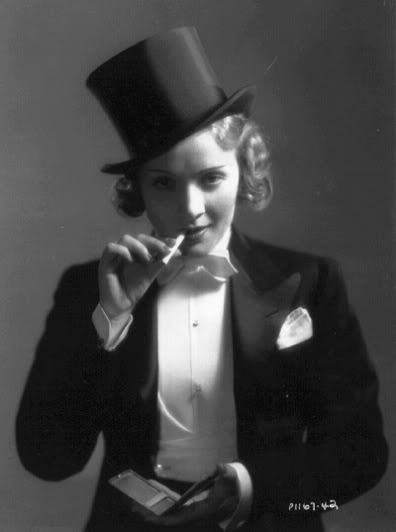 Since I'm in the middle of a brain freeze, and feeling like, as Dietrich famously sang, "the laziest gal in town," I'm returning to some otherwise reported Marlene mania, which usually consists of re-posting and re-watching everything Dietrich (from Desire to Destry, Rancho to Evil), breaking out her numerous albums (I love how she announces "Burt Back-RACK!"), and reading the uber Blonde's own personal dictionary entitled Marlene Dietrich's ABC. This is a keeper. I came across the "wit and wisdom of one of the world's most wonderful women" (say that like Marlene or Madeline Kahn ...) while working at a book store so many years back and it's become a bible.Originally published in 1961, the reference book (and it really is a reference book) contains random, but important words or terms met with Marlene's own special, specific definition.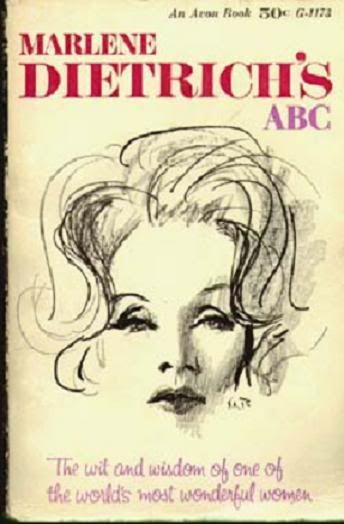 And it's all great stuff. You're not going to find the meaning of say, impugnable or dislogistic but you will find Suave: "I can get along very well without the use of this word." You'll also flip through to find Morocco: "Looks better in films." Credit System: "The American Tragedy." Hardware Store: "I'd rather go to the hardware store than the opera. And I like the opera." Medical Ethics: "They make me sick." Pouting: "I hate it, but men fall for it so go on and pout" and Necking: "a dirty pastime." (Oh Marlene, surely you mean good fun dirty?)
But within her specific list is this oh-so-true statement regarding a personal, now archaic junkie paradise, Stationery Stores: "People who adore stationery stores are like dope addicts about paper clips, paper clamps, felt tip pens ... paper ... thick stiff, hard, soft, rough, large like canvas, surfaces like linen or pigskin... I remember buying the most beautiful pale blue legal paper, which almost felt like silken blotting paper ... I look at it every once in a while and it sends me." Oh my goodness. You're actually making feel a tingle here. How she makes me long for carbon paper, manila envelopes and accordion files. Proof positive of her simultaneously mysterious and down-to-earth erotic potency, Marlene manages to make felt tip pens sound sexy.
This gem has been long out of print but look for it. Forget so many insulting self help tomes pandering to  women (and men) and simply turn to Miss Dietrich --  her movies, her records, her dictionary. You never know when you might need to quote, say, Dietrich's take on soda pop: "The gooey, bubbly sea drowning our American children." The charming, alarming blonde woman ... she's still right.