John Garfield and Palm Noir. Low key black and white in the hot, yellow-hued high desert. John Garfield meant a lot to me last year.  So, the 2010 Arthur Lyons Film Noir Festival was a special one -- not only did the festival break records with audiences soaking in all of that sun and sin, light and vice, early mornings and existential angst -- but I was able to introduce one of my favorite and important John Garfield movies, He Ran All the Way, rarely seen on the big screen. And the best: interviewing his daughter, Julie Garfield, who's become a great friend. 
This had been my third year presenting films and interviewing guests on stage, and my favorite year of all. Alongside peerless festival organizer, Alan K. Rode (author of "Charles McGraw: Biography of a Film Noir Tough Guy"), the esteemed Foster Hirsch, who penned the first Film Noir book I ever read, "The Dark Side of the Screen" (among other works -- and a person who reveres The Bad Seed even more than I do), and my Road House co-commentator/ partner in Widmark/Lupino love, writer, filmmaker and president of the Film Noir Foundation, Eddie Muller, the team was properly noir obsessed. 
Alan, nice man that he is, and perhaps, terrified knowing enough about my Garfield worship, that I might possibly throw a fit as big as Lana Turner's car meltdown in The Bad and the Beautiful had I not presented the picture (I also, as guest programmer, introduced and discussed the film on Turner Classic Movies just last October), let me take on He Ran All the Way with Julie --  acclaimed stage actress, teacher and all around fascinating woman.  So thanks to the Film Noir Foundation for taping our interview (and check out the video on their site as well). After a late night and some hard theater lights set to the Stanley Kowalski "Let's taunt Blanche with a naked light bulb" meter (holy christ ... over-imbibing on noir makes for an appropriate hung-over look -- I say this because I know Julie will agree, though she looks smashing, but again, it's fitting), here's our interview, divided into four parts.
My Introduction:
Julie on John Garfield's troubled youth, his parents, his mentor and the rheumatic fever that would cause his heart problems:
Julie on Garfield in the Group Theater, Garfield's pre-Brando type of raw, rugged, realness on screen, The Postman, his patriotism, the Blacklist and his job as diaphragm salesman:

Julie on Joan Crawford, Garfield's infidelity, her favorite roles, HUAC's hounding, renewed interest in the star, and a beautiful quote from He Ran All the Way director John Berry:
Discussing the movie, her father and his life, Julie (on stage and off) is what I imagine her dad was like. Fiercely intelligent, down to earth, funny, warm, and charming as hell. If ever a woman is charismatic enough to play De Niro's wife in Goodfellas (and to make that much of an impression when Ray Liotta's Henry Hill testifies against him in court -- that look she gives!), it is Julie. It's impossible not to fall in love with her.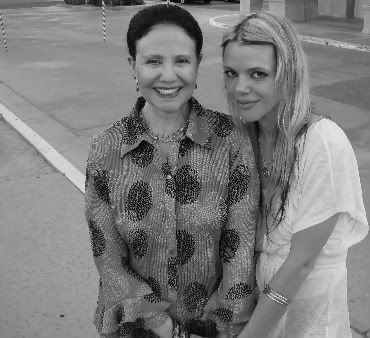 There was the power of the film, its  history and the real life tragedy of Garfield, and then Julie, sitting next to me. She had never seen her father's final film on the big screen, and experiencing her taking in daddy so beautifully shot by James Wong Howe, and his tough, vulnerable, wounded, complicated performance, his last performance, was especially moving. An experience I will never forget.
Mulit-faceted actor that he was, Garfield was, clearly, a noir icon, so with that in mind, please contribute to the For the Love of Film (Noir) Blogathon hosted by the inimitable Self-Styled Siren and Ferdy on Films. Bloggers will contribute, and more should contribute so readers and film lovers can donate to the Film Noir Foundation's restoration of the 1950 noir THE SOUND OF FURY. Please read more at the Siren.