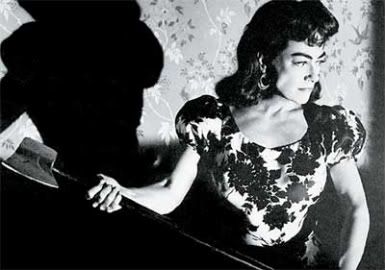 When iconic horror auteur/B-movie producer/shock pioneer William Castle approached Miss Mildred Pierce/Oscar winner/sensitive shopgirl/demented diva Joan Crawford about his newest project, Strait-Jacket, he explained that, she, the star would play a woman in her Fifties. "Forties" was Joan's quick, curt response, even though in 1964, the larger-than-life part-woman, part-gargoyle (beautiful gargoyle) was a ripe 60. Fine, fine, fine. Castle conceded anything for Ms. Crawford.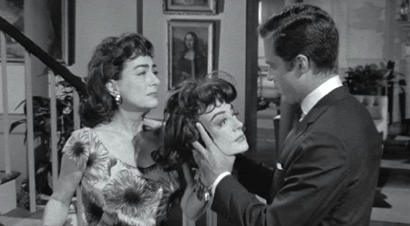 A mean-spirited, yet surprisingly moving offshoot of superior psycho-hag masterpieces like Robert Aldrich's Whatever Happened to Baby Jane, Strait-Jacket (scripted by Psycho's Robert Bloch) was really a Crawford-approved vehicle, right down to the lighting (of course), the hiring, and the firing -- namely of her first co-star. As told in Battle-Ax: The Making of Strait-Jacket (included on the DVD), Crawford didn't take to the first luscious, young thing who played her daughter, and so had her swiftly (ahem) axed from the project. No one in the documentary says why Joan didn't get on with the woman exactly (though Peter Nellhaus wrote me that in Spine Tingler! The William Castle Story, actres Anne Helm claims she was fired for addressing Joan as, "Joan" and not  "Miss Crawford"), but possibly Miss Crawford wanted a statelier gal, hence the casting of the lovely Diane Baker (so arch eyed and naughty kittenish in Hitchcock's Marnie).
We also get a nice glimpse into the talented, vizard charisma that is Joan in the DVD's other special feature --  her fabulous costume and makeup tests. She's in full character, smoking sexily, believing, as every great actress should, that she is the hottest thing in high heels (and don't you forget about it). Smiling, smirking, swiveling that swimming/jogging/comet-cleansing bod in padded bra and pretty pumps, jangling her charm bracelet around all come-hither-boys, she reminds me of Bette Davis's Margaret Elliot from The Star -- no one's gonna tell her to play dumpy hausfrau. That decision didn't work out so well for Bette's Margaret (spectacularly so, The Star stands as one of Davis's finest performances of embarrassingly brutal honesty); but it did for Joan, even when screeching through a mental ward.
Particularly in later years, Crawford the star and Crawford the woman never wandered far from each other, making her alternately brilliant and terrifically terrifying. Stare at these tests and you'll knows that she's one of the most fascinating self-inventions ever to grace, or rather, claw her way across the silver screen. If you watch it numerous times (like I have), you just can't help but adore how wonderfully insane she seems. Whatever happened to actresses like Joan? They died off  --  torn away, like the old hat once resting atop the Brown Derby, dialed down like push button over rotary.
In the new, rather confused American cinema of the 60s, Strait-Jacket is the procession towards that funeral, and Joan as Lucy is poignant, scary, and yes, funny with her portrayal of a woman who, naturally, loses her mind after she finds her younger husband in bed with another girl. What to do? Grab an ax (yes, you'll think of Faye Dunaway yelling "Tina bring me the ax!") and hack the lovers to bloody hell while her young daughter looks on. Not the best idea, so she's then shoved into a mental institution (a screaming Joan is truly horrifying and sad) and is finally freed after a 20-year sentence. Upon release, she moves in with her brother, who in a sick irony not lost on St. Frances fans, is played by Leif Erickson (Frances Farmer's ex-husband. One wonders if any guilt drifted across his mind while reading the nutty script).
More importantly, her daughter (Baker), now a grown woman and sculptress,  re-unites with her tentative, insecure mother and helps her along the path of recovery. And her help is...interesting. She even gives Mama Joan a makeover to look exactly as she did when she hacked off her husband's head -- something that's just a little more than unhealthy. And then similar ax-murders begin popping up all over town. Hmm... No surprises will be given away here, but Strait-Jacket, though simple and crafted for shock, marks you deeper than you'd expect. As talented as William Castle is, that's all thanks to Ms. Crawford -- and he knew it.
Joan is just so...touching. I love Crawford (especially in pictures like The Unknown, Rain, The Women, A Woman's Face, Humoresque, Sudden Fear, Mildred Pierce, Autumn Leaves and all of her early flapper turned shopgirl roles, in which the harshness of her past, hard scrabble life resonates so poignantly), and even in such so-called exploitative fare, the actress is always excellent and fascinating to watch. In her transition from saucy lady to crazy broad to shy hausfrau to delusional sexpot (her weird come-on to her daughter's boyfriend is deliciously inappropriate while being strangely erotic), she's not as hammy as you'd think, encapsulating what it means to be Joan in one powerfhouse performance.
Aided by suspenseful pacing, an intriguing story and cheap-o, yet effective Castle effects, the picture is freaky sinister, moving and dream-like with its fake heads, blood-squirting necks and be-headings via lovingly manicured hands and strong arms bedecked with sparkling bracelets. It's not real imagery entirely (whatever that means), but real imagery that wakes you up from a nightmare -- like something Joan would dream while thinking of ways to off Jack Palance and Gloria Grahame in Sudden Fear (or perhaps rival Bette Davis and Franchot Tone in waking life). It's real, unreal, garish, aggressive and at times, strangely honest -- just like Joan. A messy house/mind made alarmingly perfect.