This doesn't ruin the end of my short, "Bing & Bela" directed by Guy Maddin, but...I choose Bing.
I love Bing. I love Bela. And I love Frank. But there are days I love/revere/ am captivated by Bing the most. Today is one of those days.
There's a wonderful moment in the musical High Society during which Bing Crosby and Frank Sinatra sing an especially rousing version of Cole Porter's "Well, Did You Evah!"-- a moment I've watched too many times to count. Midway through the charming, inebriated song, in which two "swellegant" party pals swap banter, dish on guests and form a dipsomaniacal camaraderie, Crosby croons to Sinatra with his distinctive "ba ba ba boom" and Sinatra jokes, "Don't dig that kind of crooning, chum." "You must be one of the newer fellows," Crosby answers back.
The idea of Sinatra being one of the "newer fellows" is amusing since, in 1956 (when the picture was released), the big-band, and balladeer musical style of crooning was already on the wane. Sinatra was well on his way to becoming the elder-statesman Chairman of the Board, Elvis would be anointed the King of Rock 'n' Roll and Bing would be … Bing.
Not that anyone would ever forget Bing Crosby. The crooner, born in Tacoma, Washington, had been cinema's number one box-office draw from 1944 to 1948 and was an enormous, multi-talented star -- radio, recordings and motion pictures all earning him legions of adoring fans. And like another famous crooner who would count him as an influence (Dean Martin), Crosby had his own cinematic comedy team, making the frequently funny (and underrated) "road" movies with wise-acre Bob Hope. He even won an Academy Award (for Going My Way) and received another nomination for his alcoholic role in The Country Girl.
There's no denying that Crosby was and is big time. And yet … why does he feel just a little slighted through the years? Like the only moment we enjoy his music is once a year, when we roll out "White Christmas" from our holiday collection of old standards?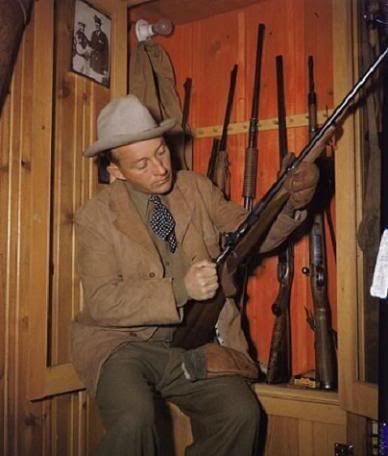 Perhaps it's just how antiquated his music sounds today -- beautifully, mysteriously antiquated, like something emerging from a dream….or a nightmare. In either moody reverie, when listening to the brilliant baritone sing "Pennies From Heaven," "Ol' Man River" or "Swinging on a Star," you feel the music form around you, as if you're riding on an ethereal echo chamber of air coming from a million miles away. It's spacey, creepy and charming all at once. Which perfectly explains how effective the song "Mairzy Dotes" becomes in David Lynch's Twin Peaks, when daughter-murdering, Bob-haunted Leland Palmer crazily sings it in the midst of his meltdowns. And then there was that pairing of the two Thin White Dukes -- Bowie and Bing dueting "Peace On Earth/Little Drummer Boy" -- ideal.  These were two sexy space aliens keeping Christmas a little bit Christian and a little bit…pagan. As much as I love Frank Sinatra, this kind of cross generational extraterrestrial-ness could have only been created with Crosby.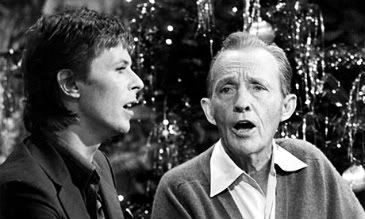 All of these elements of Crosby are so marvelously powerful, that his music remains (particularly his earlier recordings) ever haunting, ever romantic and, in some instances, ever celestial. As musicologist J.T.H. Mize put it, Crosby could "melt a tone away, scoop it flat and sliding up to the eventual pitch as a glissando, sometimes sting a note right on the button, and take diphthongs for long musical rides." In short, Crosby sends me. He always does. And not only at Christmas time. Right now, actually.