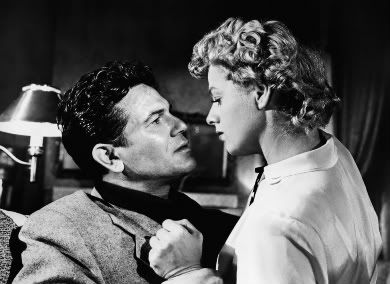 Palm Noir. Low key black and white in the hot yellow high desert. The Arthur Lyons Film Noir Festival has ended. The festival broke records this year with audiences soaking in all of that sun and sin, light and vice, early mornings and existential angst. Murder among the palm trees was actually, quite perfect. 
Stumbling out of Joseph Losey's revenge-for-father noir, The Big Night (starring a teenage John Drew Barrymore), before 12 noon felt fittingly surreal. By the time the festival closed with a fallen Mickey Rooney offing two crooks on a dark Malibu beach (Richard Quine's Drive A Crooked Road), it all seemed so terribly normal. If, at that point, Gloria Grahame had attempted to steal my coat in a cafeteria (a la The Glass Wall), I would have simply handed it to her.
This was my third year presenting films and interviewing guests on stage, and my favorite year of all. Alongside my mentors, peerless festival organizer, Alan K. Rode (author of "Charles McGraw: Biography of a Film Noir Tough Guy"), the esteemed Foster Hirsch, who penned the first Film Noir book I ever read, "The Dark Side of the Screen" (among other works-- and a person who loves The Bad Seed even more than I do), and my Road House co-commentator/ partner in Lupino/Widmark worship, writer, filmmaker and president of the Film Noir Foundation, Eddie Muller, the team was properly noir obsessed. Guests included June Lockhart, Ann Robinson, Tommy Cook, Don Murray and an almost alarmingly youthful Ernest Borgnine. The man is 93-years old, and had no problems talking Chayefsky and Peckinpah, Holden and Marvin, and, of course, the picture screened, Pay or Die. What a movie. What a title.
And then there was Julie Garfield, acclaimed stage actress, teacher, and daughter of the brilliant John Garfield. Garfield, who tragically died at age 39 shortly after being blacklisted by the shameful House Un-American Activities Committee (HUAC), was a man of honor, a tough kid from Brooklyn and the Bronx, and a patriot, who heroically refused to name names. He was also a genius. The picture I presented was one of his greatest, and his last movie before he passed away -- He Ran All the Way (1951). A movie made by many victims of the blacklist, including director John Berry and co-writers Hugo Butler and Dalton Trumbo (who was jailed as one of the "Hollywood Ten"), the story of a criminal on the lam, a desperate man, a man in a panic who takes a family hostage only to be tortured by his conscience and the cold hands of fate, held extra resonance. There was the power of the film itself, the history and real life tragedy of its star, and then Julie sitting next to me. She had never seen her father's final film on the big screen, and experiencing her taking in daddy so beautifully shot by James Wong Howe, and his tough, vulnerable, wounded, complicated performance was especially moving. 
Discussing the movie, her father and his life, from the kindness of New York educator Angelo Patri, who mentored the young, troubled kid Garfield and led him into acting, to the evils of HUAC, Julie (on stage and off) is what I imagine her dad was like. Fiercely intelligent, down to earth, funny, warm, and charming as hell -- a one-of-a-kind. If ever a woman is charismatic enough to play De Niro's wife in Goodfellas (and to make that much of an impression when Ray Liotta's Henry Hill testifies against him in court -- that look she gives!), it is Julie. It's impossible not to fall in love with her. If you think I'm going overboard, I'm not. Whatever it is, whether movies, music, art, books, animals and people -- when I like something this much, I don't mess around with my feelings.
And, clearly on my end, the same goes for my feelings toward the fantastic Mr. Garfield. As I have asked before, why isn't he supremely famous? A household name? Why isn't he better recognized? For reasons I cannot decipher, this brilliant, brooding, gorgeous actor, the innovator of the Method, though well respected by those who know better, isn't the legend a la Bogart, Clift, Brando or Dean. This massive talent with genuine bad-boy street cred (he was born Julius Garfinkle -- but everyone called him Julie) was a huge star in his day, so much so that his 1952 funeral was attended by more folks than Rudolph Valentino's ceremony.  Where's his damn box set?
And again, as I've written so many times, if you've never seen a John Garfield performance, you have been (in a supreme understatement) missing out. If you've only watched one or two, you're sorely behind. If you need to catch up, check (among many other pictures) his intense, oftentimes roughly romantic and edgy performances in movies such as Gentlemen's Agreement, They Made Me a Criminal, The Postman Always Rings Twice, Body and Soul, Force of Evil, The Breaking Point (the superior version of Hemingway's To Have and Have Not), Nobody Lives Forever, Humoresque, Flowing Gold, Between Two Worlds, We Were Strangers and (of course) He Ran All the Way.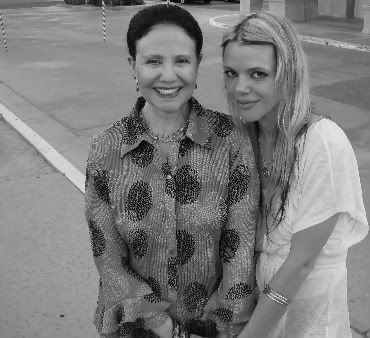 So, au revoir Palm Springs. Until next year. And thank you Julie Garfield for being so open and passionate  not only about your father and his work, but about life in general. And an extra special thanks for telling the audience about one of your dad's early jobs -- as a door-to-door diaphragm salesman. That's correct. John Garfield knocked on doors and sold contraceptives to women. Now that is just too much. As I said on stage, I'm sure his sales were very, very good.



Note: As a guest programmer for Turner Classic Movies, I picked He Ran All the Way as one of my choices. It was never released on VHS or DVD and is, sadly, rarely seen. So make sure to watch it. I'll let you know when the movie and discussion with Robert Osborne airs, sometime this fall.