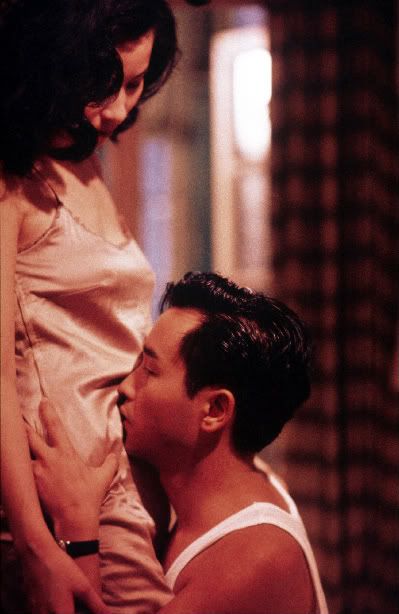 Leslie Cheung yearns for his mother.
Like some New-Wave Proust, Hong Kong filmmaker Wong Kar-Wai has managed, over a 20-year career, to make the concept of time almost tangible. "Almost" because in all his films, memory is both garishly lucid and seductively elusive -- a combination as maddening as it is voluptuous. Just like the romance and heartbreak so minutely observed in all of Wong's movies, the obsession with time (his, ours and the characters') always goes unrequited. Memories overtake you, please or even teach you, but with reverie come the depressing reminders that time marches on.
You will lose that era, you will lose that youth, and you will lose that boy. Or that girl. You will lose them.
This is the cinematic power of Wong Kar-Wai, a director who is able to make you tear up over a single glance or a stolen moment. And, forgive the mention of Proust again, but like that madeleine unleashing a flood of reminiscences, Wong works the elements of his aesthetic -- music, beautiful people and emotion -- into a mood that so overtakes you it's nearly impossible to emerge from his pictures without feeling slightly drunk.
Wong turns me dipsomaniacal with his 1991 Days of Being Wild, a period piece set in 1960 that not only toys with time and memories, but causes the viewer to do the very same. It has been over a decade, after all, since the picture first played, briefly, on a few U.S. screens, and Wong's actors  -- Leslie Cheung, Maggie Cheung, Andy Lau and Carina Lau -- are older now. One, even is dead. Pop star Leslie Cheung committed suicide in April 2003. Not surprisingly, his death gives the picture an extra twinge of transitory poignancy. Why, dammit?  
It's stirring to see Leslie Cheung so handsome, so alive, so cinematic, as the rootless bad boy and philanderer Yuddy, adopted in his infancy by a powdered and spangled courtesan (Tita Muñoz), searching for both the freedom of flight and the stability he hopes will come after finding his real mother. His cynical attitude toward amour will, over the course of the movie, leave two women brokenhearted. One of them, Su Lizhen, a shy cashier at a sports-stadium snack bar (Maggie Cheung), at first resists Yuddy's advances, but inevitably falls for him after he proclaims that she will see him that night in her dreams. When she informs him the next day, "I didn't see you in my dreams last night," his cocksure reply is "Of course not. You didn't sleep."
A short time later, and just as suddenly (Su Lizhen has started making noises about wanting to get married...not for him), the union dissolves, and Yuddy impulsively takes up with the more outspoken, though just as susceptible and possessive, cooch dancer Leung Fung-Ying (Carina Lau). But as Yuddy stated to Su Lizhen, there will be many women in his life --  how can he settle for just one? Don't stay with Yuddy. As he tells both women, you'll only ruin your life. And yet, while Yuddy is no typical romantic, he's certainly quixotic. He wants his mother. And his search for her suggests that he is, in fact, looking for love -- the love of one woman.
The first film to be shot for Wong by ace Australian cinematographer Christopher Doyle, Days of Being Wild is a mélange of vibrant colors set against deep, noirish shadows and claustrophobic locales. Told achronologically, the story flashes back through lush jungles, small, humid apartments, rain-soaked streets and unoccupied telephone booths. As in Wong's peerless 2000 film In the Mood for Love (a picture that, along with Wong's 2046, works as a companion piece to Days), its '60s setting is nostalgic, but not in conventional terms. Though Wong denotes a sentimental longing for the past, his films are almost fetishistic in their fixation on time. Days feels exciting, in part, because you are watching an auteur lay the groundwork --  with an assortment of clocks, watches and meticulously detailed moments -- for ideas and moods he will obsessively follow in later films.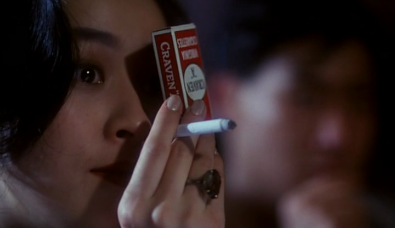 At one point, Yuddy tells Su Lizhen that they will become "60-second friends," and those 60 seconds remind us of how we can feel most alive in the moment, when the time is now, and we are living out our youth and love with a kind of urgency. The Wild characters move like the gorgeous, haunting Django Reinhardt music piping through the celluloid, beautifully but mournfully, and with ghostlike delicacy. With Wong's creations, as with anything truly precious (time passing, love passing), comes the fear of evaporation.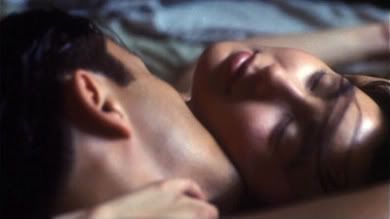 You can hang on to the "maybe" (maybe it will last) or, as in Nat King Cole's plaintive musical refrain to In the Mood for Love, a more fragile "Quizas, Quizas, Quizas." Perhaps.