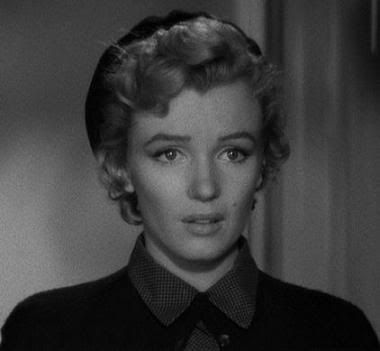 After discussing this performance as one of my favorite Marilyn Monroe roles, I'm revisiting "Don't Bother to Knock," a movie that not only boasts Monroe's skills, but a wonderfully nuanced Richard Widmark as well.
Oh, Marilyn. I know, I know, we all love Marilyn Monroe (or we're supposed to) but I'm not going to stray from Norma Jean simply because she's so popular. The tragic princess to every aspiring starlet or little girl or grown woman is our coffee mugged goddess, so ubiquitous that, I think, we sometimes take her for granted. Especially in her early and later roles (my two favorite periods for Marilyn). From the fresh faced, sublimely natural starlet sporting jeans in Fritz Lang's Clash By Night, to the methody, tired, tragic and lonely lady of John Huston's The Misfits, I find Marilyn's first and last hopes at proving herself on screen immensely powerful.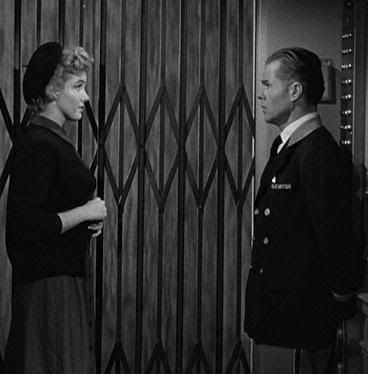 Such is the case in Monroe's first starring vehicle, 1952's Don't Bother to Knock. There's a prophetic sadness permeating her moving, fascinating performance, and for a picture of this period, her delusional babysitter (freshly released from an insane asylum) is surprisingly sympathetic. Knowing all we do about the troubled star, it most likely wasn't a stretch for the then-relative newcomer to understand the pathology and despondency of her character Nell, a beautiful young woman burned by love who can't handle the breach between reality and fiction. A film noir of sorts, director Roy Baker's part-thriller, part-character-study is a tense tale with plenty of pathos geared toward Marilyn, who wasn't the full-blown MM superstar yet. As Nell, a mysterious girl who takes on a babysitting job in a hotel (the hotel locale, with its windows, elevators, phones and speaker system is used brilliantly here) where her creepy, sad-sack uncle (the great Elisha Cook Jr. -- perfect casting) works, Monroe enters the picture in plain clothes, darker blonde hair, and little makeup. Though she's no plain-Jane, she looks like a "nice girl" -- nice enough for hotel guests the Joneses (played by Jim Backus and Lurene Tuttle) to allow a stranger to watch over their cute little daughter Bunny (Donna Corcoran). After quickly putting the girl to bed (clearly she's not interested in the kid), Nell plays dress-up in Mrs. Jones' fine silk robe, perfume, and diamond jewelry. Norma Jean no more. Oh, to be glamorous.
Meanwhile, cocky, self-absorbed airline pilot Jedd Towers (a layered, and sexy Richard Widmark) is stinging from rejection after the hotel chanteuse (a young, gorgeous Anne Bancroft) dumps him.  Spying the beautiful Nell from his window to hers (in an incredibly erotic flirtation) he finds some new action when lonely Nell signals him from her room. He comes over for a good time, likes what he sees, and puts up with her strange behavior until it gets a little too freaky, a little too desperate, a little too sad. When she comes on strong, something most men would dream of, he exclaims, confused and annoyed: "You bother me! I can't figure you out! You're silk on one side and sandpaper on the other!" MM answers all breathless tragic: "I'll be whatever you want me to be!" Well, this is just too strange, especially from a woman this beautiful. And so he asks the sensible, though perplexed question:  "Why?" Indeed. A man, even Richard Widmark, even Tommy Udo Richard Widmark (well...maybe that's a stretch) can only take so much, and so, when Nell hangs Bunny out of the hotel window, he really starts thinking she might not be worth the tumble. But here's the poignant part -- Nell doesn't really mean any harm. She's disturbed, frequently suicidal, something terrible happened to this poor woman. She needs help. And here's a novel idea -- she desires a man to take care of her without hitting her for seeming odd, or hollering at her desire to look gorgeous. She should be normal dammit!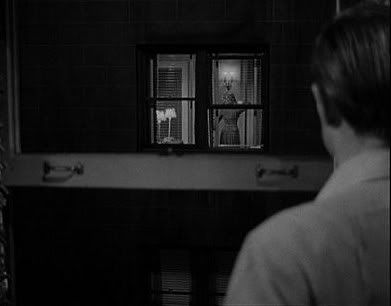 But, why? Why must women have to be so normal? Though suffering from deep-seated psychological problems that need to be addressed by professionals (but not in an asylum, where Monroe's mother landed in real life, and later, for a spell, Monroe), I sense that it's this type of "normal" pressure that's making her crack (the punishing and smarmy Cook Jr. doesn't help either). Monroe portrays these pressures with beautiful soulfulness, so much so, that I wondered how much of her real life was seeping into her performance. I kept wishing that she could just get out of that hotel, doll herself up and have some fun with a man who might understand her, or a woman for that matter (Thelma Ritter, Monty Clift and Clark Gable would come so much later). Widmark isn't really the one, even though underneath his smirk and swagger, he's essentially a good heart for not taking advantage of this broken woman.  But then, the moral of the story comes at Nell's expense  -- Widmark's Jedd becomes a better, more decent man by not giving into temptation with a supposed psycho (which, in Widmark's strong, able hands, is entirely believable). And so Nell will stay Nell. Nuts. Poor Nell, and poor Marilyn. In real life, most men wouldn't be sensitive enough to resist. And those Uncle Elisha Cook Jr.'s are  everywhere.