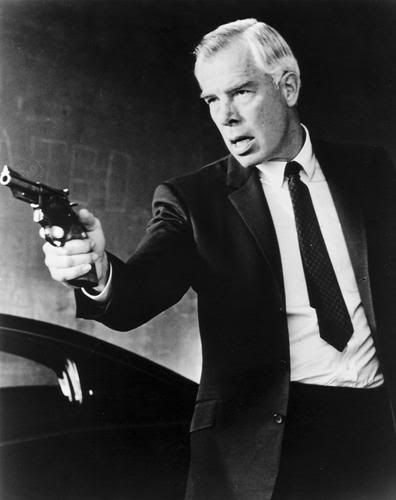 How did I miss Lee Marvin's birthday last Friday? The tough tender odd sexy soulful icy icon would have turned 86, February 19. With that, I'm returning to Lee Marvin in Point Blank, one of his sexy deep freeze finest. I also love the man in Michael Ritchie's Prime Cut, but that's another column...

Is Lee Marvin the coolest man to ever walk the earth? Today, as I write this, directly after rewatching his detached though complicated, gloriously glacial though substantially obsessed badass gangster in John Boorman's neo-noir Point Blank, I am saying yes. In my world, Lee Marvin is the grand master, the most deserving mac daddy, the top dog, numero-uno recipient in my own personal cool-cat contest. And he's so cool that if he were alive to read this now, he would have cared less. Cool guys can't be bothered with such silly, effusive honors.
Of course, I might change my mind tomorrow (after all, there are those other kings of cool swaggering through cinema --  Robert Mitchum, Steve McQueen, Alain Delon, Humphrey Bogart, Toshiro Mifune, John Garfield, Lee Van Cleef…oh Lee Van Cleef… and so on) and my purpose here isn't ranking chill factor, it's discussing Marvin as tough guy. But I can't talk Marvin without regarding his late-'60s, early-'70s hep-a-tude, especially since Marvin's deep freeze was what made him so potently formidable in 1967's Point Blank  --  a movie that spins its tough-guy protagonist to the existential limit.
The story is simple, yet layered with all kinds of mystery. Marvin plays Walker, a man who was deceived, robbed and left for dead by his evil former bosses. Returning from the wreckage of his past, he storms through a slick, sick Los Angeles seeking payback for his money and his life, enacting all sorts of violent vengeance on any sorry sap getting in his way. That $93,000 his bosses owe will be met with blood, guts and an agenda that's obvious but compellingly peculiar. Marvin is a hulking force of icy bloodlust, a man so filled with rage that he's numbed himself  --  almost into a zombie. Inside, he's half dead, and obtaining all that money ("I want my money!") is the only way he might possibly reanimate the near-Frankenstein he's become.
I say near monster because, in Marvin's hands (and in his fantastic squinty eyes, his wonderful early-to-age white hair and his deep, rich voice), there's a tortured, emotional soul underneath his frighteningly unflappable exterior. You can't become tough without a little pain, and Marvin's Walker has felt pain. And this deeply embedded despair heats up his thick-skinned reserve with a potent blend of savagery and sexuality.  When Marvin simply stands while hot-headed babe Angie Dickinson smacks the shit out of him with her purse and then her flailing hands and slaps, it's a sizzling overload of detachment, violence and sexual aggravation that ends with an exhausted Dickinson simply giving up. Or giving in -- an angry lady orgasm in a heap on the floor. Why I find this both hilarious and hot only lends to the picture's sometimes bewildering power and turbulent eroticism.
And what happens following her fit? He ambles upstairs and watches TV. Yes, only the imperturbable Lee Marvin makes handling the television appear almost as cool as a handling his gat. As a postmodern noir, Marvin sitting in front of the tube following Angie Dickinson's fury, frustration and fever seems perfectly, absurdly appropriate. And unlike many modern films, one is actually excited (though a little terrified, but in a good way) for the make-up sex. And that will be pretty damn spectacular.