It's that screwy, depressing time of year again. The holidays. And they are almost over -- thank God, Satan, Lars Von Trier, Werner Herzog, whomever. I'm sticking with Lars. I despise New Year's Eve parties, so I'm all set for the New Year, 2010 -- safely tucked away in a sleeper car on the train. I'll be ringing in the new decade somewhere in the middle of Mount Shasta. 
So, rather than ponder the year ahead, I'm looking at movies -- those celluloid dreamscapes that offer fantasy, reality or a potent mixture of the two (or just that depressing party hat). And with eight pictures, we have some memorable New Year's moments -- moments many of us can relate to, become inspired by, feel disturbed over, dream, yearn, love, desire, kill or…give our brother a big kiss, particularly if he's named Fredo. Chaos reigns.
Bitter Moon (1992)
Roman Polanski's (oh, Roman, you were a big part of my life this year) boozy, bitter, sexually manic ode to demented dysfunction remains one of the most underrated, misunderstood pictures in his brilliant career, a movie that makes one laugh as much as it horrifies, titillates and illuminates. It's also a movie one can identify with (either literally or one hopes, allegorically, though that's not always the case in life) which might be part of the reason so many viewer's were turned off by it. Which couple do you relate to? The "nice" couple is Hugh Grant and Kirsten Scott Thomas, a handsome, respectable British pair, enjoying a cheesy cruise, making the most of whatever excitement is left in their marriage. The twisted duo is a failed and rather hacky novelist (an inspired Peter Coyote) and his French, mysterious, sex-bomb of a wife (Emmanuelle Seigner, Polanski's real life wife) whose story becomes Grant's main obsession as he listens to Coyote describe every detail of his relationship. And I mean every detail (barnyard sex stuff, urination, etc.). As a result, Grant falls for Coyote's wife, and so makes his somewhat pathetic play on (yes) New Year's Eve. During the boat's party, Seigner dances with almost obnoxiously seductive abandon ensnaring not Grant (whom she rejects as he ridiculously prances towards her) but in the picture's twist, Grant's wife. It's a wonderfully exciting moment of Sapphic sensuality, but one that'll lead to shocking tragedy. I don't want to ruin the entire surprise, so I'll just say --  the New Year comes in with a big, double bang.
Il Posto (1961)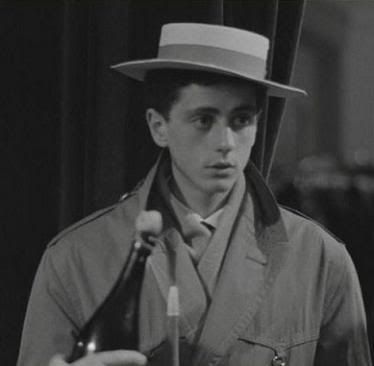 Italian Neo-Realist filmmaker Ermanno Olmi displays those little heartbreaks that lead people to inspiration or desperation with a beguiling combination of warmth and melancholia. An auteur whose attention to the small details of everyday life created quiet character studies of tedium, irony, hilarity, and sadness, he had a marked quality of making the hum-drum almost fantastical. Reality depends on how you look at it, and his aggressively common depictions also contained an element of Kafkaesque torture. So what better day than New Year's Eve will we see the most touching blend of the director's strengths in his masterful Il Posto, a film that observed a job ("Il Posto" means "The Job") through the eyes of a teenager (the saucer-eyed and languid non-professional actor Sandro Panseri) entering the work-force. After conforming at his job, it's at a New Year's Eve party that the teen will let loose, surrounded by the dreary commonality of his future. Though he hopes to meet the pretty woman he's smitten with, he instead enters this rather flavorless party, and shares a table with an older couple. As the evening opens up and revelers have downed some liquids, the shy young man lets himself go while dancing, smiling, resigned to his sure night of single-dom. The fact that he's momentarily happy, widening his usual placid face with toothy grins and jumping in a circle with other party-goers, makes the sequence all the more heartbreaking. Especially since the New Year brings a new position, as well as a potentially endless life of staring at a co-worker's head in front of him.
Rosemary's Baby (1968)
Though the New Year's Eve moment in Roman Polanski's (yes, more Roman) classic horror movie is brief, it provides an important transition for lead character Rosemary and her attempts towards personal freedom. Those attempts will be in vain of course, but at least she tries which, again, makes her situation incredibly sad (again, "demonized" Polanski makes one of the most touching stories about a woman). You know the story -- young mother-to-be Rosemary (Mia Farrow) has been impregnated with the child of Satan after her husband, Guy (John Cassavetes) strikes a deal with their eccentric, Devil worshiping neighbor's The Castavets  (Sydney Blackmer and Ruth Gordon). Rosemary's been on board with all of the Castavet's pregnancy tips, even agreeing to switch to Dr. Sapirstein (played by a condescendingly evil Ralph Bellamy), resulting in an unusual painful pregnancy. At the Castavet's New Year's Eve party, Rosemary informs Sapirstein of both her intense pain, and unknowingly, the horrible situation she's innocently stumbled into:  "It's like a wire inside me getting tighter and tighter." After assuring her she'll be fine, Roman Castavet rings in the New Year with this frightening exclamation: "To 1966! To Year One!" Cut to Rosemary catching herself eating a piece of raw meat in the kitchen and thinking, something is very, very wrong here. But as I always say (when making any decision) what will Dr. Saperstein think? Poor Rosemary, her year will only get worse.
The Apartment (1960)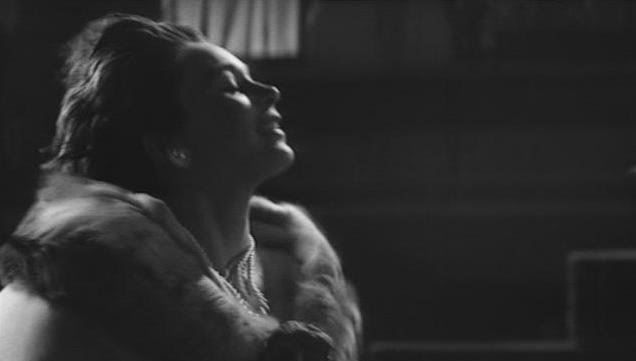 Billy Wilder's Oscar-winning dark comedy laid the groundwork for the running-to-your-beloved scene copied in later films like When Harry Met Sally and later, Cameron Crowe's Jerry Maguire. Here, it's lovable, squirrely Jack Lemmon receiving the run-to-you treatment, and he deserves it. As the too-nice office worker attempting to climb the corporate ladder, while being used by his sleazy bosses for his apartment (they cheat on their wives in his cozy bachelor pad), nice guy Lemmon falls for one of the "other women" (Shirley MacLaine) --  a flawed but ultimately warm human being who deserves to be treated with much more respect than cad Fred MacMurray is giving her. It's during an especially depressing New Year's when she comes to terms with how much of a heel MacMurray is and (duh) how sweet Lemmon is.  Running out of her New Year's celebration, she pulls the iconic movie moment of rushing to Lemmon's apartment (where he sits alone) with smiles and tears in her eyes – she's done the right thing. And it's blissfully powerful -- especially when MacLaine's response to Lemmon's affirmation of amour is simply "Shut up and deal."
Sunset Boulevard (1950)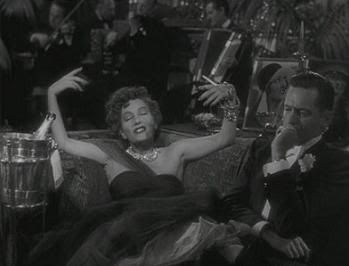 There are certain critics (no, not all, but there are some...) who believe Billy Wilder was cruel towards his characters, even blithely contemptuous of them, but I say he was merely a realist about the human condition. And as such, he was sympathetic towards his creations -- warts, scars, cigarette burns and all. Nowhere is this more apparent than in his masterpiece, Sunset Boulevard, and especially during its important New Year's Eve sequence. It's here where we manage to feel sorry for both of the potentially despicable protagonists.  Washed up silent screen star Norma Desmond (Gloria Swanson) with her deranged, desperate attempts to re-enter pictures (for all "those wonderful people out there in the dark") has brought forth a younger, struggling screenwriter-turned hustler Joe (William Holden) and he's become her kept boy -- living in her rambling, ultra bizarre mansion (but gorgeous) off Sunset Boulevard. He kids himself that he's something of a writing partner, but he realizes the depth of his situation on New Year's Eve, when his grand party turns out to be a waxed dance floor consisting of…Norma Desmond.  This "sad, embarrassing revelation" -- that he's the lone guest causes him to flee from a night in which he feels "caught like the cigarette in that contraption on her finger."  He runs to a "regular" party, with people his own age and excitedly makes the decision to leave Norma but… he learns that she's attempted suicide. With pangs of guilt, he returns, telling her, "You've been good to me. You're the only person in this stinking town that has been good to me," which is unspeakably sad. When we hear "Auld Lang Syne" and she says "Happy New Year, darling"…oh he really made the wrong decision. 
The Godfather Part II (1974)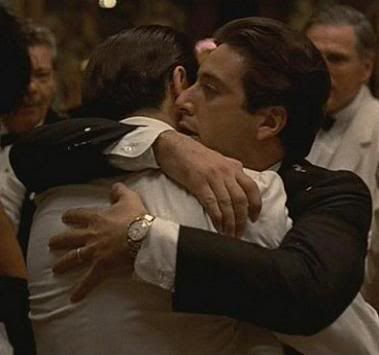 Francis Ford Coppola's legendary sequel to The Godfather finds favorite son Michael Corleone (Al Pacino) expanding the family business, spreading it into Las Vegas, Hollywood and Cuba. But expansion comes at a cost – particularly to one's conscience -- and Michael's New Year will reveal his new ideas concerning family and business. At this point Michael's already alienated wife Kay (Diane Keaton), but Kay isn't blood and one would think (at least deceased Godfather Vito Corleone would think) that blood is thicker than….knowing Hyman Roth or Johnny Ola. Not so for Michael, who after learning troubled brother Fredo (a superb John Cazale) has lied to him, makes his deadly decision. In the midst of a New Year's Eve party, Michael faces Fredo at the stroke of midnight, grasps his head tightly and plants the kind of kiss no one wants to ring the New Year in with -- the kiss of death. In one of cinema's most famous moments, Michael says: "I know it was you Fredo; you broke my heart."  Though Fredo's days are numbered after this coldly threatening, though weirdly touching exchange, it is Michael who'll suffer the most; the decision will linger in his soul until his last breath.
The Poseidon Adventure (1972)
In terms of big budget, bloated, all-star movies in which boats meet disaster ridden, screaming-passenger consequences, The Poseidon Adventureis the Mac-Daddy of them all. And the deed goes down on New Year's Eve. So how in the hell did I almost miss mentioning this one? I must have been so transfixed by re-watching Roman Polanski's wife's body in that blue dress, writhing on the dance floor, that I managed to blank out my other enormous object of lust, Gene Hackman, TCB'ing on the U.S.S. Poseidon. So... The Poseidon Adventure...cheesy? Sure it is. Kind of ridiculous? You bet. Filled with stereotypical characters? Yep (and in the case of Ernest Borgnine, double yep). But, then, so is Titanic, which some might consider the more serious cinematic boat catastrophe. Fine. But, hey The Poseidon Adventure was nominated for eight Oscars -- and it won for best song, the infinitely less-annoying-than-Celine-Dion ballad "The Morning After." The story sets sail when, quite suddenly, an underground earthquake flips over the luxury liner that should be enjoying its New Year's cruise. The last group standing is an interesting bunch of disparate types who'll have to work together in order to climb their way upward through the ship. Not easy. Especially with Shelley Winters involved. Leading the crew is not the ship's captain (a pre-Airplane!/Naked Gun Leslie Nielsen  whom you can't watch with a straight face) but a preacher played by, oh yes, Gene Hackman. Hollering at people has always been one of Hackman's fortes, and his talent is utilized to great, hilarious effect as he corrals the rest of the bunch and screams at them to get their butts in gear to…live! Dammit!  Like most Irwin Allen produced extravaganzas the cast is filled with stars -- old and new -- including Borgnine as a cranky cop, Stella Stevens as a former prostitute (who continually riles her hubby Borgnine), Carol Lynley as a freaked-out singer, Roddy McDowall as a waiter (one wonders who talked him into the role of waiter), Eric Shea and Pamela Sue Martin as the requisite kids, Red Buttons as the requisite oldster and Winters and Jack Albertson as an old married couple. With deaths galore (and a few pretty mean ones at that), some impressive visual effects and a general feeling of chaos, The Poseidon Adventure, surprisingly holds up well through time. And I love it when Stella Stevens quips, "I'm going next. So if ole' fat ass gets stuck, I won't get stuck behind her." Ah, Happy New Year!
Holiday (1938)
George Cukor's blissfully exultant movie is also curiously sad -- sad because you get the feeling that all of the explorative dreams its lead character, Johnny Case (a joyous Cary Grant) has, well, they might not work out in the real world. With that, it's the perfect New Year's movie, filled with fresh starts, all night parties, dreams and happy revelations -- those things we make lists about before the clock strikes midnight and usually ditch a few weeks into the month. And a large portion of the movie does indeed take place on New Year's Eve, during a society family's party where Johnny is set to announce his engagement to wealthy Julia (Doris Nolan). But he's falling in love with her luminous, down to earth sister Linda (a rapturous Katharine Hepburn) who digs his rather counterculture desires. The movie works subtly and elegantly, infused with an almost startling blend of comedy and pathos. As Johnny and Linda clearly fall for each other, even literally tumble for one another (in a jubilant scene, the two stars perform a beautiful bit of acrobatic talent) they leave us buzzed and charged up for something ourselves. But what? Is it possible to ever feel elation like that? Is it? I guess I can always hope for next year but…doubtful. We can always do as Cary Grant does and try a little blind faith. Blind faith can get you through the night.
Happy New Year!