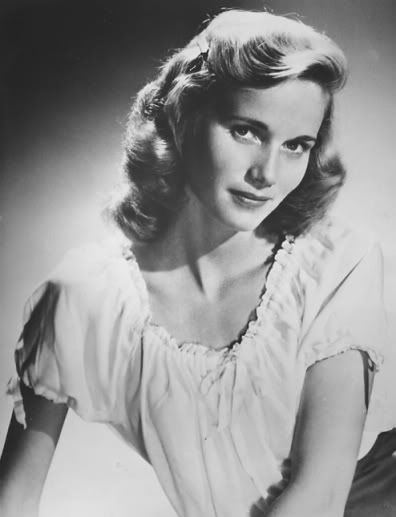 In her first movie, she kissed Marlon Brando. And then she won an Oscar. How many actresses get that kind of a debut? But then, how many actresses are as wonderful as Eva Marie Saint?  A performer (and woman) of elegance, vulnerability, charm, beauty, intelligence and great wit, Ms. Saint remains, not just a movie star, but a real actor, one of the innovators. And she's still a powerful presence on screen.
A woman who has worked with talents ranging from Kazan to Wenders, Brando to Shepard, Preminger to Mulligan, Frankenheimer to Singer, Hope to Segal, Clift to Beatty, Grant to Grammar and then, a man named Hitchcock, Saint has enjoyed sixty years of experience, and more to come. With the 50th Anniversary of Alfred Hitchcock's suspense, action, sex-tastic classic North by Northwest, the funny, personable Ms. Saint took the time to talk to me about her beautiful, brilliant career. And shopping with Hitchcock. Now that would be something. 
Where do I start, Ms. Saint?

"Take a deep breath..."
On North by Northwest remaining so timeless:
"When I think of North by Northwest as 50 years old, I just can't believe it. It seemed to me, 20 years ago. But 50 years ago is half a hundred!  One reason it seems timeless: Hitch had this thing with not coming to work with what people were wearing at the time.  He thought that it dated the movie. And at the time, we were wearing these dresses without any belts; I think we called them sheaths.  I went to rehearsals, went to the studio that way.  And he sent everybody home. I think it was the auction scene, and they scheduled that day for another shooting and another scene because it dated the film. He said, 'Come back with a more classic look, a suit, a sweater, a skirt.' Ladies were wearing trousers…so anything that I wore, even the red dress or the black dress with the roses could be worn today. People ask me, 'Did you get that black dress?' I said, 'No. It's a little like maternity clothes -- once you get out of them, you don't want to go back and I was in that dress a long time.'  There was hair and costume. But Hitchcock, he did oversee everything, of course.  And the makeup, and the jewels and the shoes and the bags, and the dresses. I loved it! Because he had this idea about this sexy spy lady and it helped me compose my character and all of that. It's not only the internal, but the external always helps. Costumes are of such importance to an actor."
Working with Hitchcock:

 "I'm not sure what he saw me in, where he saw me as a sexy spy. I don't know…well she's a human being first… I did a program a few years ago; they should have taped it or filmed it, and all the Hitchcock blondes were there, and Suzanne Pleshette too [from The Birds]. And all of us were on the stage taking questions and talking about him and our experience working with him. And everyone had a different story. I couldn't believe we were talking about the same man!  And I remember in the middle of the discussion, saying to the audience: 'I really feel like we're all talking about the same husband -- and all of us are the different wives.' And you know, Tippi was very vulnerable at the time when she was shooting with him, but I was married. I had just given birth a few weeks back, it was my second child. I was very happily married, still am (I just had my 58th wedding anniversary last night). And so I was at a different place from the other actresses."
Shopping with Hitchcock, Vertigo style:

"I called him my sugar daddy. I did! I've never called anyone my sugar daddy, not even my husband. [Laughs]. He wasn't happy with some of the clothes they had given me [on the movie] so he took me to New York, took me to Bergdorf Goodman and we sat down and he had arranged some clothes he had seen and picked them out. The beautiful models came out and I'd say [in an excited hushed voice]: 'Oh I do like that black dress with the red roses!' And he'd say [imitates Hitchcock's famous voice]: 'Fine. Wrap it up in this case.' And that was the beginning of that famous dress. [Laughs] That was quite a shopping trip. I have never had it before and I have never had it since." [Laughs]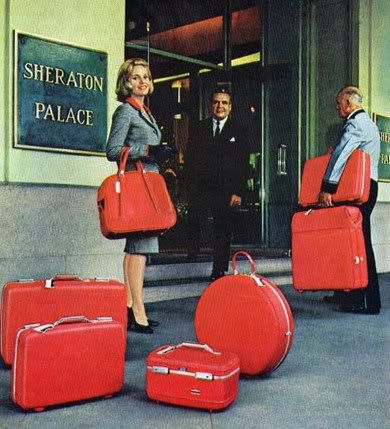 On working with so many different actors through the years:

"I'm from the Actor's Studio. You don't depend on anyone else but yourself and all the other actors you're working with. With On the Waterfront, the Kazan set was pretty much closed -- it was very quiet. He would whisper in your ear when he had a bit of direction which was very precise and just the perfect few words. You never heard him talk to other actors, he would whisper in their ears.  But then I stepped on the Bob Hope set [for That Certain Feeling] and the first day we were filming, I saw a whole football team watching [laughs]. I mean, right on the set. I saw this out of the corner of my eye and sort of swallowed hard and thought, 'OK, this is going to be a challenge.' But it was fine! And the days we didn't have people watching, I missed the audience!  But I went from Marlon to Bob Hope and that's what you're supposed to. You're supposed to work with different people, you're supposed to find what you like about them, what you don't like about them and just work with them. Now, with Cary Grant, it was hard to not find things to love about him."
So...working with Cary Grant:

"Whatever you think about him is correct. He was larger than life and beautiful and wonderful. And he was very, very kind and sweet. He himself said he created himself, he started in the circus! He created Cary Grant… Before he died, he was giving back. He was going around the country with his wife to little theaters and wonderful audiences would clamor to see him in person. He wasn't living somewhere on a hilltop, he was giving back. He was an amazing man."
Her famous ingénue debut as young Edie in Elia Kazan's On the Waterfront:
"I had done theater and mostly live television and again, I was from the Actor's Studio, so I wasn't intimidated. I was intimidated by making a movie because I had never made a movie. And I remember, my husband and I, we lived on 29th West 9th Street in the village, and as I was leaving, they were picking me up to go the set -- I was crying! Because I had never made a movie. It all seemed a little overwhelming. And my dear, sweet husband put his arms around me and said: 'Honey you're in good hands. Kazan is directing. Marlon is in it. You know all of these people. Lee Cobb, Karl Malden, Nicky [Nehemiah] Persoff, you know them, you've seen them at the Studio, you're going to have a wonderful time!' So by the time they opened the door and whisked me away to Hoboken, I was feeling really good about it all. My husband was absolutely right, and so the first day I felt very comfortable and had a wonderful time."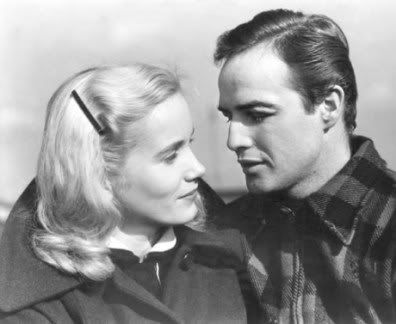 On winning an Oscar for her first movie role:

"Young actresses ask me 'Oh did you know that you were going to get an Oscar?' And I  say, 'My God, you're just there to do a job and do the best you can and you don't think about those things!' And no one does."
That glove scene with Brando and how it remains of cinema's sexiest moments:

"I know, I know, I know! I could just see Marlon and hear him right now. The way Kazan worked, you were always rehearsing on set, so none of the actors were left to their own devices….we were always rehearsing in another room for the next scene up. And Kazan would still be filming a scene. And when they were doing the lights, he would leave that scene and watch what we were working on for the next scene. It was a difficult scene. Why the girl from the Waterfront? Why the girl from the convent, the Catholic School and all that? Why would she stand there?  Well, in the rehearsal, I dropped my glove.  [Says slowly and delicately] Marlon picked up the glove, put it on his hand, started sort of fondling the glove, and it was very sensual. Edie had to get the glove, she had to go on her way, and so that sort of detained her.  We could play the scene. We told Kazan how it happened and he loved it, and so he said 'Keep it in.'"
On Brando the actor:

"He was always in the moment, while rehearsing or on the set. We both were. And that's from the workings of the studio. It really is. [The glove scene], it showed what a brilliant actor Marlon was. Most actors would have picked it up in rehearsal, given it back to me and then we would have started from the beginning. He didn't do that. You just use all of these wonderful things that happen -- you don't disregard them. You don't take the straight line.  He was one of the best actors we ever had. I don't know what happened. I think he was in wonderful spirits when we made the movie. And some people change, and things happen in your life, and I think he lost the joy of acting. I still have it. Even at my age, after all these years. But he seemed to lose it."
The great, under-seen movie, John Frankenheimer's All Fall Down:

"It's one of my favorites!  And when people come up to and say 'Oh! Miss Saint. There's a movie…' And I always say, 'I know. All Fall Down.'  Everything is timing in this business and I guess we had competition for bigger, more money making movies, whatever they were. And so it didn't get the publicity. But look at the cast! I mean Angela Lansbury, Karl Malden, Warren Beatty, Brandon DeWilde. Johnny Frankenheimer directed us in that (I also worked with him in Grand Prix), and it's such a dear, sweet movie. He was a very nice man, he died too early."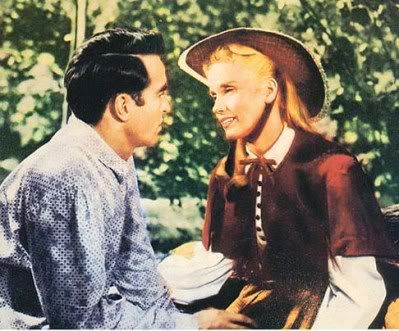 Montgomery Clift in Edward Dmytryk's Raintree County...his shyness, his eyes:
"He was very, very quiet. Except when we had the dialogue on the set. And I remember in one of the dressing rooms over at MGM (we all had our own dressing rooms) and so I invited him to lunch and to go over lines. And we were sitting there waiting for them to bring the lunch from the commissary. He didn't say anything. I didn't say anything. It was very quiet. He was so shy. And I used to be shy….but I'm Episcopalian and Quaker and I can be shy. So we didn't say a word. I didn't get to know him. I didn't get to know anything about him. With someone at that time who was that painfully shy, I would fall right into being painfully shy too. And nowadays, if someone is shy, I try to help them and to bring them out. However, Elizabeth [Taylor] and Monty were very close, and they were such a beautiful team. She adored him, he adored her. If Elizabeth had been there for the lunch, it would have been a whole different situation.  Although, when we were working, and I looked into his eyes, he looked a little frightened.  Not from a scene, not from acting. But, as a person…maybe he had demons.  His eyes. Haunted. I can see it in my mind's eye right now as we speak. Haunted. Maybe not troubles, maybe not demons, haunted is the word."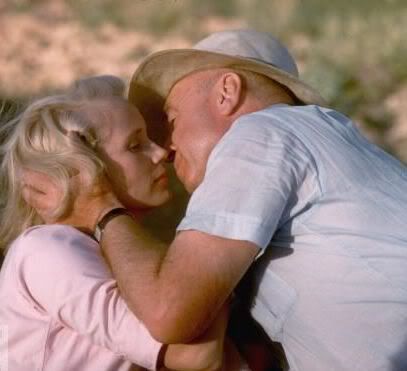 The notorious Otto Preminger:

"I only worked once with him in Exodus and that was a huge undertaking…all those people! Preminger did do an incredible job keeping it all together, and it was not easy because it was like 115 degrees. I have never been so hot. But he had a temper and it would come maybe once a day, so before it came, people were a little nervous and then after the explosion, people were nervous. He never yelled at the stars (Paul, yes his eyes were that blue…). He would scream down at the extras if someone was doing something incorrectly, or not the way he liked. There were a lot of extras and many of them had been on the real Exodus and they said that that was easier than working with Preminger!" [Laughs]
Sam Shepard's tooth:

"Oh yes, I loved playing that lady [In Wim Wenders' Don't Come Knocking]. I met Sam and Wim and he said, 'Well do you want to do this?'And I said, 'Sam Shepard, I'm so happy but I don't feel like your mother!' He's so attractive. [Laughs] And one day at set, he was smiling and I said, 'Now about that tooth.' And he said, 'What about that tooth?' And I said, 'Oh come on! What do you mean about that tooth? That's the sexiest thing I've ever seen!' [Laughs] and it is! I said, 'Don't ever have that fixed!' He's a very interesting man."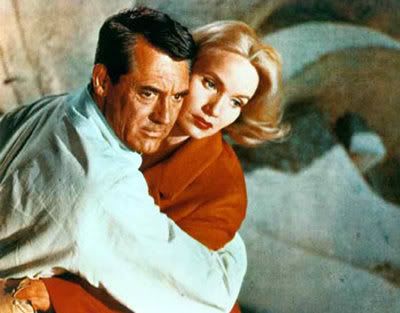 How have movies changed?

"I don't want to sound cranky. Once in a while, there are some wonderful movies but I think the menu has changed. I loved Up.  Look how brave they were to have a wife die. And the movie had so many qualities of real life, and yet it was funny and visually it was exciting. As far as dramas, you know once in a year, maybe there will be one or two that are really wonderful. But there's just so much violence. I don't know which comes first? Does the audience want the violence? Or do they accept the violence because that's what the studios want? It's the chicken and the egg. There's so much violence in the world now. You pick up the paper and you just shudder before you read the headlines. The violence. Our boys being killed. Oh my god almighty how awful that is! There's so much violence, why do people want to see that in movies? Especially when we're just trying to find a little peace?"
Watching movies as a girl:

"My parents loved going to the movies! When I was younger, every Saturday night that's what we did. I loved Charles Boyer and Ronald Colman, those were my heroes. But those were movies we could all go to. Now the world has changed, I know, and you can't go back…"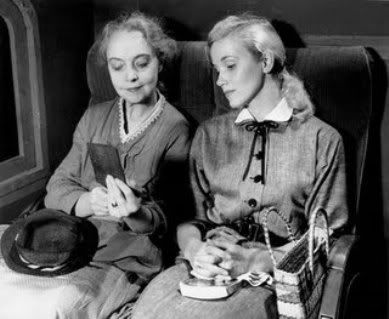 Words of wisdom based on her mentor:

"My mentor was Lillian Gish. We did The Trip to the Bountiful together, we did the play, that's where Kazan saw me and thought of me for On the Waterfront. Lillian, she never married, she loved my husband, and she loved my children. And when she was getting older and frailer, she said she was proud of me for handling a career and family and she was never able to do that. But she always looked ahead, she never looked back, she was never cranky about, 'Oh my God, it's not like it was in the silent movies!' That's why I say, I don't want to be pessimistic. Today is a beautiful day -- in California anyway."