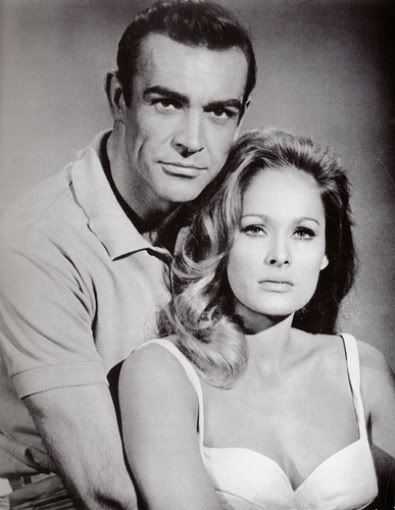 James Bond is in a word, timeless. He should be anyway. An enduring symbol of effortless cool, irresistible sex appeal, intelligence, style, sophistication and class, it's not surprising that the actors who've played him have had some chic shoes to fill. But when looking back at our cinematic Bonds (all six of them, from 1962 to 2008), one realizes that the famed double agent is also specifically linked to his era -- making him a little trickier to cast once the need arrives.

Our current Bond, Daniel Craig (who took over for Pierce Brosnan), learned this lesson the hard, but ultimately successful, way. When word of his casting was finalized in 2005, Bond fans and mean-spirited tabloids went ballistic. Attacking him over his appearance, his background, his hair and even his ability to handle an Aston Martin (apparently he couldn't drive stick), the anti-Bonds were proven wrong when the action packed and smart Casino Royale (directed by Martin Campbell) was unveiled to a doubting public. Not only was the picture a gritty good time but one of the best Bond films ever made. A Bond for his era, Craig will (hopefully) continue his accomplishment with his upcoming mouthful, Quantum of Solace. But here's my question: Were all of our Bonds, even the less popular super spies, quintessential of their era? Surveying them through time, I'm heartily saying, yes.

The Swinging '60s Gentleman Spy: Sean Connery (1962-1967; 1971 and 1983)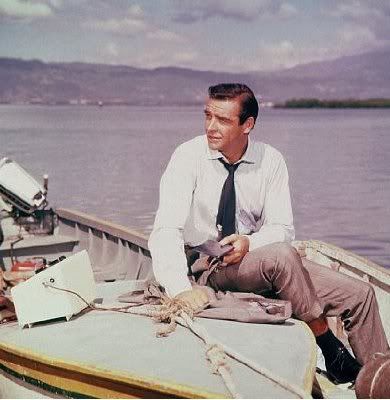 Scottish born, smooth operator Sean Connery is still considered the perfect representation of all things Bond. The best looking, the best speaking, the most charming, the most stylish -- you name it, Connery's got it. But when first cast in 1962's Dr. No, even he had his detractors, namely and most importantly, Ian Fleming -- the novelist who created Bond. But once audiences heard that iconic John Barry (or Monty Norman?) theme music and the curiously accented, arch eye-browed Connery state his name as "Bond, James Bond," they fell under his spell. During a strange cinematic era that gave us wholesome hits like My Fair Lady and Mary Poppins, and dark, challenging classics like Dr. Strangelove and The Manchurian Candidate -- James Bond movies were, for a while, a tasty tonic. Though England provided many quirky and gritty pictures during this era (those "angry young man" films), Bond's glossy fun and sexy '60s gals (notably goddesses like Ursula Andress and Honor Blackman), were acceptably violent, sexually active (no way is this Bond not going to sleep with Pussy Galore) and coolly good-natured. The pictures might veer towards silly at times, but they weren't square -- important as Bond moves towards the later 1960s. As such, Connery's Bond would have no problem navigating his way through one of Hugh Hefner's hep-cat, Playboy parties mingling with Sammy Davis Jr., Lenny Bruce and of course, bunnies, and a bell-bottomed love-in (though I'm thinking he'd find time to mock the long-haired hippies, while nabbing all of their girlfriends in the process). And, James Bond at Woodstock? I would have loved to have seen that.

The Art-House Bond: George Lazenby (1969)
It seems kind of perfect that just as cinema, especially American cinema, was experiencing such a strong cultural shift by 1969, so was James Bond. With more cynical, darker subject matter on screens (Midnight Cowboy, Easy Rider and Bonnie and Clyde are prime examples) and the peace and love of the 1960s growing more sinister (Altamont, in particular), the new Bond, Australian-born George Lazenby was especially brooding. Taking over for Connery, the star of On Her Majesty's Secret Service is perhaps the most controversial Bond in the history of the franchise and one who inspires extreme responses (some detest him, while others think he's the most interesting and true to Ian Fleming's source material). More stoic and haunted than Connery, newbie (and ex male model) Lazenby was a blend of art house sensibility (he'd fit into a French Policier quite well) and settled down romance. This is the Bond, after all, who gets married. It's as if the filmmakers wanted to ditch some of 007's monkey business and force him to actually think about his actions. But this much thinking wasn't in the cards, and in spite of more introspective movies released to the general public, audiences didn't necessarily want to ruminate during a Bond picture. This need for escape helped usher in our cheekiest Bond yet -- Roger Moore.

The Mid-Life Crisis Bond: Roger Moore (1973-1985)

O.K., so maybe it's a bit harsh to label Roger Moore (who I'm immensely fond) as a red sports car driving, mid-life crisis suffering, key party attending type but, there is something a little divorced about his older, sleazier Bond -- which is one of the reasons many of us like him so much. Making a decided distinction to not ape Connery, Moore smoked cigars, drank Bourbon and generally appeared a little more ruffled, a little more bemused, a little sweatier than the smooth operator of yore. Though clever and oldster sexy, Moore was for those who didn't experience the youth movement of the '60s. Representing men who may have felt they missed out on something and are now making up for lost time, Moore was perfectly, at times ridiculously the Ice Storm generation Bond. And he absolutely belongs to the '70s and early '80s -- from his puffier hair, to his turtleneck sweaters to his flared suits (with epaulets!). Though some of his pictures boast obnoxiously exorbitant action sequences, the kind that put Irwin Allen to shame, he did manage to snag one of most iconic, emotional Bond tunes every sung – Carly Simon's power ballad "Nobody Does it Better" (from The Spy Who Loved Me) .Which just makes me misty for Moore and…turtleneck sweaters.
The Politically Correct Bond: Timothy Dalton (1987-1989)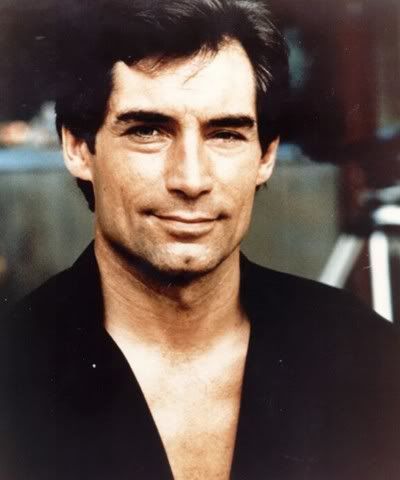 When Moore exited the now-stale, somewhat ridiculous (but still lovable, dammit) franchise, the Bond movies, very briefly, veered towards the serious -- again (didn't they learn anything from George Lazenby?). Enter classically trained Welsh-born Timothy Dalton, an impressive actor of stage and screen who made his film debut opposite Peter O'Toole and Katharine Hepburn in The Lion in Winter. Coming into the Bond scene after already turning down the role more than once, Dalton and company made 007 moody alright and more in line with Fleming's tough novels, but also a little more in touch with his sensitive side -- particularly regarding the ladies. Though the pictures were grittier, even a bit grim and Dalton is an intriguing class act (and certainly not spending his days watching Oprah), both pictures (The Living Daylights and License to Kill) reflected more of the late '80s sexual awareness, and perhaps a PC reliance on therapy and equality -- again, particularly towards women. Now this is admirable, but the good intentions failed to connect with audiences. People want a Bond continually bedding babes, not avenging their deaths.

The Re-Boot Bond: Pierce Brosnan (1995-2004)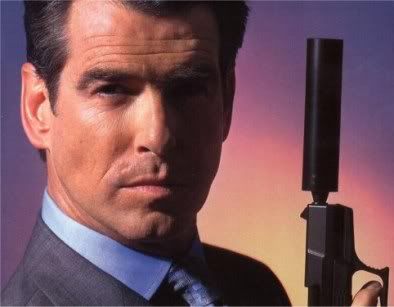 We could probably take Timothy Dalton home to Mom, but what about Pierce Brosnan? Well, yes, we could. With the popular television show Remington Steele in mind, Mom would be mixing up the drinks and sporting her favorite pant-suit for the rare occasion. But would she be thinking the guy is marriage material?. Alas, no -- which is why James Bond remains so seductive -- no one can ever nab him! But let's forget our needs for a moment and return to the needs of the big screen -- it had been six years since we'd even seen a martini shaken, not stirred and we were definitely thirsty for a tall, cool glass of water. Brosnan (who had been approached in '84 but declined because of Remington Steele) was the perfect refresher Bond -- charming, sexy, smart, un-ruffled and carnal enough to recall our favorite Bonds – Connery and Moore – while re-igniting the franchise with his impish appeal. Intentionally or un-intentionally, this Bond was something of a hybrid of Connery and Moore, which worked perfectly for different generations of Bond fans. And the smiling Irishman carried a little more awareness of his iconography, combining almost Tarantino-like reference (think Halle Berry's ode to Ursula Andress' Dr. No bikini entrance in Die Another Day) with old fashioned, solid action movie-making. Essentially, Brosnan and company was saying, "If it ain't broke, don't' fix it." And he was absolutely right. Of course, this only made his replacement the risky, argumentative choice that he was.

The Bold New Blonde Bond: Daniel Craig (2006-?)

As mentioned earlier, Daniel Craig -- he of the ruddier complexion, gloomier demeanor, grittier disposition and blonder hair – was a major gamble for the brand of Bond. The star of more serious pictures like Sylvia and Munich could have potentially become another Lazenby or Dalton -- a fun-sucker to the series (though I wouldn't say that of Lazenby myself). But as witnessed in Casino Royale and (fingers crossed) Quantum of Solace, Craig is the ideal Bond to take us through the 2000's (so far). Perhaps influenced by movies ranging from the popular Jason Statham Transporter series to the high adrenaline, yet thoughtful Bourne films, Craig's Bond is a notable mixture of true grit and exciting cool. And though we love our Connery's, Moore's and Brosnan's (and, for this writer anyway, our Lazenby's and Dalton's) the time was right for a so called real Bond. Now let's see how long our blonde, bonafide Bond will last. Will he (ahem) live more than twice?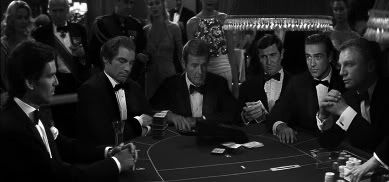 All the Bonds, bonding (thanks Flickr)
Tweaked from my Fandango story.