Hollywood, that dream factory of too many happy endings, overwrought social dramas, mercilessly unfunny comedies and inane action-adventure extravaganzas, is often just plain clueless ... especially when it comes to real life. And yet, occasionally they get life absolutely spot on, dead aim, bull's-eye right. But when does this actually happen? When they go after their own. (When perfected, movies about Hollywood make me quote Dustin Hoffman in the magnificently underrated Ishtar: "Shit man, when you're on you're on.")
The best movies about Hollywood always contain a certain kind of relish un-seen in movies like Lions for Lambs or Crash (the one based in Los Angeles, not the brilliant Cronenberg car picture). Highlighting the struggles, hypocrisy, dirt, degradation and yes, triumphs underneath the glitz and glamour, movies about Hollywood remain consistently relevant and absolutely timeless. So with that, I've counted 11 of my favorite movies about Hollywood. Some are sweet, many are sour, but all are classics in bursting that big, beautiful bubble.
The Star (1952)
"Come on, Oscar, let's you and me go get drunk!" So says Bette Davis' to her actual Academy Award statuette before embarking on a bender in Stuart Heisler's underappreciated The Star. As Margaret Elliot, a fortysomething, washed up and broke movie actress who can't get a role to save her life, Davis played her part with a believable amount of sympathetic sadness and unlikable self-absorption. It's a brave, dumpy performance that blames both the cruelty of Hollywood regarding women of a certain age and those older actresses who live in a land of delusion. You'll wince when you see her prospective boyfriend (Sterling Hayden) suggest she get a job at Saks Fifth Avenue, but you'll positively squirm when you watch her supposed triumphant screen test, something that turns disastrous when she can't accept that her role isn't sexy. Yep, as the saying goes, the more things change, the more things remain ... right, Melanie Griffith?
Ed Wood (1994)
Edward D. Wood Jr. may have been labeled the "worst director of all time" but dammit if he didn't love to make movies. That's how Tim Burton saw it in his wonderfully sweet Ed Wood, a movie that works as Hollywood satire, real life biopic and Valentine to all those misfits cranking out grade Z pictures we've all grown to love, hate or even, at times, regard seriously (as I do for what I consider the experimental Glen or Glenda?). Johnny Depp plays the 1950's director of such camp classics as Glen or Glenda? and Plan 9 from Outer Space with the perfect blend of over-enthusiastic, gee willickers zeal and a humanity that's surprisingly touching. His moments with Martin Landau's Bela Lugosi, a sad has-been with a morphine habit, are so tender that the film works equally as an honor to Lugosi as Wood. Gorgeously directed in black and white, terrifically scored (the Theremin is a nice touch) and exceptionally cast (Bill Murray is a stand-out as Bunny Breckinridge), Ed Wood shows that trash often has more soul than the slick, big budget dreck coming out of Hollywood.
Barton Fink (1991)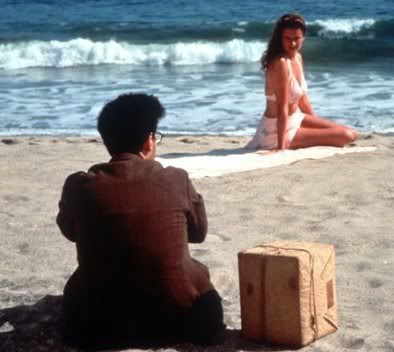 If you've read the work of Nathaniel West or Horace McCoy, you'll understand that Hollywood was always a dreamland distorted by darkness. West and McCoy, whose 1930's novels would later become two of cinema's most depressing looks at shattered dreams (The Day of the Locust and the masterful They Shoot Horses, Don't They?), inhabited the Hollywood that the Coen Brothers' eponymous Barton Fink (John Turturro) becomes un-glued by -- a place that's shiny and sunny yet slithery and decrepit. Fink (inspired by playwright/screenwriter Clifford Odets) is a serious writer who comes to Los Angeles for what studio heads call "that Barton Fink feeling!" -- never mind that Fink's usual solemn work will be filtered into a wrestling picture. Suffering from writer's block, he elicits the help of another hired gun, a Southern novelist who just happens to be Fink's literary hero (John Mahoney doing William Faulkner), something that goes very wrong, very quickly. Meanwhile Fink's neighbor (John Goodman) in his creepy resident hotel continually pops in, the red wallpaper crawls off the walls and a woman turns up dead. And still, Fink's got to finish that picture. Introspective, effectively bizarre, bleakly comic and even perhaps a bit unfair to the likes of Odets and Faulkner, the Coen's distilled the desperation, filth and freakishness of 1930's Hollywood (and today) with brilliance and strange beauty.
They Shoot Horses, Don't They? (1969)
"Maybe it's just the whole world is like central casting. They got it all rigged before you ever show up." So says Jane Fonda's Gloria in one of the grimmest pictures ever made (really it is) -- particularly about showbiz. As the supremely beaten down heroine in Sydney Pollack's powerful adaptation of Horace McCoy's masterful 1935 novel -- she's a loser who knows she's a loser. Fonda's bruised dance marathon participant Gloria is achingly tragic not only because her life is so depressing but because she's, presumably, one smart cookie. An analogy of Depression-era hopes for money, food and fame, the movie and Fonda raggedly dance to Gig Young's decidedly unhappy call of "Yowza, Yowza, Yowza" while showcasing their desperation and despair. You can't help but ask, why must it be this way? And why is Gloria engaged in this disturbed dance? Fonda never really answers that question making Gloria a real live, frustrating person (instead of a charity case) giving her character a raw dignity within such relentless morbidity.
Mulholland Dr. (2001)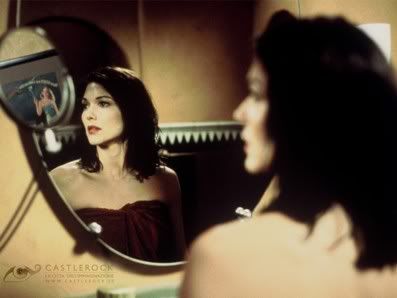 When many think of David Lynch's brilliant, labyrinthine, Mulholland Dr., their first thought is ... which girl is which? And though that's an important aspect to the picture's twisted mystery, it also feeds directly into Lynch's disturbing take on Hollywood stardom and the frequently uncontrollable act of making a movie. Yes indeed, which girl is which? And which one deserves to have a career? And who controls such things? Is it the director? Is it the weird dwarf on the telephone? Is it the old people slithering under the apartment door? Who knows? I'll keep the plot brief, but the story involves bright-eyed innocent Betty (Naomi Watts) moving to Hollywood only to find her dreams darkened by the mysterious arrival of "Rita" (Laura Elena Harring), a woman who can't remember who she is. As the two attempt to unravel Rita's past, Betty auditions for a movie (in a scene that sealed Watts' stature as one of the most fascinating actresses working today), while a director (Justin Theroux) loses casting approval of his film to the mob and a disturbing monster sits behind a dumpster clutching a box that will play a part in turning Betty into ... Diane. And if you think it weird that a monster and a box could be partially responsible for transforming a fresh faced girl into a suicidal, struggling actress who rubs herself in a masturbatorial rage, then you need to spend a little more time in Los Angeles. Lynch's story may be hard to decipher, but he captures the city's often freakish, surreal desperation with a clarity that is crystal clear.
The Player (1992)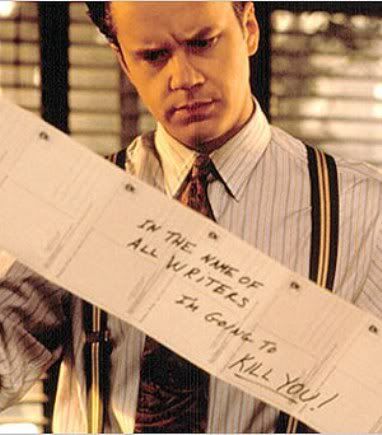 Every actor wanted to work with Robert Altman -- even if they're poked fun at in the process. In Altman's murder mystery, Hollywood satire The Player, the director coaxed the likes of Cher, Jack Lemmon, Nick Nolte, John Cusack and both Julia Roberts and Bruce Willis (who endured one of the film's funniest scratches at the frequent inanity of action movies) to appear as cameos for near nothing. The result is one of the greatest pictures in the legendary director's canon. Tim Robbins stars as Griffin Mill, a studio executive who becomes embroiled in a murder plot while his job is being threatened by ambitious rival Larry Levy (Peter Gallagher). Within this panic, mystery and inside deal-making, The Player (adapted by Michael Tolkin from his novel) works some dead-on critiques of Hollywood. From the ridiculous pitch meetings (Ghost meets The Manchurian Candidate!) to shallow trends of everything from cars to bottled water, to the obsession with celebrity, the film's satire is both morbidly funny and good natured and yet, far from arch. Take a scene in which Buck Henry throws out a pitch for The Graduate II. If you recall, this basically happened with the ill-fated Rumor Has It... Altman had to be amused by that one.
Singin' in the Rain (1952)
We all know Stanley Donen and Gene Kelly's Singin' in the Rain as one of the most famous and beloved movie musicals ever made, and rightfully so -- it is one of the greatest. But it's also a sterling satire of a critical moment in film history: when silent films became talking pictures. The film finds Kelly's 1920's matinee idol Don Lockwood attempting to make an all talking, all singing movie musical to rival that technological marvel The Jazz Singer. But his voice-challenged leading lady, Lina Lamont (played hilariously by Jean Hagen), becomes a serious problem as she can't sing, act or even talk without unnerving everyone within earshot. Though Lamont is endlessly amusing, some of the film's anecdotes were based on the reality of that era, that sound did cause intense anxiety (and unfair career ends) for many in the industry (including Charlie Chaplin). But film history lesson aside, and true to its Hollywood roots of keeping a smile on the viewer's face, the film remains giddily entertaining.
Adaptation (2002)
The act of adapting a book to screen can be a hard road, especially if the book is about ... orchids. In the Charlie Kaufman-scripted, Spike Jonze-directed meta-movie, that road is paved with self-doubt, self-discovery and one hell of a nutty Hollywood ending. Concerning Kaufman (played by Nicolas Cage) as he really attempted to adapt the real nonfiction work "The Orchid Thief" by the real Susan Orlean (played by Meryl Streep), the picture moves into simultaneous hyper reality and hyper fantasy while poking fun at the writing process, the loathed "industry" and the final act of surrendering to that Hollywood ending. Clever, ingenious and, at times, disarmingly touching (especially when involving Charlie's loud-mouthed twin brother Donald), when looked at as a self-reflexive vision of a screenwriter's writing block, it's surprisingly realistic.
The Bad and the Beautiful (1952)
Vincente Minnelli's The Bad and the Beautiful is often under-looked within the director's esteemed canon of movie musicals. However, the filmmaker's inside look at Hollywood, sans musical numbers, is one of cinema's most scathing. Kirk Douglas stars as a ruthless movie producer who moves up the ranks, stepping on a host of friends and colleagues along the way. Chief among them is his producing partner and aspiring director (Barry Sullivan), a drunken actress (Lana Turner) whom he pulls from the near-gutter, turns into a star and dumps in a flash, and a Southern novelist (Dick Powell) who is lured to write for Hollywood only to endure the death of his beloved wife (Gloria Grahame). Using a collection of true Hollywood stories of inside luminaries (among others, David O. Selznick and Val Lewton), the film weaves together a narrative told in flashback that's simultaneously melodramatic and mordantly biting. Splendidly acted, beautifully photographed, intelligently insightful and endlessly entertaining, the movie lives up to its title, writ large.
Sullivan's Travels (1942)
Sullivan's Travels is writer/director Preston Sturges' master achievement, a film that manages to be one of the most trenchant, hilarious and heartwarming satires concerning the land of sunshine and snake oil. Sullivan's Travels stars Joel McCrea as John Sullivan, a top Hollywood director who's grown tired of his lightweight hits like Ants in Your Pants, a film that studio executives are hoping he'll turn into the sequel -- Ants in Your Pants of 1939. Itching to direct his serious picture, ostentatiously entitled Oh Brother, Where Art Thou? Sullivan hits the road disguised as a bum. He wants to learn the "true canvas of the suffering of humanity," but is thwarted by a studio who tails his every move. Meanwhile he meets a beautiful aspiring actress and sexy cynic (Veronica Lake in one of her finest roles) and finally gets in the thick of it -- only it becomes less a social experiment and more a lesson in survival. And that survival is what Sturges takes so seriously in making what feels weirdly radical -- that for all Sullivan's grand ideas, what a depressed nation really needs is a good laugh. Without treacle, without forced feel-goodness, Sturges says, Hollywood needn't exploit the world's dark realities, life is sad enough.
Sunset Blvd. (1950)
Billy Wilder's cynical look at Hollywood was so scabrous that, as the story goes; famed studio head Louis B. Mayer left a preview hollering, "We should horsewhip this Wilder! We should throw him out of this town that's feeding him!" Yes, the movie was that disturbing to its own, and for an understandable reason -- Mayer and company didn't like their dream factory revealed for what it often was: a nuthouse. The story of washed up silent screen star Norma Desmond (Gloria Swanson) and her deranged, desperate attempts to re-enter pictures (for all "those wonderful people out there in the dark") is a noir of sorts, but really, a pitch black satire that reveals how disposable the industry treats their talents. If you're not significantly saddened when silent film stars Buster Keaton, Anna Q. Nilsson, and H.B. Warner show up as cameos called "The Waxworks," then you don't love movies.
And Wilder loved movies; he just knew how cruel the business was. Within this dark vision, William Holden is the struggling screenwriter turned hustler who becomes both Desmond's kept boy and reluctant writing partner (he reads her long draft of Salome, written in her "childlike scrawl") while living in the rambling, bizarre mansion off Sunset Boulevard that at one point harbors a pet monkey. Brilliantly scripted with now legendary lines, perfectly cast (with the heartbreaking touch of director Erich von Stroheim starring as Desmond's devoted butler/chauffer), expertly, expressionistically shot and thematically resonant, Sunset Boulevard remains the most salient peek at, in this case, the extraordinary underbelly that is Hollywood.