One character Hollywood and viewers never tires of is the cop. And as formulaic as these characters can become, our never-ending obsession makes perfect sense. They may hand us speeding tickets or throw us in the drunk tank, but we love examining their very specific culture and lifestyles and, for some of us, their ability to legally pull guns on people. Look at some of our favorite television shows from the past (Dragnet -- Jack Webb the ultimate cop), present (The Shield), and finished (The Wire). Or think of some of our more legendary cinematic icons, from Dirty Harry to Bullitt to Popeye Doyle and then some.
With this in mind, I'm looking at some favorite fuzz -- cops who are good, bad or ... well, you decide. With so many officers to choose from, I had to rule out entire genres (like film noir, which would make for its own well heeled list...though I couldn't resist Touch of Evil) and make some hard decisions (I settled on the iconic). Though this list certainly isn't complete, it offers an intriguing array of the popular movie cop. We may call them the fuzz, the man, the po-po, or those brave men in blue (which is what I'm required to say in print -- my dad was a cop), but we heart badge-wearing crime fighters in numerous big screen incarnations.
Touch of Evil (1958)
Boy in blue: Harry Quinlan (Orson Welles)
"He was some kind of a man." So says Marlene Dietrich's cigar-smoking gypsy regarding Orson Welles' corpulent, corrupted, candy-bar-eating Hank Quinlan, a man who, like the director himself, had gone through a lot in life. Directed by and starring Welles, Touch of Evil is a tough, sleazy, beautifully tawdry film noir that should be ranked equally with his universally acclaimed Citizen Kane -- especially when looking at Welles' wonderful creation of the lecherous American police chief Quinlan working a seedy Mexican border town. A locally adored but feared celebrity who's not below associating with shadowy figures for personal gain and crude enjoyment, Quinlan finds himself pitted against straight arrow Ramon Miguel "Mike" Vargas (Charlton Heston), a Mexican narcotics cop who becomes entangled in Quinlan's case after a car containing a local bigwig explodes right in front of his eyes (and on his honeymoon with wife Janet Leigh!). Viewing Vargas as an in-the-way do-gooder, Quinlan will stop at nothing to control his reign. And yet, he's sympathetic. Ever since his own wife was murdered long ago, he's lived in a state of moral decay, which only intensifies his hatred and demise. A picture that remains brilliantly stylistic and daring (thugs, drug dealers and a gang of butch lesbians are all featured in a story complete with bordellos, flophouses and other images of shabby, intoxicated decadence) Touch of Evil is, with Welles' performance especially, a touch of genius.
Serpico (1973)
Boy in blue: Frank Serpico (Al Pacino)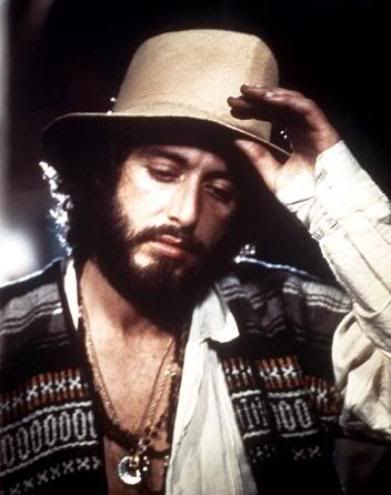 Oh, Frank Serpico, you were just too good weren't you? And isn't it sad that such goodness was a dangerous principle to possess? Based on the real life cop (who testified against police corruption in 1971), Pacino's titular hero sports a beard, rocks out the earrings and bell bottoms, and gets his groove on at counterculture parties, but, unlike a few too many on the corrupt New York police force that he valiantly works for, he maintains his integrity. No free lunches for Frank Serpico; he's a noble soul through and through. And yet, that's the problem, that's what puts him in harm's way, not just with criminals, but with those who are supposedly there to protect and serve. He might be a hit with the ladies (especially when calling himself Paco), but his fellow boys in blue regard him as an outcast, a tattletale, a troublemaker a "fag." Directed by Sidney Lumet in one of his many terrific cop films (including Prince of the City and the fantastic Q & A), Serpico is a gritty, gripping and exciting experience that boasts a performance by Pacino that's as powerful and heroic as it is subtle and touching. A fine tribute to a fascinating man, Serpico is now the one name definition of "good cop."
In the Heat of the Night (1967)
Boy in blue: Virgil Tibbs (Sidney Poitier)
This is one of the most iconic performances of Sidney Poitier's career, as well as within the genre of police pictures. And though it's been deemed a bit overrated through time (totally unfair) It's also an important Hollywood films regarding race relations, with Poitier's black Philadelphia cop, Virgil Tibbs, working alongside Rod Steiger's small-town Mississippi sheriff, Bill Gillespie, to solve a murder for which Tibbs is initially accused. When Gillespie urges the more schooled, experienced and better paid Tibbs to stay on and help with the case ("Because I'm not an expert, officer!" he confesses), the picture studies the deep rooted racism regarding Tibbs' position of power, as well as Gillespie's gentle awakening toward a man he'll consider something of a friend. Poitier and Steiger are brilliant (ditto for the great Warren Oates), and the combined talents of direction by Norman Jewison, cinematography by Haskell Wexler and editing by Hal Ashby make the picture both relevant and absolutely stunning to look at (you can truly feel how hot this Southern town is – and there are a few shots that Scorsese must have noticed for Taxi Driver). The picture holds up beautifully, never feels dated, and Poitier's famed "slap heard round the world" still inspires.
Bad Lieutenant (1992)
Boy in blue: The Lieutenant (Harvey Keitel)
The title of director Abel Ferrara's controversial very obvious picture says it all -- this lieutenant (played by a supremely brave Harvey Keitel) is bad -- really, really bad. He's a police officer patrolling the mean streets of New York and apparently a Catholic, but these distinctions don't deter his downward spiral of seriously destructive behavior. From abusing numerous drugs to cheating his friends to gambling to stealing to taking advantage of young girls to getting buck naked at the wrong times (in one of the picture's most notorious moments, he weeps in the nude), the picture studies contradiction, corruption and cruelty with three capital C's. A tough, unflinching and perverse picture featuring a character who may never have a chance for redemption; this cannot be a favorite among New York's finest. With that Johnny Ace tune however, he does have good taste in music.
Dirty Harry (1971)
Boy in blue: Harry Callahan (Clint Eastwood)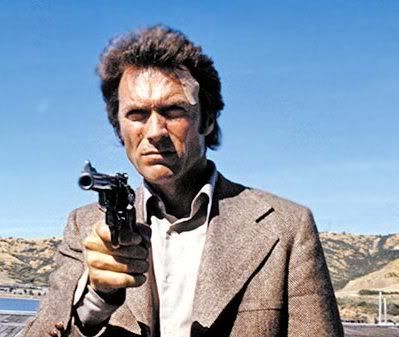 How did Inspector Harry Callahan earn his now famous moniker? According to his police partner, Chico, for getting the "shit end of the stick" -- meaning, Harry's heaped with all of the nasty assignments, including (and especially) a freaky serial killer horrifying the denizens of Harry's beat, San Francisco. Inspired by the real life Zodiac killings (which would be made into one of 2007's greatest pictures, David Fincher's Zodiac), the freaky Scorpio is just one of many creeps who will endure Harry's vigilante wrath -- all that cool and muscle that ignores pesky rules like search warrants or the dangers of police brutality. In the squinty iconic eyes of Clint Eastwood, and the gritty, lean direction of Don Siegel, Harry Callahan is just the cop we need as the darker, cynical and violent era of the 1970s commences. Or do we? Like the equally fascinating Death Wish, the blurred line between right and wrong is both celebrated and contemplated in this compelling cop classic.
The French Connection (1971)
Boy in blue: Jimmy "Popeye" Doyle (Gene Hackman)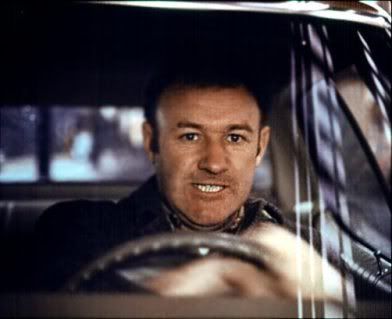 A tour de force of stylistic, kinetic editing, sweeping handheld camerawork, savage realism, and natural, antiheroic leads, William Friedkin's The French Connection won that rare honor in Hollywood: Academy Awards for Best Picture and Best Director, for an "action" picture (Martin Scorsese would achieve similar honors years later with The Departed). Within this complex police story exists wonderful hard-boiled acting, ingenious cinematography and one of the dirtiest, toughest and, dare I say, sexiest cops in filmdom. That's Gene Hackman (who also won an Oscar for his performance) as the porkpie hat wearing Popeye Doyle, a rough police detective who has no qualms about breaking the rules to catch one of the French drug smugglers he's pursuing. A heavy drinker, disrespectful, even bigoted, Popeye Doyle isn't exactly a nice cop, but a likable, determined and dedicated police officer. He also contributes to one of film's grittiest, most exhilarating chase scenes. And he can intimidate while wearing a Santa suit. Other than Billy Bob Thornton, who else can boast that kind of talent? He's terrible and perfect all at once. On a side note, make sure to check out Hackman's flawed, crazy cop in the great Cisco Pike and, on another side note, have you ever been to Poughkeepsie?
Electra Glide in Blue (1973)
Boy in blue: John "Big John" Wintergreen (Robert Blake)
Something of a cop version of Easy Rider, Electra Glide in Blue is wonderful 1970s curio, an underrated work of complexity that's extremely effective in showing the fruitless attempts of one truly good cop. A brilliantly strange and touching Robert Blake plays the ironically named Big John Wintergreen, a diminutive motorcycle cop whose goal of becoming a detective is met when a recluse is mysteriously killed. So by-the-book is Blake's Wintergreen that, not surprisingly, he's looked upon as an oddball and finds it tough to fit in anywhere -- with the cops he works with or the hippies who mock him. And that's one of the saddest aspects to the picture, the idea that if any cop is going to give a fella a fair shake it's Wintergreen, but since the anti-establishment crowd can't see beyond "the man," they're missing out on a tremendously good person. Directed by James W. Guercio, the movie is a lovely ode to the outsider, and was more than likely a head-scratcher in its time. And, without giving anything away, the heartbreaking picture's final shot of endless highway is absolutely transfixing. This is a bravura Blake performance. No wonder Baretta was so damn good.