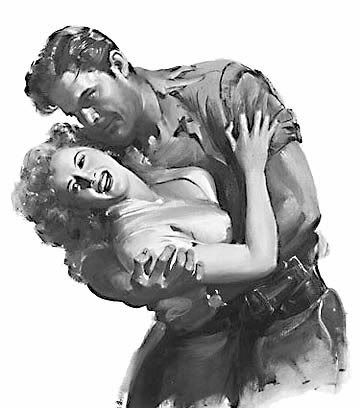 --Check me out tomorrow (that's this Friday) at 3 PM and 6 PM ET (and through the weekend) on the TV Show Dailies (on the Reelz channel) where I discuss Bee Movie, Beowulf and Baio (well, my co- guest, Eric Campos brings up Scott B). And nice try Beowulf, you're not 300. Though, in my world, Ray Winstone is welcome anywhere – even while trapped in an unrecognizable hybrid of live action and animation.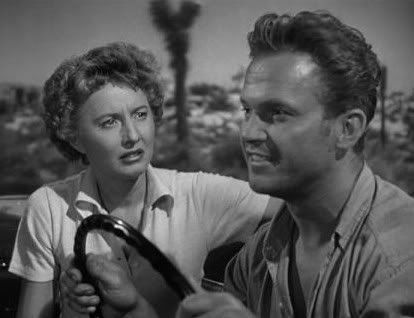 --Buy the Barbara Stanwyck Signature Collection DVD Box set but make sure to see Jeopardy. The John Sturges directed daylight noir thriller is not only a tense, daring ride, but a deliciously good time. Here's the predicament: While vacationing in Mexico with hubby Barry Sullivan and their young son, Stanywck is put to the test after Sullivan is trapped in the surf and she must find anyone (anyone) to help her. Aid arrives in smarmy Ralph Meeker (read more Meeker in the preceding post) a fugitive who has a few other things on his mind. And off it goes. The repartee between Stanwyck and Meeker is absolutely priceless with standouts involving the triple slap Meeker lays on tough Babs, or Meeker's proud preference for cheap perfume: "it doesn't last as long," or my favorite moment – when Stanwyck realizes she must make the ultimate sacrifice. She faces Meeker all hard and seductive to say, "I'll do anything for my husband. ANYTHING." And she does. Hardcore Babs.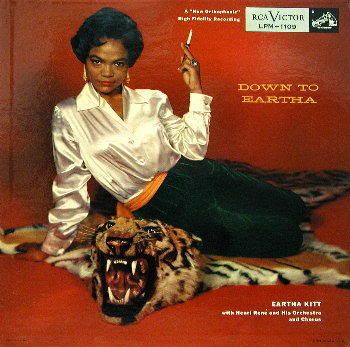 --Watch Eartha Kitt. A tiger head rug. Pig tails. Evil, evil evil. I can't stop watching this bizarre, beguiling, erotic bit of brilliance -- it's inspired naughtiness and perfectly shot. That underneath angle. The glass. Her gorgeous crazy expressions! I'm in love. If you are too (and you should be) check Kitt out in the problematic though fascinating Anna Lucasta where she gives a sexy, stellar performance. She's what the overused phrase "force of nature" actually means. The big screen really needed extra Kitt. But to repeat, watch..."I wanna spit tacks!"