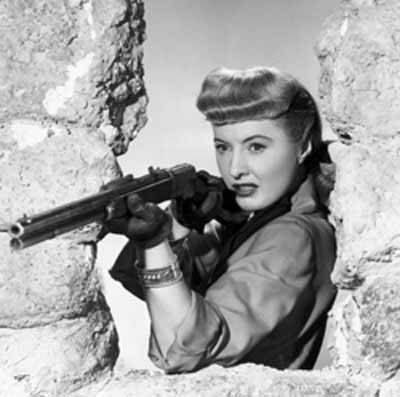 Most all of the classic movie stars have their impersonators -- we've seen them so much that, after time, they become just too easy. There's the Bette Davis camp in all their bitchy, clipped speech, swirling cigarette glory. There's loads of Katharine Hepburns, ranging from comedic Martin Short routines (as Hepburn's "cousin" running a hot dog stand) to Oscar winning Cate Blanchett performances ("The Aviator"). And, of course, there's the overdrawn Joan Crawfords with their requisite (and rather unfair) battle cry of, "No wire hangers!" But where, pray tell, are the Barbara Stanwyck vamps? Considering her exhaustive, genre-hopping career; her iconic performances; her sexy, clever, plain-speaking glamour; and her sheer brilliance as an actress, surely the great lady has earned a few.
But I've only seen one stab at Babs, hilariously and appropriately in Robert Altman's The Long Goodbye. It's by a male Malibu gatekeeper, who screws his face into a perplexed Phyllis Dietrichson (from Double Indemnity) and repeats: "I don't understand it. I just don't understand it." Watching that, I realize one reason why Miss Stanwyck isn't aped with frequency: She is, fittingly, one tough babe to crack.
The actress, whose birth centennial is this year (she died in 1990), had such singular style while exhibiting an expansive range that moved through melodrama, screwball, noir, Western and television with seeming effortlessness. A rare blend of leading lady and character actor, Stanwyck possessed something usually reserved for men like James Stewart or Jack Nicholson: an offbeat sex appeal that was as recognizable as it was mysterious. And yet, aside from devoted cinephiles, we hear less of Stanwyck than the ladies mentioned above. Hopefully that will start to change. With the release of her DVD box set ("Barbara Stanwyck: The Signature Collection") I'm honoring the woman's career with her greatest performances, a difficult task because, well, we can't find a performance that isn't great. With that, here's 6 of my 10 from MSN (OK, 11) that are not only brilliant, but also make me, like Henry Fonda in The Lady Eve, a little cockeyed.
Stella Dallas (1937)

The moment you think Barbara Stanwyck is one of the sassiest, steeliest babes of the silver screen, she then goes and makes you bawl your head off -- hard and for a long time. King Vidor's fantastically touching Stella Dallas is melodrama with a capital M, something tailor-made for Stanwyck, who gives a performance that could have been soapy and over the top but manages to be tough, tender and subtly moving, even when she breaks your heart. Stanwyck plays Stella, a working-class woman who marries above her social station but stays true to who she is -- something that's both refreshing and kind of maddening. When given the opportunity of moving to New York with her husband, she instead sticks around her mill town, hanging with rowdy friends over her husband's classier crowd. The marriage suffers, and when their daughter (Anne Shirley) inherits her father's refined characteristics, Stella eventually makes a heart-wrenching sacrifice. Stanwyck was only 30 years old when she played Stella, but she ages naturally throughout the movie, beginning as a cute little number who matures into a garish middle-aged woman. What's so poignant about her performance is how Stanwyck's Stella, as frustrating (and frustrated) as she can be, unquestionably loves her daughter deeply -- and her daughter loves her back. No one is a villain here, making the picture and performances more complicated and true to life. Sympathetic toward Stanwyck for not wanting to conform, but aware of how insecure she is (an overheard conversation on a train is especially sad); Stanwyck manages the somewhat impossible task of making Stella Dallas a real woman and a martyr.
Baby Face (1933)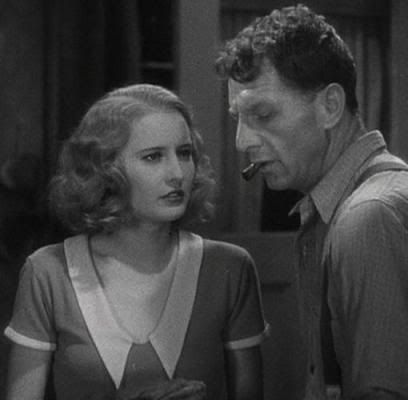 Among Stanwyck's other sizzling pre-code pictures, including Night Nurse and Ladies They Talk About, Alfred E. Green's Baby Face was so brazen that censors snipped five minutes out of the picture, hoping viewers would leave a little less shocked by the experience. The trick didn't work, as the movie (thankfully now restored with extra minutes intact) is still considered one of the raciest pictures of the '30s and remains controversial even today. Stanwyck is Lily Powers, a young woman who leaves an abusive father and a small-town speakeasy for a job in a New York bank. In a very obvious depiction of sleeping her way to the top, Stanwyck ascends the stories of the office building, leaving scores of used men behind her. She ultimately becomes a kept woman -- happily so -- until a tragedy gums up the works. But she's still hard-hearted and out for herself, something that's surprisingly sympathetic, almost glorified in the film. Commenting on the Depression -- how desperation can crumble one's morality (if morality really matters) -- she's both a victim of her time and nobody's fool. Stanwyck, always game, dived right into the scintillating material with her special brand of plucky, hard-boiled sex appeal; she's likable, awful and totally understandable all at once.
Forty Guns (1957)

By the 1950s, Barbara Stanwyck had aged into a handsome woman, just as sassy, capable and, though in her huskier way, sexy. The reality of aging appeared (as it should for every healthy woman) a natural progression -- unlabored. And unlike many older actresses then or now, she never appeared desperately obsessed with her youth. So Stanwyck fit like a glove in Samuel Fuller's glorious Forty Guns, a Western that honors the actress' hot, wizened visage with an inventive, feminist bent. Stanwyck plays the man, or rather, the woman in black here, as Jessica Drummond, a corrupt cattle matriarch who dominates her Arizona territory astride a white stallion, brandishing a whip and with 40 hired guns blazing behind her. Though the picture is stylistically masterful and filled with terrific performances (and some choice moments of double entendre), it is Stanwyck who rules in every way possible (she even did her own stunts), making this a character filled with a tough depth one rarely sees in females on-screen. The opening tracking shot of Stanwyck on her horse is absolutely iconic, proving that, like a man, Stanwyck was a seasoned figure of strength -- enough to produce chills when she utters her first line of dialogue.
Double Indemnity (1944)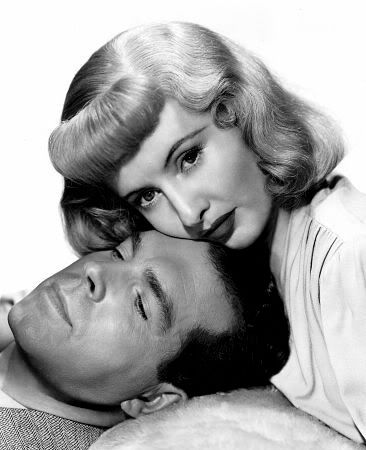 Already proving her mettle in screwball comedy, Stanwyck took on the dark art of film noir with nasty brilliance. Creating one of noir's most inspired, iconic femmes fatales, Stanwyck's double-crossing, bitch-seductress Phyllis Dietrichson in Billy Wilder's seminal Double Indemnity remains unparalleled. Donning the now famous blond wig, a sexy, cynical smirk and (dear God!) that anklet, she oozes a snaky sex appeal that manages to be evil and, in flashes, vulnerable. After eyeing her mark in Fred MacMurray's insurance salesman, Stanwyck convinces the lovesick lug to help plot and execute the murder of her husband in the hopes of cashing in on the dead man's insurance policy and supposedly living happily ever after. But, as usual in these situations, nothing ever comes off without a hitch -- numerous hitches, in this case. All dolled up in pom-pom heels, creamy sweaters and dramatically lined lips, Stanwyck's Phyllis, who's not as young as she used to be and not quite as lush, can't hide the poison within her. And her chemistry with MacMurray sizzles as they swap barbs and coos (co-written by Raymond Chandler from a James M. Cain crime novella) with sleazy ease. They yearn for more, but Stanwyck, the prototypical noir siren, seems perfectly aware of how fatalistic this kind of dream really is. Sometimes murder really does smell like honeysuckle.
Ball of Fire (1941)

When Stanwyck falls for a guy, she submits with a dreamy worldliness that never, ever comes off corn-pone. So when her sassy, slang-slinging "Sugarpuss" O'Shea admits to loving the bookish linguistics professor Gary Cooper in Howard Hawks' Ball of Fire, quite naturally she admits: "Yes, I love him. I love those hick shirts he wears with the boiled cuffs and the way he always has his vest buttoned wrong. He looks like a giraffe, and I love him." But there's much she utters in this screwball classic that's so utterly charming, clever and deliriously rapid fire, that you're a little amazed at how natural she appears. Especially when conjugating "scram:" "Scrow, scram, scraw!" she good-naturedly demands. As the gangster moll chorus gal (she sings a mean "Drum Boogey" with a brilliantly spasmodic Gene Krupa on skins), who falls for Cooper's innocent professor, she's gloriously earthy yet glamorous and, in the end, almost heartbreakingly sweet. As Cooper and his seven eggheaded associates (beautifully played by a group of character actors) study "Sugarpuss," a modern marvel of street lingo, they are all understandably in awe of the leggy temptress. And so are we. I'm not sure how many women could make the term "Crabapple Annie" sound sexy and endearing, but Stanwyck, shimmering genius that she was, does just that.
The Lady Eve (1941)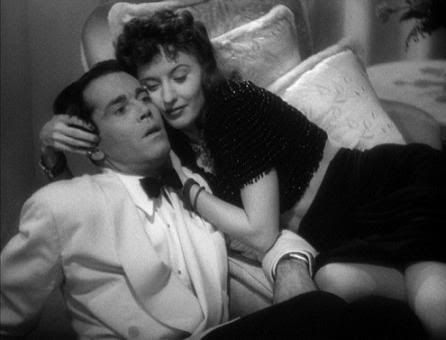 The Lady Eve is Barbara Stanwyck's crowning achievement, a role that's so brilliantly tuned in its blending of satire, romance, sexiness and slapstick, that you leave the picture believing she just might be the perfect woman. Directed by the great Preston Sturges, Stanwyck plays Jean Harrington, a steely, smart, clever, gorgeous and very sexy (get a load of those gams!) card sharp who dupes a naïve Henry Fonda while traveling on a luxury liner with her father/partner in crime (Charles Coburn). The scintillating swindler easily ropes in Fonda, heir to a brewery fortune who's just spent a year up the Amazon studying, of all things, snakes, and he's swiftly admitting to being "cockeyed for her perfume." Stanwyck, who talks not just to Fonda but at him (at his lips, at his eyes, at every aspect of his libido) generates a lusty allure that's hot and aggressive but amazingly not vulgar or obnoxious. She's disarming and completely in control and entirely equal to the man she'll eventually fall for herself. In scene after scene, Stanwyck boasts an intelligence and verve that remains modern to this day. You can see Hepburn taking on this role, but she wouldn't have touched Stanwyck's combustible mixture of silky rawness and mystery. There's a sense of the unexpected to Stanwyck that's incredibly natural while being deliciously sophisticated, especially in The Lady Eve, where the battle of the sexes is such glorious, subversive fun. And no one can match Stanwyck with a compact -- watch the movie and you'll understand.
Babs, Coop, Krupe, Hawks: