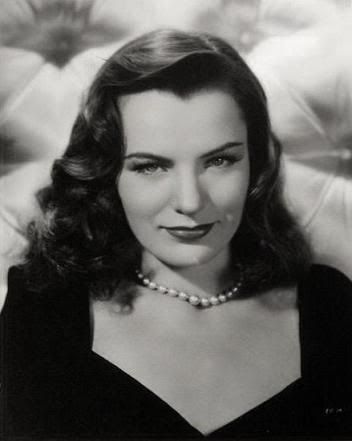 American cinema isn't really that dangerously sexy anymore. Not in any mysterious way. It lacks the edge and thrill of say, Peggy Cummins shooting between her legs in Gun Crazy. Or Decoy's Jean Gille laughing with maniac, orgasmic glee after she's offed her duped boyfriend who's just dug up the only thing that turns her on -- money. Or Cloris Leachman's hard panting, hyper-ventilating co-mingling with Nat King Cole's silky singing over the credits to Kiss Me Deadly. Or, dear God, Lana and that lipstick in The Postman Always Rings Twice. American films can pretend they're sexy, and some are. And yes, some stars will put it out there (in nude scenes, in magazine spreads, or simply in the work of Maggie Gyllenhaal -- check Sherrybaby and Secretary for proof). But in my mind (and with some expections, obviously), the look John Garfield gives Lana Turner when that tube of red rolls across the floor is worth one thousand contemporary sex scenes.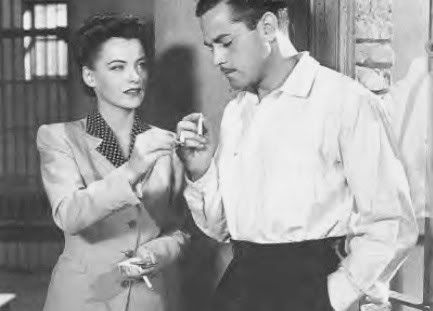 But, clearly I'm showing a bias. Based on my examples, it's not surprising that film noir is the place (or rather, my place) for screwy sexy made all the more erotic because even as sex, often toxic sex, motivates many of its character's actions, the genre's aim isn't merely to steam your glasses. So when it does hits an arousing bulls-eye, well, as the lady says, put your lips together and blow.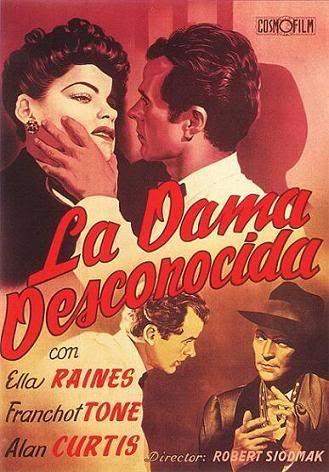 Which led me to a film I hadn't seen in years -- Robert Siodmack's Phantom Lady -- a picture that features a performance by Ella Raines that's so sizzling and yet so alluringly poignant, you're a little overwhelmed by it.
Adapted from the Cornell Woolrich novel, Phantom Lady was Siodmak's first American screen success and he would later craft some sublime noirs including Criss Cross, Cry of the City, The Dark Mirror, The File on Thelma Jordan and The Killers (among others). I'll run down the story: Ella Raines (her character's nicknamed "Kansas" -- which seems like a Wizard of Oz reference given the subterranean world she will find herself in) works as Alan Curtis's secretary. When he's framed for the murder of his wife, she sets out to help him because she doesn't believe he did it. She's also besotted with him (lucky fella). Sexing up her image as cub private dick, she's off to find this "Phantom Lady" with the help of Curtis's friend (Franchot Tone) and an off duty police detective (Thomas Gomez, so wonderful in Force of Evil). OK, so that's the story, but what I really want to discuss is Raines's interaction with the hep cat, hopped up jazz drummer, played by noir staple, the great Elisha Cook, Jr.
I am absolutely gob-smack over their famed moments together. Ella's seduction of Elisha -- an overwhelming sexy, conflicted, crazily drugged sequence (you can practically smell the booze, marijuana, heroin and dexies permeating the joint) in which Raines plays hot-to-trot, seems to be eating up her vampy method of getting to the straight dirt and yet, is repulsed by both Cook (that kiss!) and herself for having to go this far. Showcasing Siodmak's (and cinematographer Woody Bredell's) evocative, angled compositions (used gorgeously throughout the movie), the style brilliantly underscores the mounting hysteria and varied state of Raines's psychology. This is an extreme example, but what Raines reveals is something many women feel when finding themselves in the belly of the sleazy beast. It's a little fun and a little horrifying and you're definitely not in Kansas anymore.
Not that this situation isn't also sickly erotic -- it is. And the frantic, psychosexual, hop headed-ness makes me feel high (I'll have what Elisha's having, thank you). It sure as hell makes me want to put on some Gene Krupa -- his drum boogie was, in real life, probably a lot sexier, dirtier and seedier than we even know. I'll bet Ella knew.