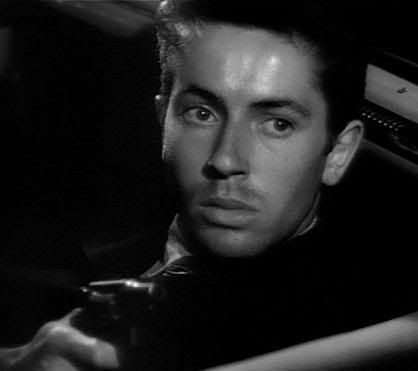 This week's DVD releases are a little sparse in the must have department. There's Rocky Balboa, a movie I'm not ashamed to say I loved, The W.C. Fields Comedy Collection (which is essential) and most thrilling, the Criterion Edition of Jules Dassin's great 1948 noir, The Naked City. So that, as they say, is that.
In the meantime, read my Film and DVD reviews at Strange Impersonation and anything else I'm thinking at Pretty Poison. Oh yes, and funniest, most ridiculous rumor I've been thinking about? That I'm part of the "pro-ana community." Jeez...make one damn pro-ana joke and suddenly you're that "psycho anorexic ingenue." Hmm...that has a nice ring to it.
As for now, Three Obsessions: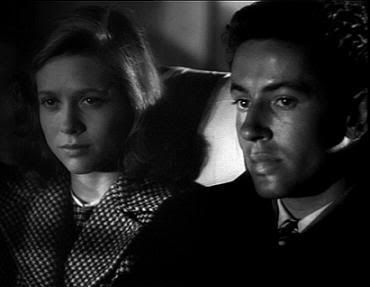 1. The Live By Night (1948) Before he helped make that gorgeous red-jacketed James Dean immortal in Rebel Without a Cause, director Nicholas Ray made his stunning film debut with this gripping noir about an escaped prisoner (Farley Granger) who falls for an impoverished girl (Cathy O'Donnell). Married, the two flee through the night with multiple odds stacking up against them. One of the original young, attractive and in love teen rebel movies, They Live By Night inspired numerous other films, including Arthur Penn's Bonnie and Clyde and the Robert Altman remake Thieves Like Us with Shelley Duvall and Keith Carradine. Revered by Cahiers du Cinema for good reason, They Live By Night is beautifully inventive (those aerial shots;that sublime framing) as well as melancholic, romantic and even at times, somewhat innocent when it comes to the love-bird leads. And Howard Da Silva is especially powerful in showing that these crazy kids are never gonna escape.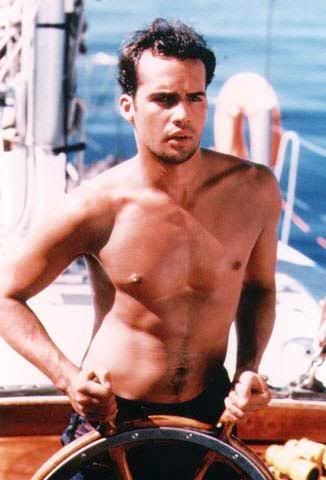 2. Billy Zane in Dead Calm (1989) While regarded by critics as a great thriller, Dead Calm has been overlooked by much of the public. Which is a shame since the film boasts terrific performances, high tension and some breathtaking cinematography. A big standout is the performance of the incredibly underrated Billy Zane whose psychopathic character Hughie Warriner is highly unusual in the history of movie nutcases. For one, he's not terribly bright. Rowing out to the boat of married couple Sam Neil and Nicole Kidman, he is adept in trapping young Nicole while her husband's stuck on Hughie's sinking, body strewn vessel but he underestimates how cool minded and professional the couple is. They know things like coordinates and Morse code and how to turn an engine off. And for two, in spite of how obnoxiously handsome Zane looks, his character is played like, for lack of a better term, a dork. He's crazy, but he's annoying and embarrassing and in no way smooth with the ladies. He's someone you could meet in a bar. I know I have.
3. Link Wray I'm always writing about the late, great Link Wray. But he's worth returning to. The guy, who I saw several years ago in a Portland shit-hole (one of the greatest shows I've ever experienced--he handed me his guitar in the middle of "Rumble!") is the ultimate rock and roll bad-ass. I love his elegiac, gentle "Blue Eyes (Don't Run Away)" but this, this later 1977 performance is wicked in the real sense of the word. How he was a Christian is beyond me. This is the devil's music--and I mean that as the ultimate compliment.