In honor of Warren Beatty's Birthday (he turns 70 today) I'm revisiting (yet again) my adoration of both Ishtar and Bulworth...
According to an older edition of Robin Morgan's The Book of Film Biographies, actor Warren Beatty is "more famous for his espousal of liberal causes and his affairs with actresses from Joan Collins to Madonna--despite his achievements." How unfortunate. But we know he's so much more than this reductive, stale statement.
This Hollywood legend has gone from pretty-boy method actor in Elia Kazan's Splendor in the Grass to producer and star of the seminal anti-establishment picture Bonnie and Clyde. He created and starred in films like The Only Game in Town, a fascinating George Steven's gambling picture opposite a blousy but still beautiful Liz Taylor; The Parallax View, a superb paranoid political thriller; Shampoo, a dark satire in which he plays the only straight hairdresser in California; Robert Altman's masterful McCabe & Mrs. Miller and Heaven Can Wait, a sweet romantic comedy that, consistent with '70s cinema, manged to feel depressing. He also directed and starred in Reds, the critically acclaimed saga of John Reed and played Bugsy Siegel in the smart Bugsy.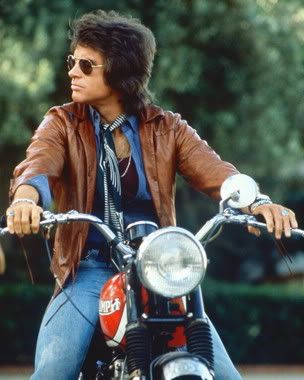 For anyone who knows a few things about film history or read Peter Biskind's gossipy Easy Riders Raging Bulls or really, has any cine-telligence, you should understand Beatty's contribution to cinema is significant. But how about his contribution to comedy?
Just as I revere Beatty for his work with Kazan, Arthur Penn, Robert Altman and Hal Ashby, I believe the lothario looker to be one of the most underrated comic actors in the business. In his knack for it, the man is near brilliant. Where did he prove this best? Oddly, in two that place him in a musical mode -- the great Elaine May's Ishtar, one of the most misunderstood and under-watched comedies of all time and Bulworth, a film that's almost a masterpiece.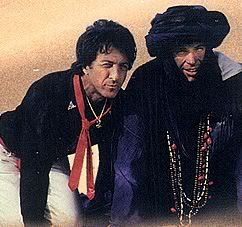 I've witnessed countless people make the sour face when I bring up both films only to learn they have usually never even seen Ishtar or simply discount Bulworth as a silly mistake. How wrong they are. Some don't even know the oftentimes genius Elaine May (who directed and co-starred in the sublime A New Leaf with Walter Matthau and directed both Mikey and Nicky and The Heartbreak Kid) eve directed Ishtar. The mind reels. But due to the press attacking the over-budget supposed turkey; it was maligned beyond the level of Gigli. This was The Heaven's Gate of comedy. Not funny.
So if you haven't (and if you say you have and haven't and shame on you!), watch Ishtar -- and laugh. Especially the hilarious first half hour. Beatty's handsome, shrewd dark side, seen in films such as Lilith, is obscured by a perfectly timed, soft-spoken dumbbell act. Playing the supposedly less attractive friend to "The Hawk" Dustin Hoffman (also hilarious) his half of a struggling songwriting act is so funny and oddly poignant that the moment he opens his mouth to talk, or simply, breath through it, he's comical. Driving an ice cream truck while proudly coming up with the jingle: "Hot fudge love cherry ripple kisses. Lip smacking, back slapping perfectly delicious," we see a guy who's obsessed with his "skill" no matter how much he stinks (and honestly, he's not so bad at times). He strains to think, he stumbles over words (his attempt to pronounce "schmuck" is timed with perfection) and he tries so hard -- especially when he belts out: "Telling the truth can be dangerous business, honest and popular don't go hand in hand. If you admit you can play the accordion, they'll never hire you in a rock and roll band!" Yes, yes, I have all these songs memorized. I have nearly worn out my beloved VHS copy --  why isn't this movie on DVD?!
Beatty must have given more credence to this lyric than originally imagined. Telling the truth is dangerous business, and Beatty proves it in Bulworth, a political satire that offers an intriguing look at Beatty's sharp cynicism. Written, directed and produced by Beatty, Bulworth tells the story of a U.S. senator from California who becomes insanely depressed during his bid for re-election. Sick to death of his political rhetoric ("we stand at the doorstep of a new millennium"), Bulworth (Beatty) has a nervous breakdown and plots self-assassination. Then he meets Nina (Halle Berry), sheds his old, crooked ways and starts anew by, shockingly, telling the truth. But he's still got a problem: a man is trying to kill him.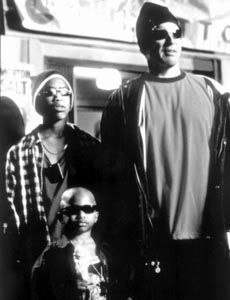 Once we see where Bulworth is going, the picture branches into two stories, that, the more I watch, the more I find compatible. One is a biting comedy that lampoons white liberal dishonesty. In this story we have a man who, during a speech in a church packed with black supporters, says it is obvious the Democratic Party doesn't care about African Americans. He asserts that they will never amount to anything if they don't put down their "chicken wings and malt liquor" and if they continue to support a "former running back who stabbed his wife." In defense of his candor he shrugs, "Hey, I'm just calling a spade a spade." But there is also a screwball love story that puts whitey in the hood. Here, he hangs with a group of under-age drug dealers, smokes weed, does coke and gets drunk at a black nightclub where he dances crazy style with Nina (an incredibly sexy moment). Wearing baggy shorts, basketball shoes, a gold chain and a ski cap, Bulworth continues his campaign by rapping on national television--and gains popularity. It is inevitable that Bulworth's rushed, insane honesty (accompanied by Cypress Hill's "Insane in the Membrane") will lead to his downfall. And Bulworth falls hard. Beatty is hilarious showing his new black consciousness, and though his comedic talent could have been bolstered even more by a sharper political wit, the film moved into brave territory that unlike other un-PC lampoons, rarely plays simplistic or merely for shock value.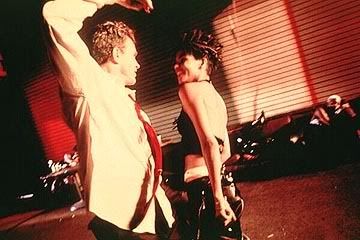 Part of what makes Bulworth so fascinating and daring is that Beatty is presenting blacks in a disadvantaged, urban milieu, but he isn't pandering to them as victims. He finds humor and relevance in the complex tension between the races. And, on the comic end, Beatty also perfects his "why are you looking at me?" stare. His comedic talent lies in his Dorian Gray ability to reflect through deflecting: We won't see how horrible the world is when we look into Beatty's deceptively childish eyes, and even if we do, we won't care, because they are such nice eyes. The ugliness of his actions in Bonnie and Clyde, the selfishness of his hairdresser in Shampoo, the violence of his psychologist in Lilith and his hacky songwriting abilities in Ishtar are all effectively made pretty, and Beatty is smart enough to know this. As Hoffman says in all seriousness to Beatty in Ishtar: "Shit man, when you're on you're on." He's on.