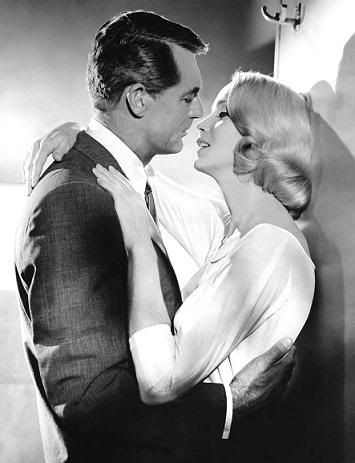 I'm back from Chicago and I already miss it. It doesn't help that Los Angeles is an oppressive, thoroughly obnoxious 95 degrees right now. And it wasn't exactly charming when, upon arriving home and stepping off the train, I was greeted by a dead body lying in the middle of the road. I believe an arm was lying next to him. But then I realized, hey this is my home and I've seen quite a few dead bodies around here and according to my appearance on Ebert & Roeper (watch it here), I think severed heads are "beautiful" (thanks to whoever posted this clip on YouTube). So, the dead bodies I can handle, but this heat! Give me the bitter cold of Chicago any day.
But to backtrack. In case you were wondering, I did indeed travel to Chicago by train. And it was one of the greatest trips of my life. I hate flying. Hate it. And not because I'm afraid of flying, I'm afraid of being stuck in a cramped tube whilst enduring one of my very special level 10 panic attacks.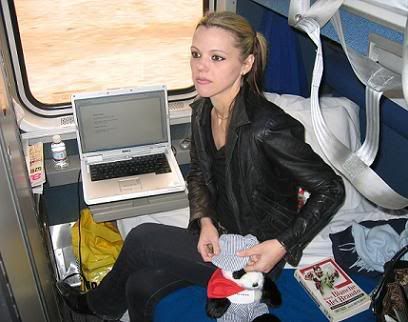 But enough of my neuroses. The train! I loved winding through the Red Cliffs of New Mexico, The Rocky Mountains and stopping off in Kansas City. I had a sleeper car, with windows on each side, which I now believe is the only way to travel (that's me with a conducter bear looking a little bleary eyed). I read, I slept, I looked out the window, I wrote and I met all kinds of people, some absolutely crazy. The best being a train fanatic who talked about trains non stop...every train in the Amtrak line, train movies, model trains, train photographers and on and on and on. It would take too much time to discuss.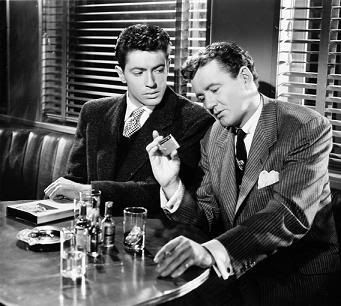 So traveling by train got me thinking of some of my favorite train movies. There's, of course, Strangers on a Train but also The Narrow Margin (the original), The General, The Great Train Robbery, The Train, Closely Watched Trains, Runaway Train and more. I also thought of some of my favorite train sequences like in Billy Wilder's sexy, Lolita-esque The Major and the Minor in which a comely Ginger Rogers pretends to be 12-years-old for cheap train fare. In a funny, sexy and subversive twist, she ends up sleeping in Ray Milland's roomette. He thinks she's 12 and he's looking out for her but he's also...looking at her.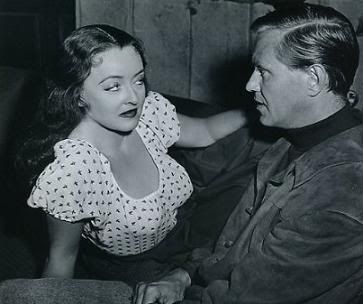 And then there's Bette Davis' obsession with the train in the supremely underrated Beyond the Forest in which the narrator states that every time Davis' unhappy wife hears it chug through her tiny, boring town, all she can hear is "Chicago, Chicago, Chicago." That's the city where she cheats on her husband and thinks her life will change, but instead gets knocked up and throws herself down the side of a mountain to get rid of the sin baby. Even worse (spoiler alert) she dies right next to the train when, riddled with peritonitis, she stumbles through the town towards the lure of "Chicago, Chicago, Chicago." Brilliant.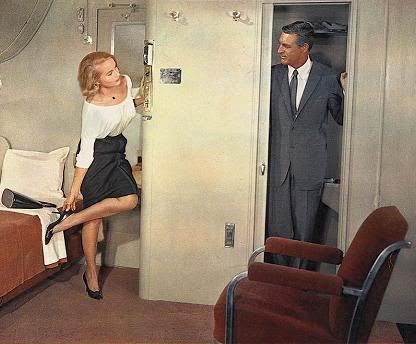 But on the more romantic side, there's North By Northwest, which boasts one of the hottest train sequences ever put to celluloid. A cool Eva Marie Saint stashes Cary Grant in her car, hides him from the police and promptly seduces him. While in her sleeper, she asks Grant: "Maybe you're planning to murder me right here tonight?" And he answers, "Shall I?" "Please do," she says before a passionate kiss. He tops the steamy moment with, "It sure beats flying."
Sadly, I did not experience such a scenario on the train but I will say this, the rumbling sound as you sleep, the exploring (I sneaked into the kitchen one night after missing dinner in the dining car) and walking through those loud connection doors is, well, as sexy as hell. No wonder so many songs glorify trains ("Mystery Train," "Orange Blossom Special," "Night Train," "Love in Vain" and Johnny Burnette's wonderful ode to screwing his girlfriend all night with "Train Kept a Rolling" as well as John Lee Hooker's ). As the glorious Theresa Russell pouts in Nicolas Roeg's misunderstood Track 29: "Chugga-Chugga-Choo! Choo!"