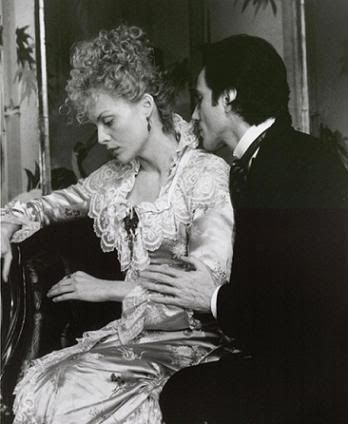 Since I'm counting down to a Martin Scorsese Oscar win--and he better win--I'm looking at a film that once again, reveals not only how talented he is, but multi-talented. No matter what milieu, Scorsese leaves his definitive stamp on every picture he makes. Even with lace curtains, white gloves and impeccable table manners, Scorsese finds the violence-- an inner violence, but a powerful and palpable violence in "The Age of Innocence."
The Age of Innocence
When Martin Scorsese announced he was going to adapt Edith Wharton's Pulitzer Prize winning 1920 novel The Age of Innocence to screen, an almost audible bewilderment was heard by Scorsese-lovers everywhere. Edith Wharton? The early 20th century American author who wrote of the ethics and structure of the upper-class society from which she was born? Why would Scorsese — he of Mean Streets, Taxi Driver, Raging Bull and Goodfellas — attempt to unravel this material? What could he inject into this stately, possibly stale world of talking, dining, and no touching? After the likes of A Room with a View, Howards End, and The Remains of the Day, surely Scorsese wasn't attempting to walk in James Ivory's often superb, but pillowy, footsteps? Shouldn't the auteur, provocateur, and violent genius Scorsese offer the theatrical antidote to every PBS-loving, Volvo-driving, latte-drinking Emma Thompson enthusiast with Robert De Niro and Joe Pesci bloodily kicking the shit out of some greasy shlub? Of course not. Scorsese shouldn't have to do anything — but in the case of The Age of Innocence, he did offer a signifigant antidote to James Ivory.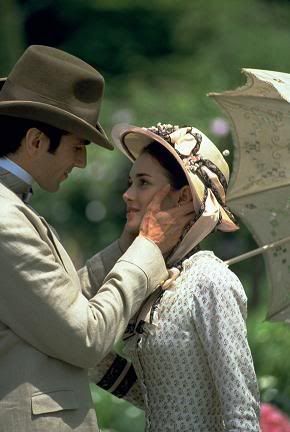 Just as some thought the director ill-suited for the Southwestern, waitressing, Mel's Diner, female world of his underrated and dare I say, masterful Alice Doesn't Live Here Anymore, Scorsese stamped 1993's Innocence with his own unique, brilliant style. Violence was conveyed not through baseball bats, ball point pens and swift kicks to the face, but through a word, a look a gesture. Beginning with the fragile, gorgeous title-sequence to the first time Daniel Day Lewis looks at Michelle Pfeiffer, we see this is indeed classic Scorsese. Lewis looks upon Pfeiffer and the camera slowly moves towards her, revealing one of the first of many, knowing glances that will permeate the picture with passionate anguish — something Scorsese, the ultimate sensualist, knows a lot about. Despite some detractors, Innocence remains another Scorsese masterwork.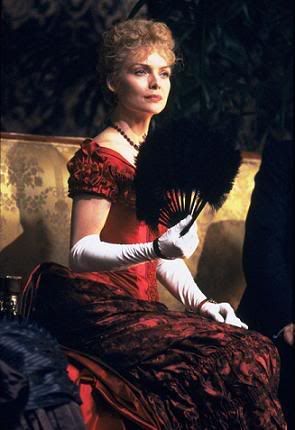 Innocence takes place in the wealthy environs of turn-of-the-century New York City — a time and place where marriages were strictly coordinated so as to transfer wealth between generations and families. In this order, love is something sticky and chaotic, an upset to the sovereignty. Enter the upset. Newland Archer (Lewis) is a man set to marry May Welland (a suitably annoying Winona Ryder), a pretty young woman he likes but finds bland and a bit dense (she proves not to be later in the film). However, the marriage is an excellent merging of families, and he's "innocently" set to go until he meets the gorgeous Ellen, Countess Olenska (Pfeiffer). A woman with a past, the "racy" Ellen has already dealt with a separation from a husband whom she married outside of society's edicts, during a lengthy stay in Europe.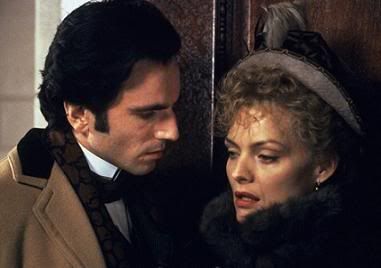 Returned to New York, she's talked about amongst the upper crust, even looked upon as a menace — beguiling and beautiful, she's an intelligent, complex woman who thinks for herself. Of course, this attracts the internally conflicted Archer, and his love grows more and more as each repressed Victorian day passes. Lewis and Pfeiffer have wonderfully intense chemistry in Innocence, and their moments together — though fully clothed — are so erotic that their sexual hunger is vigorously electric. Scorsese's attention to detail is immaculate, and his signature camerawork is employed with a slower, more deliberate éclat. Amidst all this elegance are both the bold director, determinedly pushing his camera on his characters like a delicate stalker, and the film's leads, the magnificent Lewis in particular, rip themselves apart with such inner, violent ardor that, well, you have to admit--this is Scorsese.
---