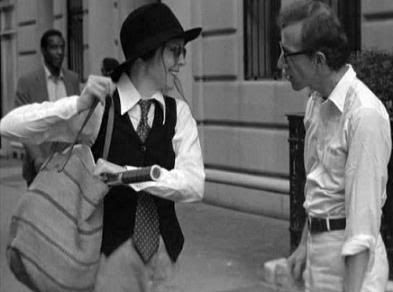 Sorry, my Diane Keaton love-fest isn't over. Here's my interview with the talented woman during which she laughed a lot, poked fun and was incredibly confident while humorously self deprecating. I think Diane Keaton IS Annie Hall only, smarter.
Diane Keaton is one of the coolest actors I've ever talked to. Which almost seems weird to say but, for the most part, actors never present themselves as terribly interesting people in interviews and usually ramble a bunch of bullshit about how "amazing" their new movie is. So not only was Keaton intelligent, funny, quick to laugh, humble and opinionated, but she's also multi-faceted, living a life beyond the industry scene. The leading lady of many of American cinema's modern classics (The Godfather, Annie Hall, Manhattan, Reds) has been directed by legendary filmmakers like Francis Ford Coppola, Woody Allen and Warren Beatty and is a talented director in her own right (Heaven, Unstrung Heroes). She's also an archivist, book author, a passionate advocate for historic preservation, and a collector of clown paintings which was turned into a book that I absolutely love (along with her wonderful ahead-of-its time photo-book Still Life)
Keaton took a break from filming Smother (in which she plays Dax Shepard's mom) to discuss her newest film, Because I Said So (directed by Michael Lehmann and co-starring Mandy Moore) as well as her past pictures and numerous outside projects. Make sure to read her answers in Keaton's voice.
Q: You've had such a wonderful career with so many interesting roles from Annie Hall to Looking for Mr. Goodbar to The Godfather— you really are a cross between a character actress and a leading lady. Do you think that's the secret to a long career?
A: You know what I think the secret to a long career is? Being lucky, being in good movies - who knows why I got there! And the other is I guess, if you're in enough comedies you're going to last a little bit longer because they just keep putting you in comedies. Comedies are the saving grace, believe me they are.
Q: Do you think it's harder to do comedies than dramatic roles?
A: No! No. It's harder for me to do drama. I was kind of born to be a jerk or an idiot or someone's hapless sidekick, you know, the moron (laughs). I shouldn't say that, because that's so rude, but you know, the person who's the fall girl. The over-the-shoulder wife, the hapless, friendly, not too bright woman.
Q: But those can be some of the greatest parts in cinema.
A: Yeah, I mean look: I love Gracie Allen. And I always loved Lucille Ball.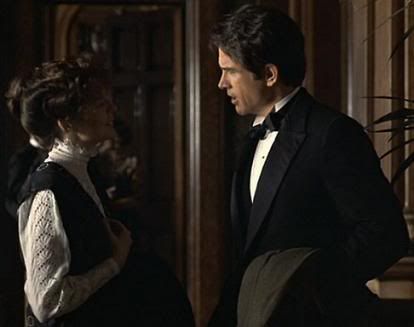 Q: You were a big part of 1970's cinema and were in some major films of that era. Do you agree with the popular notion that the 70's were the last golden age of movies?
A: Oh that's ridiculous. I don't agree with that. We had great movies then, but we're making great movies now. I don't understand that assessment at all. And I think the whole approach to cinema is much more advanced. I don't agree, not even for a second.
Q: So, speaking of current cinema, in your newest film you play an overprotective mother to three daughters. What really attracted you to this script and part?
A: Every single aspect of the movie. I love the cast, I love Lauren [Graham] and Piper [Perabo], I adore Mandy [Moore], and I know Steve Collins from The First Wives Club. That's good, as it's always important to know who you're working with. Never underestimate that. And of course [director] Michael Lehmann and [screenwriter] Jessie [Nelson], who is my friend. I loved the fun of the role — the real comic aspect of Because I Said So. Also, the idea for me to defend overprotective mothers everywhere. When you look at [my character's] daughters, she did a damn good job. So guess what? Care about your kids (laughs) - even if you're annoying!
Q: You just talked about working with these young actresses - did they come to you for advice, or did you offer them any?
A: No. No. No. I don't think it's a good idea to give people advice.
Q: Really? Why is that?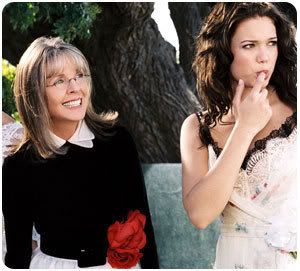 A: No! Why? (Mock horror). Why am I the person who knows what they should be doing? That's absurd. And, I'm not their mother. And it's unflattering to tell incredibly talented people: "Here, listen to me; I know what you should do." Like I know what they should do…We had fun. We had a lot of fun hanging out doing girly things in the makeup trailer. But what, I'm going to say, "Gee you, know you shouldn't date that guy!"? That's ridiculous! I did nothing but date men that I probably shouldn't have dated! I'm not going to tell them how they should do it, because I'm certainly no example. And in fact, I think people have to kind of learn on their own. Don't you? They're doing great. (Says humorously) Yeah, here's some advice from me: "Mandy, let's talk about that singing…"
Q: But you are a singer in your own right, if I recall your performances in Annie Hall and Radio Days…
A: [Sarcastically]: Yeah, I'm really a great singer! But you know, I do love singing, I love it - but when you're standing next to Bette Midler and you're singing—you go, "Huh…[guess I'm] not so good." Then you're standing next to Mandy Moore – "Hmm…the dream's over now." Mandy is a great singer.
Q: This has been an impressive year for women in film. From Penelope Cruz in Volver to Cate Blanchett in Babel to Helen Mirren in The Queen to Toni Collette in Little Miss Sunshine to Meryl Streep in The Devil Wears Prada. Are there any performances this year that really knocked you out?
A: Every single one you mentioned. All of them! Beautiful! And the girl who was in Babel: Rinko Kikuchi…oh my God, she was just outstanding. And Penelope Cruz, I fell in love with Penelope Cruz – she was astonishing!
Q: Any Oscar Predictions?
A: It will be Helen Mirren. It has to be. She definitely deserves it. I mean, they have to give it to her. Not to take anything away from Penelope Cruz, who was absolutely stunning!
Q: Mirren was great…
A: Yeah! I think so. (sarcastically) I think she was a little great in that role (laughs). I mean, she blew me away. I sobbed. I loved her. Can you imagine? I never thought I'd even have a thought about The Queen of England, and now I care about her. She humanized her. It was a very informative movie and it was really touching and complicated too.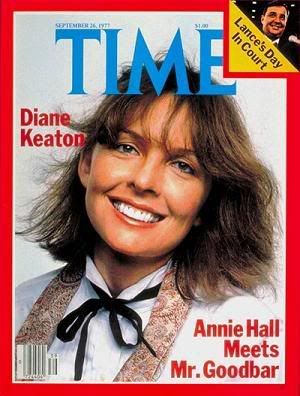 Q: How did winning the Academy Award affect your own career?
A: Enormously. It gives you at least a couple years of more options [for roles]. It does that for everyone.
Q: Looking for Mr. Goodbar was a daring, controversial movie in its day. Did you think you were taking a risk with that role?
A: I didn't consider it a risk. I had to audition for it. It was a huge part, everybody wanted it. And the fact that I got it – that was the most amazing part of it all. It was an opportunity to expand and try something very different from Annie Hall.
Q: How do you feel about Looking for Mr. Goodbar after all these years? Have you seen it recently?
A: I only saw it once. I haven't seen it in like 25 years. I don't really know how the movie has aged. Sometimes movies remain wonderful like The Grapes of Wrath, but sometimes they don't age well. I don't look back on my movies; I haven't seen any of them.
Q: None? Why is that?
A: No, I don't want to go there. I did it and I experienced it and some of these movies I made were huge learning experiences and some of them introduced me to people I loved. So these [films] are of course, significant in my life. But I don't want to go back and look at them.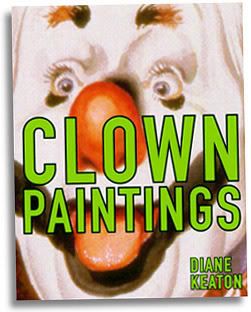 Q: I love your unique photography and art books, especially your published collection of clown paintings.
A: I love the clown painting book! That was like a little production, getting all these wonderful people to actually say something about [clowns and] clown paintings! [Editors' Note: Keaton gathered comments about clowns from fellow actors, ranging from Woody Allen to Ben Stiller to Lisa Kudrow.] That was a really hard job and it was wonderful that they contributed to the book. That one meant a lot to me. You do these books and they come out and they disappear. Nobody ever sees them. I'm surprised you even know about it. I'm coming out with a couple of new books this year: one with [art publisher] Rizzoli called California Romantica. I'm obsessed with Spanish Colonial Revival architecture here in California and the book will be a collection of photos of classic Spanish homes. And then I have a book I'm preparing now on scrapbooks...
Q: You're a big part of the historic preservation movement, especially here in Los Angeles. I love going downtown and I think it's sad to see some of our neglected movie palaces. Do you have high hopes for a comeback for some of these theaters and downtown L.A. in general?
A: Don't worry, we're working on it. Are you a member of the Los Angeles Conservancy? And if you're not, girl, you should be – and everyone who cares about the future should be involved in historic preservation. I do have high hopes for those old movie palaces, as there's so much going on downtown. It is fun and enriching to hold onto the past as a reminder – just for your own sense of humanity – as well as looking forward, towards the future, trying to change an aspect of what the future will bring.
Q: Is there anything you've always wanted to do that you haven't done yet?
A: No, I just keep doing what engages me now and hope to continue being engaged in the way that I am in the present. I'm excited to continue to follow my passions, my hobbies, in a way that makes me really happy. They really fulfill and round out your life. You're not just thinking about yourself as an actress or that your whole life is centered on your career. That would be sad. It's really exciting to stay involved and I feel lucky to have so much on my plate.