In the canon of the late Robert Altman's extensive oeuvre, Fool for Love is not a film that initially stands out—even to some hard core Altman-philes. In fact, a few even forget that the multi-faceted American director helmed the thing—it's a Sam Shepard creation all the way.
But not entirely. Though based on Shepard's play and starring the intense, rugged, easy-on-the-eyes actor, it contains those Altman touches that mark his other "smaller" pictures like the brilliant Three Women, Come Back to the Five and Dime, Jimmy Dean, Jimmy Dean, Streamers, Secret Honor and Vincent and Theo—all works that show just how versatile Altman was. And certainly, Fool for Love is actor friendly, something consistent with the director—he allows them the freedom to develop their own characters with little interruption. Wisely, he typically casts correctly, and so someone like Kim Basinger, who in 1985 hadn't proven her mettle quite yet, gives the strongest performance in the film. She was terrific in LA Confidential, but if Oscar's were at all just—she would have been nominated for this film—as a put upon, trailer trash babe, she's absolutely ideal.
The story has two very broken people oozing anger, confusion and of course, heavy sexual attraction that is, in an almost satirical way, so wrong it's right. Playing, to a certain extent, classic American archetypes, Shepard is Eddie, a jean clad cowboy who comes back to the love of his life May, an exotic, drop dead gorgeous blonde with perpetual bed-head (an 80's Baby Doll if we ever saw one) while living in a remote Texan motel. Obviously a modeling scout (or Eli Wallach) hasn't been around these parts because May is attempting to go on with her life via a new beau—the safer, boring Randy Quaid.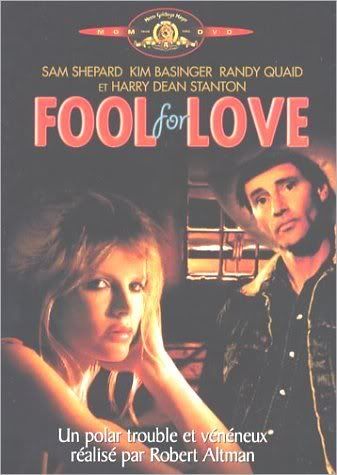 Meanwhile, milling about the motel is a drunken old man (Harry Dean Stanton) who watches the fireworks with both relish and worry. As we'll learn, there's more to this kook than a guy who believes Barbara Mandrel to be his wife. Chiefly, that Harry Dean is the father of both Eddie and May, albeit through different mothers. The incestuous bond has seriously screwed them up but also ties them deeply in that classic Southern fiction manner a la novelist Erskine Caldwell, William Faulkner and Carson McCullers.
But the incest isn't the main batch of fireworks for Fool for Love. It's the relationship between Eddie and May and the writing and acting delivered by Shepard and Basinger. Without talking down to their characters, the film gives these people bursts of violence that range from angry words (Basinger is particularly good at letting it out) to literal, acts of brutality (for instance, Eddy breaks down May's door when she refuses to open it—May kicks him in the crotch immediately after kissing him). It also allows them humor within the darkness. When May rubs her head insanely Eddy snaps (and we're not sure why this makes us laugh) "you need an aspirin or something?" And it's also just plain sexy—not just for the actor's outward looks of Texan gorgeousness, but their taboo, fiery passion that manages to be both a play on saucy paperback fiction and real life. Leave it to Altman to balance these two elements splendidly.
Altman creates a remarkable otherworld in the dusty landscape these people inhabit. Not only does it look like an authentic, old motel but something from an existential void—a resting place for losers or a supernatural last stop in life. Shot with a painterly touch, the picture ventures into a hybrid of Wim Wenders/ David Lynchian territory that's highly provocative. Altman also successfully fuses the past with the present in scenes with Stanton, merging him into the adult characters and acting as a ghost without being pretentious about it. And this picture could play uber pretentious, but it remains grounded in an offbeat, humanistic realm that keeps it from teetering over the edge into city boy, Southern Gothic.
Fool for Love is a lovely oddity, a timeless character study and like other "smalller" Altman films, a picture that should be rediscovered. And it's all kinds of mad sexy.