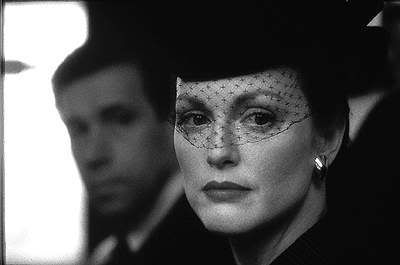 Because I love both Graham Greene and Neil Jordan
Graham Greene, a cynical romantic and self-styled "Catholic atheist," professed never to know the truth of things. "When we are not sure, we are alive," he once said. This doubt and liveliness are most evident in his 1951 semi-autobiographical "true love" novel, The End of the Affair, a work that deals with passionate afflictions both human and holy. It is fitting, then, that director Neil Jordan (Mona Lisa, The Crying Game, The Butcher Boy), a novelist himself and no stranger to tortured beauty or spiritual crisis, brought Greene's grand affair to the screen in 1999. Greene, who saw quite a few of his works both flourish and flop on the screen (his favorites were, not surprisingly, Carol Reed's The Third Man and The Fallen Idol), would have, most likely, been pleased by Jordan's adaptation. The film captures the author's British dryness as well as his passion, intelligence, weepiness and artistic mystery.
The movie begins not with love but with hate, as Greene's tortured novelist Maurice Bendrix (Ralph Fiennes) attacks his typewriter. "This is a diary of hate," he taps, after swilling a long shot of whiskey. It all began with an affair in 1939, while England was at war. Bendrix met and immediately fell in love with the beguiling Sarah (Julianne Moore), a woman stuck in a comfortable but passionless marriage to civil servant Henry Miles (Stephen Rea). The affair is fervent; they rendevous in a seedy room while bombs shake the walls. It is also long (five years), which only heightens Bendrix's intense jealousy, as Sarah will not leave her husband.
Two years after the end of the affair, Bendrix by chance meets Henry, who confesses he's worried that his wife might be having an affair. Bendrix offers to pose as a lover and enlist a private detective to tail Sarah. Henry is repelled by the idea, but Bendrix's mind is made up; he hires the slightly bumbling Parkis (Ian Hart) and his 12-year-old son, Lance (Samuel Bould), to watch and report.
Reminiscent of more romantic pictures within the noir genre, this is a detective story filled with dark nights, rain-soaked streets and protective fedoras ("Strange how much dignity there can be in a man's hat," Bendrix says at one point). It drips with cynicism, disillusionment and religious quandary. Bendrix is not just a man in love; he is often a selfish, unlikable monster in hate, obsessed with either a good woman or a double-crossing tart. He is also--typically for Greene and, lately, Jordan--miserably fighting God. This conflict adds another layer of philosophical and emotional tumult. There is a trinity here--the self, the lover and God--and poor Bendrix cannot sort it out.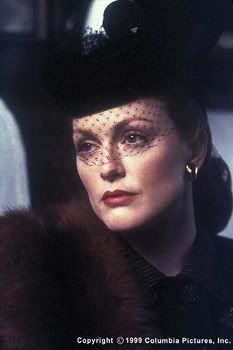 Yet, even with the ugly warts of love uncovered, The End of the Affair is rapturous, not only because of Greene's splendid story, but because of the mesmerizing cinematography (by Roger Pratt) and the cast's perfect, subtle acting. Fiennes and Moore are riveting, their chemistry impossibly genuine, and both Rea and Hart accomplish the hard task making potentially buffoonish and thankless roles surprisingly soulful. With all the elements so impeccably in place, The End of the Affair overwhelms you before you have a chance to harden. It makes you feel vulnerable, angry, unsure and, as Greene said, alive.