Alain Delon always seems not of this Earth.
The French, after all, dubbed him the "Ice Cold Angel" for his glacial beauty and laconic demeanor. But the iconic actor came from a world far from the perfect alignment of his facial features, one full of dirt, spit, blood and guts.
Born in 1935 in Sceaux, France, the star of Purple Noon, Rocco and His Brothers and Le Samourai had a rough-and-tumble start. Leaving a broken home at age 4, he lived with foster parents near a French prison where the future actor bid his time playing with the guards. His foster parents were killed, and Delon moved back in with his mother. Drop kicked from countless schools, the troubled teen worked as a butcher's apprentice with his stepfather. He was deeply unhappy. He entered the French military and at the young age of 17, became a parachutist and served in Indochina.
Returning to civilian life in 1956, Delon worked as a porter and soon after as a waiter in Paris where he smartly made countless connections with actors. One was Jean Claude Brialy, who accompanied the no doubt, excited Delon to the 1957 Cannes Film Festival. There, as a nobody, he, like a male Brigitte Bardot attracted copious attention for his staggering good looks and mysterious charisma. He was in.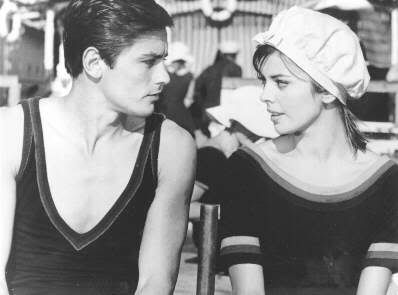 At the onset of the French New Wave, France liked bad boys, and Delon was a bona fide baddie. Sure, he was supremely pretty, almost eerily so, but he was rough and truly shady. He would later prove to have ties to the French criminal underworld. Perfect. A movie star was born.
Though Delon's acting debut came in Yves Allegret's 1957 film When the Woman Gets Confused, his big break was Rene Clement's Purple Noon, in which he was cast as the sociopathic but somehow sympathetic con artist Tom Ripley. Filmed with an undercurrent of homoeroticism, the film established Delon as France's answer to James Dean by way of Greta Garbo. To quote Dean's rebel, if anything was tearing Delon apart, the audience wasn't so sure how much was affecting him. And perhaps they didn't want to know.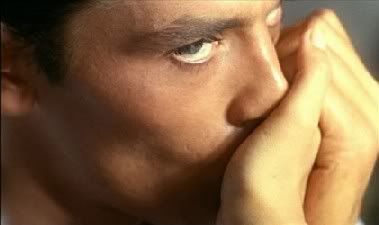 And yet interestingly, Delon bypassed the French New Wave (parts that would go to the more energetic and rubber faced expressiveness of Jean-Paul Belmondo) and instead worked with Luchino Visconti on Rocco and His Brothers and The Leopard, Michelangelo Antonioni on The Eclipse, Jean-Pierre Melville in Le Samourai, Le Cercle rouge and Un Flic, and Joseph Losey on Mr. Klein. I could list all of his credits (including the sexy Girl on a Motorcycle with Marianne Faithful, the experimental Nouvelle Vague, his only picture with Jean-Luc Godard, Spirits of the Dead in Louis Malle's William Wilson segment and dear lord, Zorro--I love him as Zorro) but check them out for yourself.  They are impressive, masterful and at times, bizarre.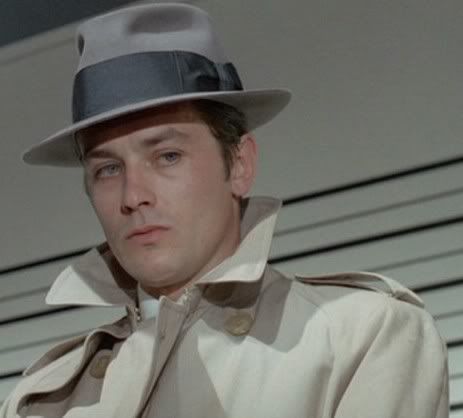 Delon is a legend in France, not just as an actor but also as a celebrity -- for his long list of wives and lovers (most famously, Nico, whom he had a son with and Romy Schneider) and legal dust-ups, as well as his *rumored open bisexuality (star to rumored as the word was missing in the first post -- apologies -- and Delon is certainly against homosexuality now). In 1968 Delon was implicated in a sex-and-murder scandal involving the death of his bodyguard. Though he was cleared of the charges, his dealings with Marseilles crime figures as far back as 1956 were revealed, including criminal gun-dealing. Gun dealing. Delon was a regular George Raft. Of course, this only helped his career in crime films, toughening up his gorgeous image with messy, dirty street credibility.
It's tough to think of a film actor so finely featured with such dark depths -- even Steve McQueen doesn't have the otherworldly intensity of Delon. And Delon had his own kind of range. In Rocco and His Brothers he plays a good son trying to keep his family together, but there's nothing sappy about his performance. And in one of his greatest films, the brilliant Le Samourai, his hired killer is both ice-incarnate -- as he murders his prey in a nightclub -- and an alienated innocent -- a warrior obsessed with his craft. He's never easily evil or simplistically decent, and the conflicted characters he crafts don't have the obvious, melodramatic contradictions that lesser actors project.
Delon, 70, is still around. He has created his own lines of perfume and watches, and in spite of threats to retire, he continues to act. And the essential tension at the root of his performances is still obvious. Delon contrasts a terse, world-weary, corrupt image against a pure beauty that's truly remained unmatched.
"I had a physique in contradiction with what I carried inside," he once said. "I've fought it all my life."