Not too many DVD's I'm that excited about this week. Most notable are The Proposition, The Henry Fonda Signature Collection and the Criterion editions of The Spirit of the Beehive and Jigoku. Hmm...I guess that should be enough. I'm becoming greedy.   
As for now, Three Obsessions:
1. Pretty Poison God I love Tuesday Weld. I love her so much it almost hurts. Lord Love a Duck, Wild in the Country, The Cincinnati Kid, Play it as it Lays, Thief and on and on... But my favorite Weld performance? As Sue Ann Stepanek in Pretty Poison. Finally released on DVD, Pretty Poison is the definitive Tuesday Weld movie. Playing the beautiful but deadly high-school majorette to Anthony Perkins twitchy, creepy fire-starter, she is the deliciously deviant underbelly of America's heartland. Where blondes are supposed to be good girls but, in her case, are most definitely not. Made in 1968 and directed by Noel Black, the picture was something of a dud upon release (too sexually disturbing? Too strange?) and has achieved cult status ever since and deservedly so. With its violence, pitch black comedy and sexy viciousness (watch Tuesday commit murder and immediately desire sex after) the picture is wonderfully subversive and deeply strange. And Weld...she is charming, scary, beautiful and sickly erotic. Need I explain the plot? The manipulation of Perkins (who thought he was doing the manipulating)?  The killing of her mother? The crazy, beautiful, psycho intensity of Weld? No. You really should watch it for yourself. Again, Tuesday, Tuesday. As Tiny Tim sang, "If only Tuesday Weld would be my wife." Update: Read my extended take on Pretty Poison, six years later, for Weld's 70th birthday, at the top of Sunset Gun, August 27, 2013. And on a Tuesday! 
 
2. Death Race 2000 Paul Bartel directed (and Roger Corman produced) this infamous cult movie that coupled a whacked-out dystopian future with a bizarre, violent long distance car race. You know how it goes: Drivers stack up points for mowing down totally innocent pedestrians as they speed across the country. The sport has become a national obsession complete with nutty contestants (check out a young Sylvester Stallone as a goombah racer and David Carradine as the scary anti-hero) and insane fans who want to get run over. I recently re-watched the picture and it remains as deranged, goofy and gonzo relevant as ever.  I hope that re-make idea ran out of gas. There's no topping this original.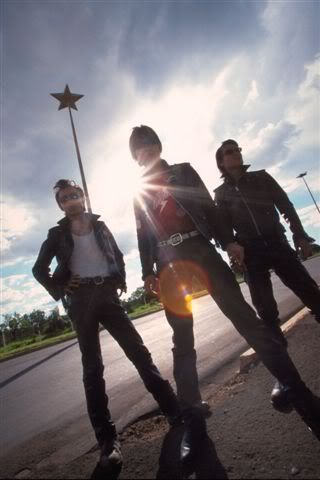 3. Guitar Wolf  Guitar Wolf, leather, guns, blood and of course, their kick ass rockabilly/punk/jet rock music that puts every so-called new punk band to shame. Dig the Japanese trio as they make their film Wild Zero. One of the coolest looking bands ever? Yes, I do believe so. Why did Bass Wolf have to die? Why?