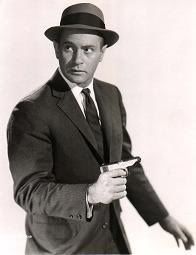 Another one gone.
The great Darren McGavin has left us. He was 83-years-old.
One of my favorite roles by McGavin is one he's probably least known for— as Louie, the drug pusher in Otto Preminger's The Man with the Golden Arm. Though Sinatra was the star, chewing scenery as any drug addicted, heroin withdrawal role calls for, it was McGavin who fascinated me. Like the Big Bad Wolf dressed in dandy clothing, McGavin was seductive and predatory—he was heroin. And I always thought his relationship with Frank's Frankie carried a hint of sexuality to it, especially in the powerful, pull down the shades moment when Frankie relapses to the determined jazzy score of Elmer Bernstein. It's always those smaller touches in movies that make them extra special and McGavin was sublime.
I guess they gotta go sometime but it always, always makes me sad.
*A reader is annoyed that I didn't mention McGavin from "The Night Stalker." Well, duh...everyone knows how great he was on "The Night Stalker"--I wanted to point out something else he did that showed even further, how talented he was.

This is getting ridiculous. And super sad. I'm beginning to feel like I'm writing a celebrity obituary column.
Dennis Weaver has passed away at age 81.
The actor was best known for his TV roles in Gunsmoke and McCloud in which he displayed a laconic, cowboy cool, but I have a special place in my heart for the more hysterical Weaver—specifically his performance in Duel.
Directed by the then unknown Steven Spielberg, Duel pits Weaver against an ominous existential force—a mysterious truck intent to kill him. Why? Who knows. But the premise is just as tense and action packed as it is philosophically frightening. Talk about being chased by karma. And Weaver as the sweating-bullets, panic-stricken everyman carries the film with a powerful desperation.
I also liked his creepy hotel desk clerk in Orson Welles' Touch of Evil—a small part but important, sleazy ambience for Janet Leigh's impending rape.
More than just McCloud Mr. Weaver will be greatly missed.
I know death is imminent but I really hope a new trend isn't starting. Can't they all live as long as Katharine Hepburn or Billy Wilder?