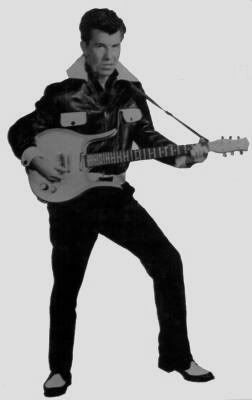 The greatest concert I've ever attended came from a guy in his seventies.
The guy was Link Wray and the place was some shithole in Portland Oregon. A good few years had passed since Quentin Tarantino featured Wray's famed "Rumble" in Pulp Fiction so he attracted a smaller crowd. The better for all of us. A lot of die-hard rockabillies, a smattering of old people, varied Wray fans and me. I stood in the front and watched one of rock n' roll's most influential guitar Gods kill. The highlight was when Wray handed me his guitar in the middle of "Rumble" and, in some bizarre trance-like state, I passed the thing through the crowd. It was safely returned back to Wray who, in spite of his dark image (Wray was one of the greatest looking leather clad rockers ever) and menacing sound, smiled broadly. I still have his pick, stashed safely in my jewelry box.
So Link Wray, born May 2, 1929, passed away (if you can read Danish here's his official obituary). The U.S. news is, so far, not reporting this--a major shame given how much Wray brought to American rock music. Distortion, feedback, the power cord and a raw, dirty, crunchy, heavy sound that everyone from Poison Ivy to Pete Towsend credit as most influential. Some even claim him the father of heavy metal. "Ace of Spades," "Jack the Ripper" and one of my favorites "Comanche" are just a few of his classics. And I've always loved that in 1957 "Rumble" was banned from a number of radio stations--banned for its menacing suggestion. There were no lyrics! Forget all those silly devil worshiping bands and industrial crap, Wray made true evil music! And he was a Christian.
Link Wray is gone. One of the coolest of the cool. Another true American original. In a sea of poser rock stars, poser non-rock stars, poser tough guys and poser musicians, he was pure rock and roll. He will not be forgotten.