After a curious absence from my usual triad of obsessions, I'm back at it, with DVDs I'm excited about and a few return offenders that are getting, as one horny old lady from Elvis: That's the Way It Is so eloquently put it, "my Phi Beta Kappa key a jangling" (You remember her, right?).
But, again, discs -- there's been some pretty choice DVDs released including The Bette Davis Collection, Volume 3 and last week's Gangster Collection, Volume 3 (finally, The Ladykiller!) as well as the new Bonnie and Clyde special edition. You can read all my DVD and Theatrical reviews at Strange Impersonation and check out whatever else I'm thinking at Pretty Poison.
As for now, Three Obsessions: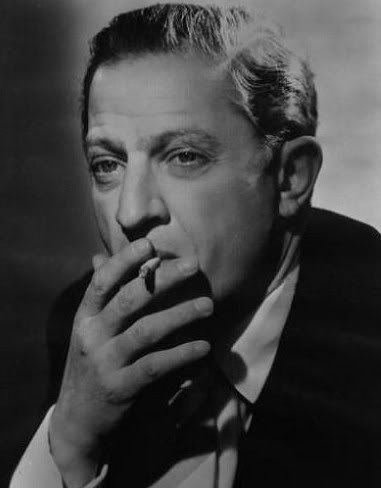 1. The Siren's Take on Jules Dassin's AP obit First Richard Widmark and Abby Man, and now Jules Dassin -- one of film's most inventive, raw, soulful, intelligent auteurs. With titles like Thieves' Highway, Brute Force, The Naked City and my favorite, Night and the City (featuring Richard Widmark's greatest, most desperate, most quintessential noir performance) and the brilliant Rififi and Topkapi, as well as Never on Sunday, a popular picture that served as a valentine to his talented wife, actress Melina Mercouri, Dassin was a seminal figure who deserves the respect of a Hawkes, a Ford, a Hitchcock or a Kazan. And speaking of Kazan...Dassin suffered the vile witch-hunt of HUAC, and was blacklisted from Hollywood after director Edward Dmytryk named him as a communist. Dassin would fashion his aforementioned greatest work -- Night and the City, in London, and later the influential Rififi, made in France. There's many terrific tributes to Dassin online, and I'm working on my own (I'm still reeling after Widmark) but I love (love, love, love) Self-Styled Siren's passionate objection to the AP's lame-brain Dassin obit. Sayeth Siren: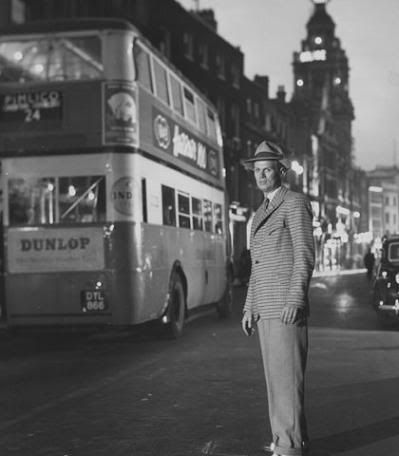 "Did you get the part where he was a leftist? Are you sure? Should we mention it again? Lefty-left-left-leftist, got that? How about the fact that Dassin left the Communist party in 1939? Oops, no space for that. He moved to London to do Night and the City, who knows why. Then Dassin 'abandoned' the U.S. after being denounced by vaguely plural 'contemporaries' and put on the blacklist. They wouldn't let on just anybody, you know, you had to be 'Communist enough.' Then Dassin lived in Italy and France and after soaking up the Euroscene he returned with Rififi... It is worse to hear that an American director of exceptional talent...has died at the ripe old age of 96, and then see that the obituary flashing across the newswires is a slanted piece of crap."
Siren has riled me up over this -- like prison-riot riled up. I need to break a bottle or something. Or watch Brute Force again. That's probably the superior alternative. Rest in peace Mr. Dassin.
2.
Marlene Dietrich's ABC
From her leggy Lola in
The Blue Angel
to the tux and tails and later, gorilla suit and blonde Afro in
Blonde Venus
to the brilliant documentary
Marlene --
as I've discussed before
,
I never thought I could love Marlene Dietrich any more that I already do. But while working at a book store years back, I came across this keeper -- not an autobiography but Miss Uber Blonde's own personal dictionary entitled
Marlene Dietrich's ABC
. Originally published in 1961, the reference book (and it really is a reference book) allows the reader to think of a word or term and look up Marlene's own special, specific definition.
You're not going to find the meaning of say, impugnable or dislogistic but you will find Suave ("I can get along very well without the use of this word."). You'll also flip through to find Morocco ("Looks better in films"); Credit System ("The American Tragedy"); Hardware Store ("I'd rather go to the hardware store than the opera. And I like the opera"); Medical Ethics ("They make me sick"); Pouting ("I hate it, but men fall for it so go on and pout") and Necking ("a dirty pastime."). (Oh Marlene, surely you mean good fun dirty?) But within her specific list is this oh-so-true statement regarding my own personal junkie paradise, Stationery Stores: "People who adore stationery stores are like dope addicts about paper clips, paper clamps, felt tip pens...paper...thick stiff, hard, soft, rough, large like canvas, surfaces like linen or pigskin... I remember buying the most beautiful pale blue legal paper, which almost felt like silken blotting paper...I look at it every once in a while and it sends me." Proof positive of her simultaneously mysterious and down-to-earth erotic potency, Marlene manages to make felt tip pens sound sexy. This gem is out of print but look for it. You never know when you might need to quote Dietrich's take on soda pop: "The gooey, bubbly sea drowning our American children." She's right.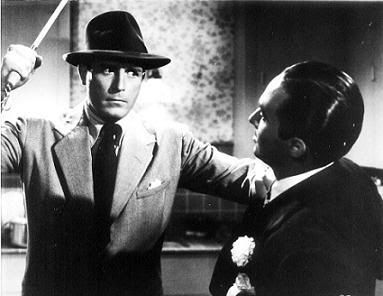 3. Born to Kill (1947) After re-watching the brilliant Night and the City twice in one week, taking in all of that "artist without an art" (such a great line) Harry Fabian, and feeling especially moved by not only the picture, but both Widmark and Dassin's recent deaths, I yearned for something I couldn't sympathize with. I wanted to feel hard. So who do I turn to for such necessary nastiness? That down and dirty mad dog hard-boiled hero Lawrence Tierney. Specifically, Lawrence Tierney in Born to Kill. Violent, black-hearted and disturbingly sexual Tierney is at his brutal best, especially when paired with Claire Trevor, the amoral climber who falls for the similarly ruthless Tierney (their chemistry is deeply sick yet wonderfully sexy). Adapted from the novel by James Gunn and directed by Robert Wise, the picture utilizes everything Wise learned from Val Lewton to stunning effect with, not only gorgeous noir lighting but genuinely nightmarish, violent attack sequences. A scene in which Tierney beats up and kills his ex-girlfriend and her lover will shock you much more than your modern eyes would expect. And Trevor (whom I worship) -- is one sizzling snake. I love how she cooly discusses the pain of death, as if explaining dental work or a hat sale at Bloomingdales: "A piece of metal sliding into your body, finding its way into your heart. Or a bullet tearing through your skin, crashing into a bone."

The supporting cast is stellar (Walter Slezak, Esther Howard and the noir fixture Elisha Cook Jr.) but Tierney, good GOD, is he wonderfully evil here. Known to many (and to too many) as the rough talking oldster in Reservoir Dogs, young Tierney is a man with immense sex appeal, the ultimate alpha male, the ultimate tough guy just dripping with testosterone of the ticking time bomb variety. His flashes of anger are potently scary, intense and real. He's an odd cross between smoothness (his voice is more punctuated and level, not overtly gravely) and harsh moodiness ready to explode. And nothing he does seems fake -- especially killing. But we are talking about a guy who, in real life was arrested more times than the character he played (John Dillinger) and who was knifed in a bar fight. Aw, dammit...now I'm sad again. All of these guys really are gone. OK. We've still got Ernest Borgnine (and I'm counting him for The Mob, Johnny Guitar, The Stranger Wore a Gun, Bad Day at Black Rock and The Wild Bunch) but he's not really the same thing. Maybe everyone should have married Ethel Merman for 32 days just once?