What happens when two fiendish, ferocious creatures, two deadly, demented sadists, two roughly beautiful master manipulators become lovers? Equality. Between man, woman and movies, you can find fair practice, of course, but with such hard-boiled honesty? Not often enough. So leave it to Lawrence Tierney and Claire Trevor in Robert Wise's uncompromising, savage noir  Born to Kill to present such a romantically rotten pair with such strangely satisfying equitability. The femme fatale meets her match -- the L'homme fatal. Were they acting? Yes, but then, as you fall into the movie, you begin to think, no. No way. As I rewatched the picture today, I had to repost my adoration for such crazy, mad, demented, deadly, not stupid, scary love.
As Wise wryly noted within the commentary track for his one of his greatest, most beautifully brutal pictures, indeed, Lawrence Tierney was not always acting. Particularly when a scene required a hot-blooded rage so intense that the bad mood bruiser resorts to beating a man and woman to death. It scared the director with its realness. And it scares the viewer.  No Adler, no Stanislavsky, no recounting memories of a woman who did him wrong, it was there without the asking -- Tierney was that frighteningly, fantastically natural. And in Born to Kill, he's something of a thuggish genius.
One of the toughest actors on and off the screen (Ever.), the hard-boiled legend was a notorious character (with a record) who lived on the edge of danger and menace with such tremendous gusto, that you can't get through Hollywood without hearing a classic, train-wreck Tierney story (my first week in LA and I met a man who  told me how, while renting movies with Tierney, he witnessed the legend throw a young man through a display case after Tierney overheard the stranger calling the very much passed away Errol Flynn a homosexual slur).  But the man was more than his drunken myth, more than the bald, gravel voiced geezer bad-ass Joe Cabot in Reservoir Dogs, more than the guy who scared Jerry Seinfeld with a knife (look it up), he was a young, strikingly handsome actor with such a powerfully dangerous screen presence and such a messy personal life that he was just too much -- too much of a good/bad thing.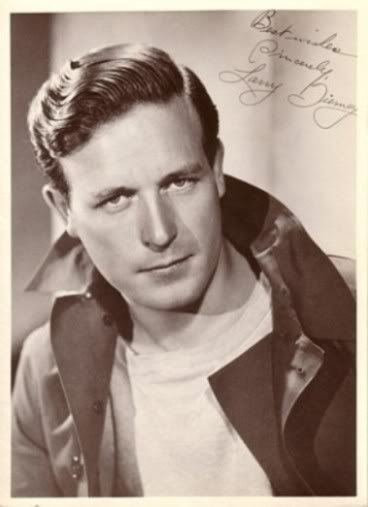 Born to Kill (along with The Devil Thumbs a Ride) showcases Tierney at the peak of his punching powers. Nasty, mean, mysterious and disturbingly, intriguingly erotic -- his brutality offers the viewer a confusingly attractive blend of sadism and sex. Part of the picture's kinkiness lies in his pairing with the fantastic  Trevor -- again -- the femme fatale to his L'homme fatal. He may beat and kill whoever inspires his ire, but Trevor easily, coolly discusses how painful it is for a victim to die: "A piece of metal sliding into your body, finding its way into your heart. Or a bullet tearing through your skin, crashing into a bone." she purrs. Naturally, the black-hearted climber falls for the like-minded Lawrence -- nothing's sexier than finding the one man or woman who'll understand you, while swirling each other like sharks.
Dysfunction this inspired can only lead to the bedroom. And Trevor was dysfunction on and with legs. As one of the queens of film noir in movies like William Wyler's Dead End, Anatole Litvak's The Amazing Dr. Clitterhouse, Edward Dmytryk's Murder My Sweet, Anthony Mann's Raw Deal, John Huston's Key Largo, Irving Reis's Crack-Up and more, she knew her way around a Bogart, a Powell and a Robinson. So in Born to Kill,  with those crafty eyes that could bore right through your soul -- or lack thereof -- she's potent stuff. And she's so strong up against Tierney,  that somehow, her black heart gave the man a soul. How could he resist her?
And Wise (working from the novel by James Gunn) understands all this beautiful, hopped up hyper-erotic horror.  Utilizing everything he learned from Val Lewton to stunning effect, from his gorgeous noir lighting (with cinematographer Robert De Grasse) to genuinely nightmarish, violent attack sequences, the movie sucks you into its toxic universe with such gritty gorgeousness, you can't help but be mesmerized by such awful people. You, and especially in the case of Tierney and Trevor, grow to admire them. 
This fatalistic fondness is doubly troubling when you again recall the moment Tierney kills his ex-girlfriend and her lover -- it's still so shocking, you can't believe your modern eyes haven't become accustomed to such violence. But this is Tierney after all, a man who he keeps you thrillingly off kilter. Working alongside a stellar supporting cast (Walter Slezak, an inspired Esther Howard and a perfect, noir fixture Elisha Cook Jr.) Tierney is… good god… so wonderfully evil. Young Tierney is a man with immense sex appeal, the ultimate alpha male, the ultimate tough guy just dripping with ticking time bomb rushes of testosterone. When anger flashes across those eyes, he's potently scary, mad-dog real.
A unique, unsettling cross between smoothness (in Born to Kill his voice is more noir punctuated and level over gravely) and harsh moodiness ready to explode, we immediately recognize he's no fake. But we are talking about a guy who, in real life was reportedly arrested more times than one of his more famous characters: John Dillinger. Though he grew grumpy of such typecasting, he had to know just how good he was at the level ten tough guy. No other actor tops this kind of specific anger -- an anger we can only wonder about. Where's this fury coming from? He was troubled, certainly, but perhaps, as Bukowski would say, Tierney was truly born into this. But in Born to Kill, Trevor played him like a fiddle -- Devil and Daniel Webster style. Who knows if she could handle him off screen? The movie sure makes it seem like she could. Anything he can do she can do badder. Or not. And then the struggle continues. And yet, Born to Kill never presumes this woman could tame the beast. Or should.
Here's one of the most brutal moments of Tierney and Wise's film career. Remember: Don't two time Lawrence Tierney.