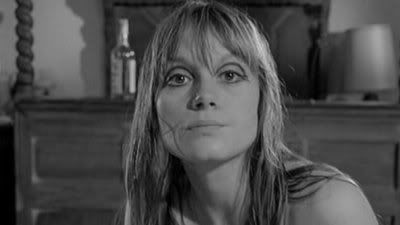 A rare screening of Roman Polanski's Cul-de-Sac shows tonight at the American Cinematheque's Egyptian Theater. In honor, a re-post of of one Polanski's best and most underseen pictures.
Roman Polanski emerged from the womb understanding the art of filmmaking. Or, rather, understanding the art of wombs -- diseased, depraved, disordered wombs. Cruelty, violence, twisted sexuality, madness, absurdity -- all of Polanski's hallmark obsessions -- are almost always confined to one space. The director loves nothing more than  trapping his characters in devil worshiping apartment buildings, phallic, knife-wielding boat trips and unhappy, unsound houses. And water continually means something. The superb Cul-de-Sac (1966) is his bats in the belfry, bat shit crazy house picture, and what weird, sexy, subversive, screwy fun it all is. Party at Polanksi's? I'm there. Even if Shelley Winters is invited.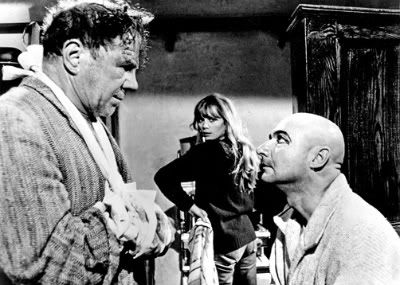 And yet, Cul-de-Sac is so under-seen. (When will it be released in the United States on DVD?) A precursor to themes he would continually dabble in: tortured relationships, bizarre blonde behavior, infidelity, cross-dressing, even film noir, via the  stalwart, gravel voiced Lionel Stander, alas, best known to some for his role in Hart to Hart ("Mrs. H, she's goooorgeous!") but who should also be remembered as the blacklisted, veteran hard-boiled American character actor, Cul-de-Sac (considered minor by some), is stunningly, at times, brilliantly  unhinged, while being, decidedly Pinteresque. But this is pure Polanski.

Donald Pleasence plays an odd fellow (a grand understatement) who lucks out (or not) with a gorgeous, beguiling wife (the ever poignant Francoise Dorléac; sister to Catherine Deneuve, and an actress who left the world too soon), whom he keeps  in an enormous, isolated house on a tiny island off the northeast coast of Britain. Playing like an especially kinky Desperate Hours, the couple will be forced to host two escaped criminals (Stander and Jack MacGowran) after the thugs land at their nutty abode. And then things get...really interesting. But it's not just crime and entrapment that make the story compelling, it's all of the Polanski touches, particularly when he observes the idle activities of Dorléac.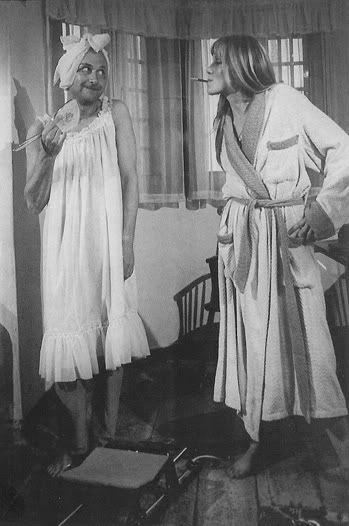 Dorléac is cheating on her husband (who takes to wearing ladies clothes a la Roman's tortured Tenant Trelkowski), she's also perpetually bored, stuck in the house like a more spirited, extra primal Virgin Suicide sister, and engages in childlike activities to amuse herself. She tears around the house barefoot, applies exaggerated eyeliner (or helps her husband with his), messes with rifles and, the best, most hilarious, lights a sleeping Stander's feet on fire with burning pieces of newspaper between his toes ("It's called a bicycle" she taunts). Oh...you just don't do that to Lionel Stander. Or perhaps, you do. Between these two mismatched misfits, it's disarmingly sexy. These characters don't establish things like "safe" words nor do they understand the concept of such a thing, so the perversity, stark beauty, the isolation, the bleakness, the menacing sexuality and the insanity make the whole experience a strangely good time. A romp, in fact. A Roman romp.