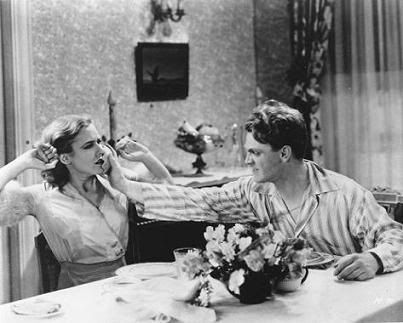 Food. We have to eat it. We hate to eat it. We love to eat it. And sometimes we love watching people eat it, but usually only in the movies.
Cinema is a pleasure which can consistently roll food, sex and countless other feelings, themes and experiences into one interesting steaming pot -- and, more importantly, you can look at it (I always crave steak when Glenn Ford bites into that slab of meat in The Big Heat. And then there's Lee Marvin's special serving of steaming hot coffee). Food on film elicits all kinds of reactions and yearnings that underscore just how much emotion we can invest in that often annoying task of eating (I'm no foodie), or on a lonely Thanksgiving.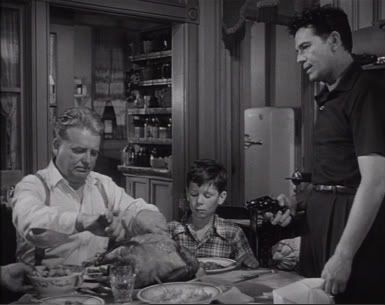 I always think I don't care about the holiday, but when I find myself dining by myself, I suddenly want a lot of food, and I want some kind of relatives, any relatives, to eat it with -- like John Garfield and his tense turkey dinner with the family he's held captive in He Ran All the Way. And I also want to watch a lot of movies. With that in mind, I've thought of some of my favorite food on film moments -- moments that make me hungry, sick, amused and ready to try new, exotic things (see Ravenous). 
Food Fight: The Miracle Worker (1962)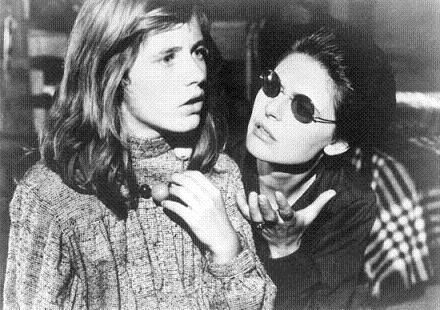 Though Arthur Penn's The Miracle Worker received acclaim in its day, it now seems relatively underappreciated -- especially in terms of how strikingly visceral and in many ways, avant-garde it is. The story of Helen Keller, a woman who found herself in the unfortunate position of being blind, deaf and mute is directed by the late Penn with a refreshing lack of hokey sentimentality and a lot of in-your-face realism. As in really in-your-face. Penn (who also helmed Bonnie and Clyde) prefers to showcase the real life account in a shockingly straight forward manner mixed with a lyrical sadness and beauty. It's an unsettling combination that's surprising even today, especially when we get to the infamous dinner table scene. A game Anne Bancroft plays Helen's teacher Annie Sullivan, who tries valiantly to teach stubborn Helen (a remarkable Patty Duke) how to sit down and eat at the table like a regular little girl. The lesson results in not only a food fight, but a smack-down that would make Vince McMahon envious. I mean, just watch…it's actually amazing how much these women wrestle, slap and fork food in their mouths without missing a beat. It's sad but also (and I think this is intentional) a little hilarious. This scene is, in extreme understatement, impressive ...
Erotic Rotting Rabbit: Repulsion (1965)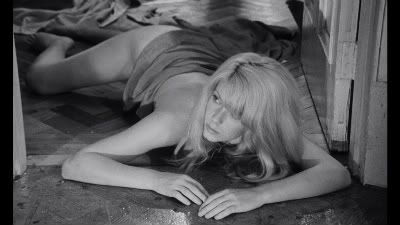 Catherine Deneuve's Carol, a nervous young manicurist will find herself languishing about her apartment, where, her pathological shyness, sexual repression and repulsions spiral into madness and .... a rotting rabbit. Perplexing hallucinations haunt Carol as she's holed up in her pad: sexual acts with a greasy man whom she simultaneously loathes and lusts; greedy hands poking through the hallways and kneading her soft flesh; and the moving and cracking of walls. Left alone, she is able to act out what she is so afraid of: the dark sludge of desire. The obscure, slippery and decayed complexities of such desire are conveyed brilliantly and the diseased atmosphere of Carol's apartment/womb is meticulously created through Polanski's inventive camera angles, sound effects and images of clutter. Polanski's use of ambient sounds (the ticking of a clock, the voices of nuns playing catch in the convent garden, the dripping of a faucet) is masterful,conveying Carol's unsettling fears. And then there's the food ... Polanski dresses the film with pertinent details that further exemplify both Carol's madness and the aching passage of time: potatoes sprout in the kitchen; meat (rabbit meat, no less) rots on a plate and eventually collects flies; various debris of blood, food and liquids form naturally around Carol. Carol is seen carrying that rabbit in her handbag. Why?  Perhaps bunnies and what they represent repulse Carol. Or turn her on. Perhaps she can't decide. A masterpiece of madness.
French Kiss: Babette's Feast (1987)
Babette (Stéphane Audran) is some family cook. The French woman, who originally fled Paris after her son and husband were killed, has worked for a family in Denmark for 14 years, preparing food with little zest. But when she wins a lottery, she decides to use her winnings on crafting an elaborate "real French dinner" for her employers in honor of their deceased father's 100th birthday. What transpires is an overwhelmingly tasty, exotic and even, at one point, scary French meal (the sisters suspect Babette might be a witch in one scene). As a result of her luscious meal, filled with French delicacies that'll make even food philistines wish to sample the country's cuisine, all kinds of emotions are revealed, prejudices are broken and the family is bonded.
Prison Food: Goodfellas (1990)
From stirring the Sunday sauce just right (no matter if helicopters and cops are on your tail), to dinner with Joe Pesci's ma (actually Scorsese's), to shoving the mailman's head in a pizza oven, to Ray Liotta's telling diner meeting with Robert DeNiro, there's no shortage of delicious and murderous food sequences in Martin Scorsese's perfect Goodfellas. But the primo moment has to be when the bosses are sent to a prison so cushy, not even Martha Stewart could have conceived it. As Ray Liotta genially narrates, we watch the delivery of a ridiculously plentiful assortment of food -- delicious, hearty Italian food -- to the delight of the drooling but discerning jailbirds. The topper is when Paul Sorvino slices strips of garlic with a razor blade to such thin, such translucent perfection that when you see it gently combine with the olive oil and sizzle in the pan, you can practically smell the delectability. Makes you want to go to jail for one second...as a gangster. And, to enter the club in the most romantic way possible, through the kitchen.
Revenge is A Dish Best Served ... : The Cook, The Thief, His Wife, and Her Lover (1989)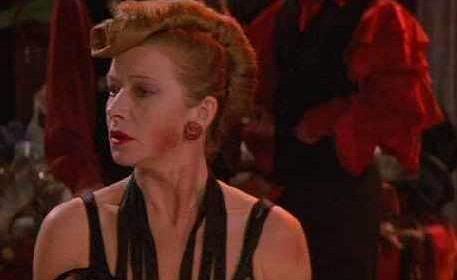 Working like the anti-Babette's Feast, Peter Greenaway's beautiful though at times deeply repulsive film will make many never want to eat French food ever again. The story concerns the deviant (and, symbolically, political) happenings at a fine French restaurant in which the gastronomically gifted chef, Richard (Richard Bohringer), crafts elaborately artistic meals while the restaurant's boorish owner (Michael Gambon) holds obnoxious court with his abused wife (Helen Mirren). When the wife takes a lover, things, as they say, heat up, but not in any way you have or ever will imagine. Gorgeously shot and costumed and filled with succulent and sickening examples of cuisine, the film's (spoiler alert!) special of the day involves the murdered corpse of the wife's lover served up for her husband to eat. There's many lessons to be learned from this picture, but here's a simple one -- don't mistreat the cook, the waitstaff and a woman who is deservedly cheating on you. Didn't you see Fight Club? You know what people can do to your soup.
It's People!: Ravenous (1999)
 This one's tough. There's some great cannibal contenders in this category, chief among them, the classic The Silence of the Lambs, the hilarious Eating Raoul, the weirdly touching and environmentally-friendly Motel Hell, the remarkably disturbing Parents and, of course, Soylent Green, which always sounded kind of good to me. But I'm partial to that brilliant, underrated war/vampire/horror picture Ravenous, directed by Antonia Bird with flesh eating flair. The title itself is wonderfully evocative, even while being blatant, and the movie, about a Mexican-American war captain (played by Guy Pearce) who's sent to an outpost in which the inhabitants are cannibals (led by a terrifically devious and sexy Robert Carlyle), is clever, scary, gory and deeply layered. It may be people, but it's good eating. And oddly arousing. Makes me want to try a bite of that stuff.
Top Ramen: Tampopo (1987)
Juzo Itami's Tampopo truly is a Spaghetti Western. Well, maybe more a noodle Western ... but its humorous blending of the old school Western with the, in this case, dizzyingly creative task of creating a perfect bowl of ramen, is giddy, delirious fun. The story has an aspiring restaurateur receiving aid from a cowboy drifter whose mission becomes noodles. From this fanciful plot, short sub stories evolve with meditative gusto, including a supermarket manager chasing an elderly woman who squeezes too much produce, a gangster's kinky fun with food and sex and an old man who nearly chokes to death on noodles only to be saved by a restaurant patron with a vacuum cleaner. It's a wonderfully inventive essay underlining that our passion for food can invoke innumerable and often bizarre scenarios. And it really, really makes me yearn for some noodles. 
All You Ever Needed to Know About Chicken but Were Afraid to Ask: To Catch A Thief (1955)
Though there are many classic food and sex films and moments, including the egg incident from In the Realm of the Senses, the fridge raiding sequence from 9 ½ Weeks and the butter milestone of Last Tango in Paris, our favorite has to be Alfred Hitchcock's To Catch a Thief. Eating their chicken lunch picnic, Cary Grant and Grace Kelly are at their most sensual and human when the question of which piece of chicken arises. When he asks, "You want leg or breast?" and she answers "You make the choice."  Unless chicken means something else to you (and I'm not going further with that), only Cary Grant and Grace Kelly can make fowl so erotic.
Service With a Cackle: What Ever Happened to Baby Jane?  (1962)
Bette Davis could be the queen bitch of all queen bitches. As the aging child star Baby Jane Hudson caring for her ex movie star, wheelchair bound sister (played with aching martyrdom by Joan Crawford), she's the picture of creepy cruel -- spackled white makeup, overdrawn mouth, baby doll ringlets, ratty old robes and little girl clothes (Davis insisted on looking this way -- even director Robert Aldrich was concerned about how scary she appeared). But this isn't about how Bette dresses, this is about how Bette serves a lunch. "Here's your lunch" she spits to Joan while slumping around in her robe. What does Joan get? Usually lunch, but she's also served not only a dead bird but, in another Davis specialty, a dead rat. Bette! Serving meals with gusto and flair! Everyone should prepare this kind of a meal at least once. Right?
Best Restaurant Order Ever: Five Easy Pieces (1970)
Sorry. I'm not going with the obvious -- When Harry Met Sally. First off, contrary to popular opinion, Meg Ryan's fake orgasm, "I'll have what she's having" -- diner display is the least funny moment in the otherwise charming romantic comedy. And secondly, no one beats Jack Nicholson in terms of inappropriate, though completely understandable restaurant behavior (think of other great Nicholson at-the-restaurant-moments: making Randy Quaid order his food the way he wants in the great The Last Detail and his endless, OCD eating specifications in As Good As It Gets). And though the masterful Five Easy Pieces (directed by Bob Rafelson) really has little to do with food, but it makes my list simply for Jack's iconic way of ordering a side of toast. While Nicholson's slumming oil rigger/talented pianist has embarked on that trek to visit his dying father with saucy girlfriend (Karen Black) and, at one point, two memorably surly female hitchhikers in tow, they stop for lunch in a scene you all know well. It's a tall order for the seen-it-all waitress won't bend the rules ("no substitutions") on a breakfast order of a "plain omelette, no potatoes, tomatoes instead, a cup of coffee, and wheat toast." When the waitress insists she can only bring Nicholson a roll or an English muffin, he asks the perfectly reasonable question, "You make sandwiches don't you?" and proceeds to order a chicken salad sandwich, hold the butter, mayonnaise and lettuce. But where to hold the chicken? "Between your knees," Jack famously and disdainfully coos. I never tire of this moment. And right now I'd really enjoy some wheat toast. Maybe even some chicken.
Just As Good:
Charlie Chaplin consuming his shoe in The Gold Rush.
Mae Clark's grapefruit surprise in Public Enemy.
The maple syrup moment in To Kill A Mockingbird.
John Garfield's family frustration and tense turkey dinner in He Ran All the Way.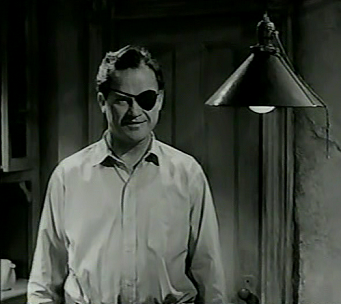 Ralph Meeker chomping on crackers in Barbara Stanwyck's car in Jeopardy. Ralph Meeker feeding Carroll Baker those sad little meals in Something Wild.
Captive Choi Min-Sik as Dae-su eating pot stickers in Old Boy and then an... Octopus.
Sex and food and sex and food and sex in Tom Jones.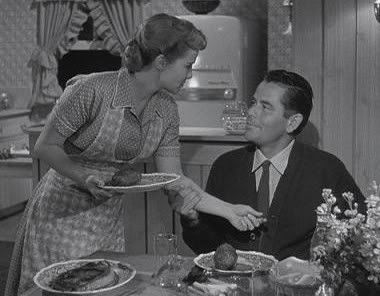 That steak I mentioned, served up by Glenn Ford's perfect wife in The Big Heat.
The great rare steak stand-off in Mommie Dearest.
Marilyn Burns's meal with Grandpa in The Texas Chainsaw Massacre.
Woody Allen and Diane Keaton attempting to cook lobster in Annie Hall.
The traumatic eel eating in The Tin Drum.
Faye Dunaway gorgeously gorging a hamburger and sucking a Coca Cola in Bonnie and Clyde.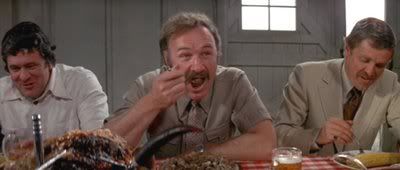 Gene Hackman gleefully eating guts in Prime Cut.
The drugged, demonic chocolate "mouse" served to Mia Farrow in Rosemary's Baby.
The touching Thanksgiving finale of Broadway Danny Rose. My favorite Thanksgiving movie.
Everything in Luis Buñuel's The Exterminating Angel.