Cars usually offer me solace, a place of escape.  Speeding microcosmic shelters where I can go, as the great Ike Turner wrote, "oozin' and cruisin' along." But on a recent trip from San Francisco to Los Angeles, I did something that occasionally happens inside a car -- I freak out. My friend was driving along the 1, we stopped off in Big Sur and everything seemed fine. Beautiful stretch of highway, the sparkling ocean, the lovely curvy cliffs and…the dulcet tones of my irritated voice asking… "Can you speed this thing up just a little more?" My heart was beating a mile a minute, my hands were trembling -- I was entering a full scale level ten anxiety attack. For no reason.
With a little more thought and little less freak, maybe there was some reason. I wasn't driving. I told my friend to pull over -- surrender the wheel. He complied but soon regretted this decision. Driving as fast as that stupid rental (I blame the rental) could take me, screeching around the high cliffs and stating over and over that police didn't patrol out here anyway,  and I'm gonna pass any selfish slow-poke in front of me (how dare they enjoy the scenery, Christina!), I glanced at my friend who was as white as a sheet, bracing himself for dear life. He knew I was having a moment, and he didn't say anything lest I motor us off the cliff (but come on...I know how to drive a car). And yet, the nutty focus helped -- my rushing adrenaline became one with the accelerator -- if I couldn't run this damn panic attack off, I was gonna drive it off.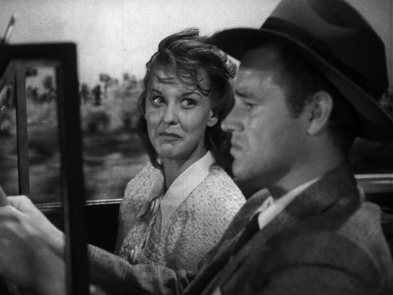 But suddenly I thought -- what if Robert Loggia (Robert Loggia from Lost Highway) was rolling in front of me? I'm not one to tail gate, but god forbid two motorized mental meltdowns collide (if you've seen the movie, you know what I'm talking about). Which got me thinking further about something I'm always pondering -- movies -- specifically, movies in which characters suffer similar vehicular flip-outs. There are so many: Kirk Douglas going spectacularly speed demon nutzo in Two Weeks in Another Town, Lana losing her cool in The Bad and the Beautiful, Lana and John Garfield losing their nerve in The Postman Always Rings Twice, Alice enduring Tommy's endless joke in Alice Doesn't Live Here Anymore, Bette drunk driving with her Oscar atop the dash in The Star (drunk driving laws should be exempt if you're clutching an Oscar you won 15 years ago), Anthony Perkins scaring the hell out of Diana Ross (and taking Helmut Newton meets Weegee meets mental hygiene photos at the same time  -- in the car) in Mahogany,  Rip Torn chucking that woman out of his car, throwing money at her, then backing up and snatching the money right back in Payday, Max doing essentially, anything in Mad Max or Ann Savage and Tom Neal simply breathing behind the wheel in Detour -- movies can express motor-psycho moments perfectly. So with that (and among many others, there are too many to list all) here are five big screen freak-outs I especially love.
The Longest Yard (1974)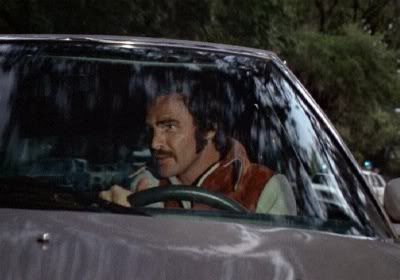 Robert Aldrich's The Longest Yard contains one of cinema's greatest opening sequences of supreme speed demon self destruction. Here's how it goes: Washed up pro football player Paul "Wrecking" Crewe (Burt Reynolds) who was banished from the sport for point shaving, staggers out of bed with a woman whose clearly (and very loudly) keeping him. As Crewe reaches for a drink, she storms out of the bedroom hollering at him for being a loser, how she paid for his new teeth -- essentially emasculating ol' Burt. In a move that would never, ever happen in a movie today, Crewe shoves her, he shoves her hard, and with the rage of a man who's ego's been bruised one too many times. And then he jumps into her fancy Citroen. Oh this is so great. Speeding down the street, with drink in hand and Lynyrd Skynrd tune blaring (no less), cops are in pursuit. But does he care? Nope. When he does stop the madness, he doesn't turn himself in; he simply kicks the car into a watery grave. But that's just the half of it. Waltzing into a bar for more drinks -- he then casually insults the dispatched officers (to the delight of both the bartender and the cop escaping his barbs) and finally slugs the fuzz. A wonderfully hilarious, transgressive scene with Reynolds at the top of his dangerous cinematic charms, all this happens before the opening credits come to an end.

The Hitch-Hiker (1953)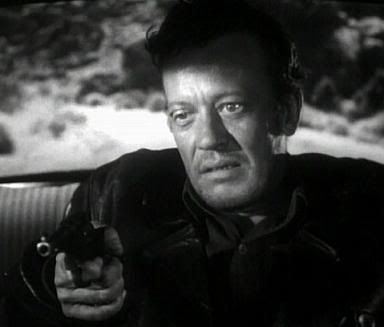 In the 1930s and 40s, Ida Lupino earned deserved esteem as an actress with her tough, sensitive performances in movies like High Sierra, They Drive by Night and Road House, and would continue her talents into the 1950s with The Big Knife, While the City Sleeps and On Dangerous Ground. But the intelligent, unique and creative actress spent time studying the mechanics behind the camera, resulting in her directorial debut, Outrage, in 1950, a thoughtful, emotional B-thriller that took on the controversial subject of rape. Throughout her career as a director (she made seven pictures), Lupino would continue to approach taboo subjects with sensitivity and grit (The Bigamist is another interesting standout), but her greatest film is the intriguing psychodrama and wonderful auto-terror, The Hitch-Hiker, starring Edmond O'Brien, Frank Lovejoy and a brilliant William Talman. Chronicling a horrifying road trip in which two fishermen (O'Brien and Lovejoy) pick up a completely deranged hitchhiker (Talman), Lupino directs with shadowy menace and intense nervousness (mirroring postwar anxiety -- especially in a car) in this tight character study/thriller that rivals the car insanity of Detour. Though she called herself the "Poor man's Don Siegel," she was dubbed the "Queen of the B's" and enjoyed a successful career (especially for a female director), making a string of entertaining, thought-provoking pictures that stand the test of time. Bigamists are fine, but hitch-hiking is always creepy.
Jeopardy (1953)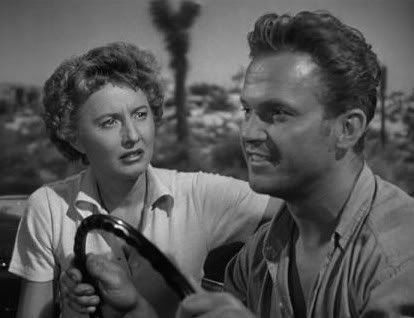 The John Sturges directed daylight noir thriller is not only a tense, daring ride, but a deliciously, devilishly, weirdly hot good time. Here's the predicament: While vacationing in Mexico with hubby Barry Sullivan (an actor I revere, and one I will discuss in an essay that needs to be written) and their young son, Stanywck is put to the test after Sullivan is trapped in the surf and she must find anyone (anyone) to help her. Aid arrives in smarmy Ralph Meeker (ohhhh...Meeker) a fugitive who has a few other things on his mind. He professes to help, grabs Babs, and takes charge of her car and off it goes. A lot of arguing, sexual tension, slaps, cracker eating, everything happens in that nutty car ride. And the repartee between Stanwyck and Meeker is angry, sick and erotic with standouts involving the triple slap Meeker lays on tough Babs (triple!) or Meeker's proud preference for cheap perfume: "It doesn't last as long." Or my favorite moment  --  when Stanwyck realizes she must make the ultimate sacrifice. She stands near the car, faces Meeker all hard and seductive and says: "I'll do anything for my husband. ANYTHING." And she does. Hard-core Babs.
Bring Me the Head of Alfredo Garcia (1974)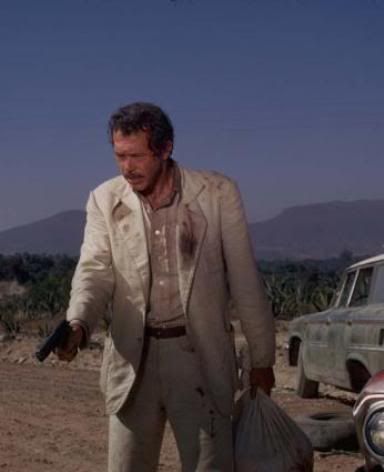 Apologies up front for returning to this movie on, seemingly, a monthly basis. But I love it so. Sam Peckinpah's brilliantly bizarre, fantastically bloody yet strangely beautiful 1974 masterpiece, Bring Me the Head of Alfredo Garcia (Peckinpah's most personal picture), is not only essential viewing for Peckinpah-philes, but required viewing for every gear-head whose endured a long, tumultuous road trip - chiefly through Mexico, and with a rotting head in the car (but I'm getting ahead of myself).  The picture stars one of my favorites, Warren Oates as Bennie, an American ex-pat/small-time hustler/piano player who claims to know where Garcia can be found. For various reasons I won't get into, once involved, Bennie's up for a major dinero if he brings in Garcia -- dead. All he needs is the head.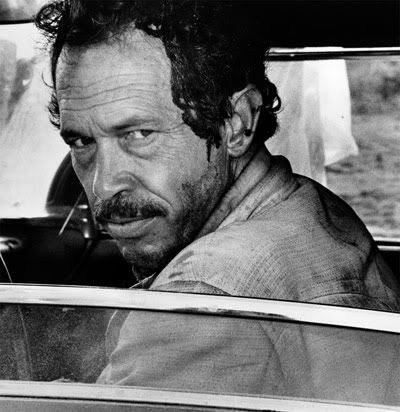 Coincidentally Bennie's girlfriend (the great Isela Vega) was once Garcia's lover, and after informing Bennie that Garcia is already dead, he thinks, easy:  find the grave, dig up the corpse, chop off the noggin, cash in, and start anew. Well…not so easy. As the road trip progresses, Peckinpah's realism churns into this existential hyper-real horror show that manages to be poetic, grisly and oddly romantic. When deranged avenger Bennie, be-decked in that glorious white suit (Warren Oates has never looked better), now covered in dirt, sweat and blood, drives with what will become something of a friend  -- the rotting, severed head of Alfredo Garcia -- the adventure spirals into violence, poignancy, and madness. Swatting the flies out of the car, and confiding thoughtful, sometimes angry diatribes to his newest buddy, that head becomes a body part he can trust– the one person he can actually relate to. Showing an auteur and actor at the height of brazen, violent eccentricity, the picture is highly personal and daringly touching. A movie I make sure to watch every Valentine's Day. No, really, I do. I've even watched it in a car -- on Valentine's Day. More on all that right here. 
Kiss Me Deadly (1955)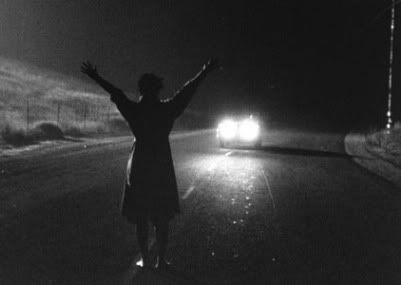 Another Robert Aldrich picture (another Meeker), but damn if the director didn't have a way with characters going batty in their bucket seats -- and directly at picture start. With this seminal, sleazy noir Kiss Me Deadly, he opens the picture with a pair of naked feet running down the middle of a highway in the black of the night.  The feet belong to a hysterical, heavily panting blonde/psychiatric-ward escapee (Cloris Leachman) wearing only a trench-coat. Desperate for a ride, she places herself in the middle of the road and finally, a cool little Jaguar sports car comes to a screeching halt. The driver, Mike Hammer (the ultimate sexy shit-heel Ralph Meeker) is agitated by this mystery woman/potential loony, begrudgingly "rescuing" her with a sneer. He spits:  "You almost wrecked my car. Well? Get in!" With the camera placed behind our two characters (one absolutely frantic, the other as cool as a cucumber), the credits roll upside down against the highway's white lines (so brilliant), and the only thing you hear is Nat King Cole's elegant "Rather Have the Blues" co-mingling with woman's hard, almost sexual sounding hyper-ventilating. So totally perverse and subversive, Aldrich's kick start plays shocking even today.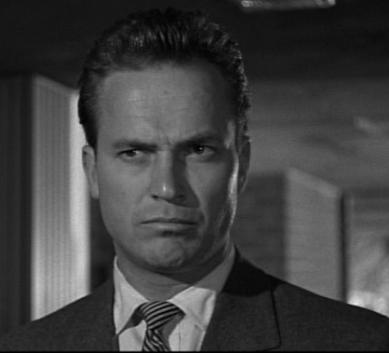 How many pictures would have the balls to place a viewer on this kind of edge? But Aldrich's not playing simply for shock -- the director (and cinematographer Ernest Laszlo) instantly address the expressionistic, off kilter and monstrous universe we're about to enter -- but in a car. Un-relenting, sleazy, mean, disorienting, neurotic, psychotic and hopeless, Leachman's panting pick-up is the crazed conscious inside all of the film's characters, maniacally running from a world that could explode (literally) by the opening of a suitcase, or simply your car door.