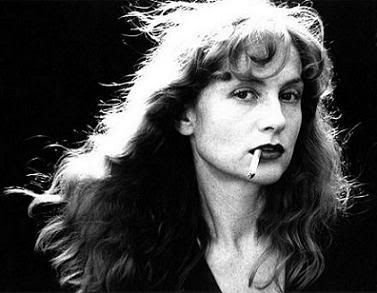 After listening to Schubert all morning...And the last repost here for some time. Vacation. And obsessions are obsessions.

In Michael Haneke's The Piano Teacher, the taciturn piano teacher cites Schubert and Schumann as her two favorite composers. Both German, both "Romantics" both tortured in art and life -- the composers are apt choices for this cinematic creature. Schubert, the bigger genius, outward bohemian and poet, was Schumann's greatest admirer. Schumann cried over Schubert's death at 31 and later went insane, dying in an asylum at 46. Schumann said he could not talk about Schubert unless he spoke "to the trees and the stars."
Schubert worship runs through Haneke's picture as teacher Erika Kohut (Isabelle Huppert) instructs in Schubert's dynamics from "scream to whisper, not loud to soft." Such is her disposition, and, like Schumann, she, the outwardly ordered woman is inwardly screaming -- one step away from the nuthouse herself, where as we learn in passing, her father is suffering through the rest of his life.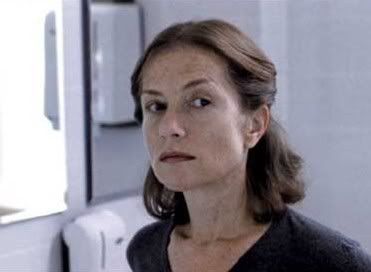 But that's only one aspect to Haneke's intensely complex study of a woman living on the precipice. As with all of Haneke's philosophical "horror" pictures from Benny's Video to the brilliant, terrifying Funny Games (and the underrated, powerfully horrifying re-make) to Code Unknown to The White Ribbon, there's a consistent theme of claustrophobia, voyeurism, oppression, terrorism (personal or institutional) and perversion -- perversion of not only the characters, but also of audiences wishing to lap it up and beg for more (master). But Haneke (and this is where many cannot stand the director, and I have to admit, I can barely read an interview with the man -- he spells it all out...) wants you to think while salivating and, in his own cleverly cinematic way, punishes you for doing so (it's no wonder Haneke was -- as he states on the DVD -- profoundly influenced by Pier Pasolini's Salò). He likes to rattle your brain and moral center, making you ruminate long and hard on what you've just witnessed. With The Piano Teacher, it might be when our fine character lies in a bathtub and...I'll get to that moment later. The Piano Teacher, as squirm inducing as it can become, may be the director's most powerfully unsettling, erotic and at times, comic film.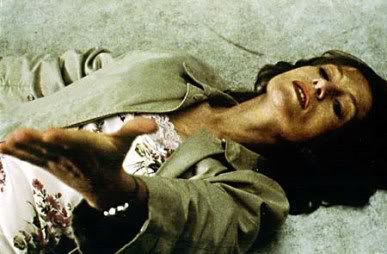 The movie has the 40-ish Erika still living with her unpleasant mother (Annie Giradot) in a relationship so antagonistic, unhealthy and, for lack of a better word, close that the two still share a bed (and you'll see what that's like through the course of the film). Erika is a distinguished professor at a prestigious Viennese school who's worshipped but feared as she harshly criticizes students: "A wrong note in Beethoven is better than a bad interpretation."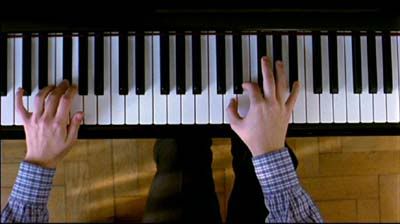 But she's a loner with some pretty intriguing outlets for her sexuality. Trolling sex shops, sitting in the booths to smell the refuse left by horny patrons, she's more than just a repressed female seeking release -- she's a sadist as well. And there's something proud about her thrills that, amid the beautiful classical piano music, works some convoluted ideas about the human condition. Gorgeous depravity or rather...is anything truly exalting unless you've witnessed the sullied? The disgusting? The sexually deviant? She's something you rarely see in cinema --- a beautiful female creep. And that (for men possibly more than women...but possibly not) is simultaneously erotic and especially scary.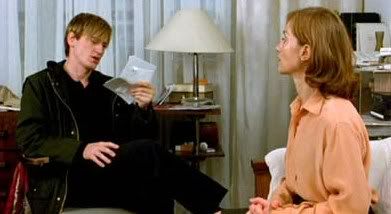 When a curious, handsome young student, Walter (Benoit Magimel), becomes interested in her musically and sexually, he falls hard for the seemingly placid teacher. He changes a public performance of a Schoenberg piece to Schubert just for her (and that is quite a difference -- modern discordance to Romanticism), and she begins to test his limits of sexuality, specifically in a masterful sequence in the conservatory's bathroom where a bizarre, painful dance of erotic control commences.
Few films really dissect "odd"/neurotic female desire on film (Polanski's Repulsion, so far, for me is the greatest study of this. Hitchcock's Vertigo and Marnie and Lars von Trier's Breaking the Waves ranks high as well), and The Piano Teacher goes right (as Edward Albee's Martha would say) to the meat of things. This may be the only film I can think of where the female protagonist is something of a lurker, a sadist/masochist (in one scene she places broken glass in a student's coat pocket; in another she cuts her vagina in the bathtub -- tough to watch but weirdly mesmerizing) and yet, she is oddly sympathetic. We feel for her. Some may even like her (I did).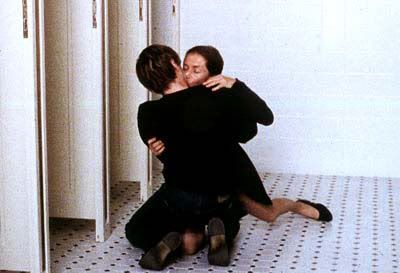 In one of film's bravest performances, Huppert creates a character of such intrigue and bottomless depth that we can't possibly crack her. Though something of a female "pervert" (whatever that means) she remains reserved -- acting through pinched, near non-expressions that explode into manias, she's never obvious, never entirely fathomable, never strained or trying too hard to be transgressive. Somehow, the actress feels naturally perverse, at times frightening. And though a lover of Romantic music, she is anything but romanticized. Subversive, meditative and poetic, The Piano Teacher, thanks largely to Huppert, is a daring work of sexually strange, unmitigated genius. Like truly feeling music, which comes from precise craftmanship and then spins you into mysterious, emotional and exalted places, so can the workings of love and all the other, stuff. Sex, desire, neurosis and romance are often quite specific and yet deeply enigmatic sensations. For that, the movie, though disturbing remains unsettling erotic and yet unusually romantic. To the trees and the stars and the beds and to the...sex shops.