I'm always obsessed. From one day, week, month or year to the next. Whether it's my recent, traumatic viewing of The Yearling (I'll get into that heart-achingly beautiful movie another time), or a vivid nightmare I experienced after watching Looking For Mr. Goodbar at 2 AM in a humid NYC studio apartment, my mind is usually possessed with...stuff. Too much stuff. So I frequently let these beasts loose with "Three Obsessions," a recurring entry that I'm far too behind on. Over a year behind, in fact. Have I been too obsessed? Or too lazy? Or both? I think I just answered that question.
Nevertheless, I'm due for some new obsession confessions. And this one was easy -- New York City. I recently vacationed there, so naturally it's lingering in my mind, hanging around like all those pretty girls in the East Village -- there's so many of them. I fell in love every five minutes. So here's some more love --  New York movies and, again...stuff. Some lovely, some bizarre, some violent, some demented and some oh so soothing.
1. Goldiggers of 1933 (1933) 

New York City. 1933. The Depression. People wanted to escape. And not just through "nice" movies, but through sexy, subversive movies that tested the limits of morality. Though not as overtly socially conscious as other 1930s Warner Brother dramas like I Am a Fugitive from a Chain Gang, Wild Boys of the Road, or classic gangster pictures like Little Caesar and Public Enemy, or pre-code delectables like Ladies They Talk About or the brilliant Three on a Match, Warner Brother's Goldiggers of 1933 showcases a bizarre-o balance between escape and grit, realism and surrealism. Directed by Fugitive helmer, Mervyn LeRoy and more importantly, choreographed by that mad genius Busby Berkeley, the movie is not really a movie, but an experience -- an experience that spins into this alternate universe of New York that was probably both recognizable, and incredibly alien. With a take on what Americans love most -- money -- the film presents a wonderfully strange number of the famed song "We're in the Money" wherein a comely Ginger Rogers sings it in both English and Pig Latin. (David Lynch must love this movie)

Amazing for its ability to be complex, yet light, a little dirty and a little innocent, socially relevant and then, fantastically inventive in terms of set design and costuming, Goldiggers proves that musicals were never mere escapism. And this is New York City -- New York City imagined in the state of show, and on the sound stages of Burbank, California, but weirdly, pure New York. The girls, or gold diggers, live in an unglamorous apartment, seeking glitzy lives, which was deemed a bit sinful by censorship boards, becoming one of the first American movies released with alternate footage. Even the rather innocent "Pettin' in the Park" was considered racy. But there's more meat on the bones. The great Joan Blondell ends the film with the haunting "Remember My Forgotten Man," in which WWI soldiers are shown trudging through bread lines. Very sad. You'll again remember that even the oldest of musicals had something to say. And this one is absolutely sublime.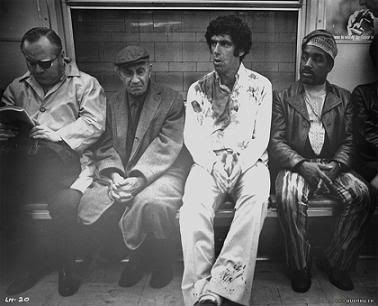 2. Little Murders (1971)
"Those guys in the park, they said 'Hey, fat-face! What are you staring at?' If I told them I wasn't staring at them, they would've beat me up for being a liar. And if I told them I was staring at them because I wanted to take their picture, then they'd beat me up for being a cop. So I told them I was staring at them because they looked familiar, and they beat me up for being a fag. There's no way of talking someone out of beating you up if that's what he wants to do." So says New York City denizen Elliot Gould in Little Murders a picture that underscores (and underscores with a pen that rips the paper) how scary the 1960s and early 1970s were. And the times are still scary. The world is still scary, in fact. But Little Murders plays like a twisted valentine to the varied anxiety and free floating existential angst felt while enduring hard, violent, New York City. So director Alan Arkin had quite the challenge on his hands when he decided to direct what would turn out to be an impressive, pitch-black screen adaptation of Jules Feiffer's stage play, a disastrous production that only lasted seven days in its initial 1967 run (crazy).
The movie fared better, though not by much, and has remained a deserved cult item since its release. Expressing the unease and understandable neurosis ending the 1960s (Feiffer wrote the play partially in response to the Kennedy assassination), the picture merges comedy, violence, romance and anxiety with a jangling wit that makes viewers increasingly unsettled, putting them on the precipice of cinematic nervous breakdown. Elliott Gould plays a photographer and "apathist" who allows violence upon himself while his girlfriend (played by Marcia Rodd) receives daily obscene phone calls from unknown perverts. The disparate lovers get married (for whatever reason) but happiness isn't their future as their personal problems increase and New York becomes even more violent and dystopian. Arkin bravely paints broadly here, with standout performances (Donald Sutherland is especially memorable as a hippie minister) and set pieces (the first meeting of the family is brilliantly anarchic and hilarious) that pile up the movie's absurdities and yet weirdly realistic feel for the anxious. The disturbing Little Murders is something of a masterwork and a cultural panic attack of a movie.
3. NYC Hotels, Diners, Central Park and AC
I love hotels and my trip to New York City did not disappoint. I loved the new bed, even if thousands had slept on it before me. I loved the new view, even while looking at a lot of brick and windows, strangers and small street scenes. I loved the room service (from a diner across the street). I loved eating chocolate cake in bed at midnight and watching a movie, or simply listening to the sounds of the city. I love that the AC did its job while the humidity raged outside, and then, turning it off to open the window, allowing the thick, night air to float into my room. I love Central park and the roasted peanuts, the peanuts the extraordinary James Wolcott (who was kind enough to take me to lunch on my birthday, with the ultra charming Siren) doesn't dare eat. Too many squirrels. But I love squirrels too. And I simply loved lounging in my room. I did a lot of other things too, and outside of the room, but there's always something special about spending time alone in a hotel. Suspended partially, from real life, I could live in a hotel, especially in New York City.