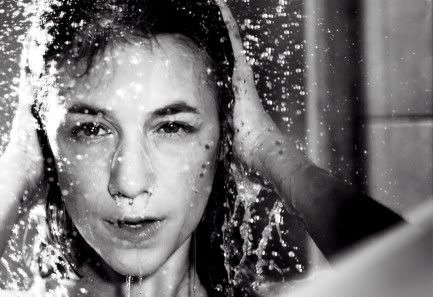 I saw Lars Von Trier's Antichrist in July. I've watched it twice since then. It cut me deeply. That is not a pun. The movie burrowed into my subconscious, directly where my anxiety lives, and continues to reside in my frangible little hurt locker.  I've argued about it. I've defended Mr. Von Trier's look at women. I've pondered his study of grief, his complicated depiction of love, happiness, hate, sexuality. I know he has panic attacks -- real panic attacks. I've thought about his seriousness, his humor, his compassion, his beauty, horror and gore; his conflicted take on therapy and religion, specifically, behavioral modification and if any of these methods help a person toward enlightenment.
He's a clever trickster, but I believe his claims to have made the film in a demented, depressive state -- when the comforting haze of benzodiazepines have worn off and the nerves are so raw and fragile and exposed that one can only sublimate their problems through the cine-dreams enforced on Serge Gainsbourg's daughter. When one's power animal is a ridiculously literal talking fox explaining the order of things to a past Jesus.
This makes sense to me. I've become wildly personal about the thing. I flailed my arms about the picture. I realize it's only a movie. I realize it's not for everyone. But it's certainly for me. And yet, I haven't been able to write about it. I can only think of this song.

Dolly and Porter get it.