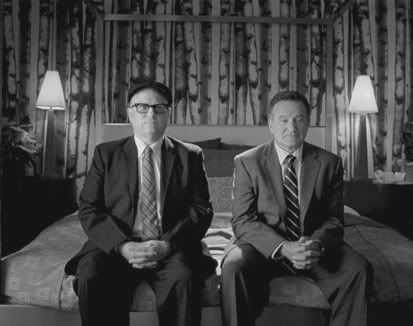 It was headlined by mega star Robin Williams. It was about a loving father. It was a comedy. It was a family comedy, a clever, poignant, wonderfully dark family comedy. It featured Bruce Hornsby. Many audiences weren't even aware of the auto-erotic asphyxiation plot twist. So why was World's Greatest Dad, one of the year's best movies, so woefully underlooked?
Here's something you don't hear every day: Sir? Madam? Your child. He is not a blessed miracle of God sent from heaven above. He is not full of promise. He is not underneath all that back talk sass, a smart kid, a pussycat, an angel. No. He is, in fact, a mouth-breathing brat, an uncommunicative cipher, a selfish unappreciative loafer, an aggressively stupid misfit and a foul-tongued, futureless creep. You don't have to like him. But, please, love him. Never stop loving him.
And I do mean love -- without sarcasm. As does writer director Bobcat Goldthwait with his trenchant, wonderfully touching and tenderly acted World's Greatest Dad, a movie that bravely subverted the sub-genre of "family comedy" by not only daring to offend (and offend for a reason), but daring to break your heart. This is not an easy task which, I'm thinking, made it a tough movie to market. No, Robin Williams does not wear a dress, become an Old Dogs tea party puppet, or awaken Robert De Niro from a decades-long coma. He does attempt to awaken his son out of pornography induced torpor, but that's just one part of the story. And don't pretend you can't relate. 
Goldthwait, most famous for his gloriously off color Shakes the Clown (a movie that's now a cult classic, a picture ahead of the politically incorrect curve...and was smart about it then) and the underrated Stay is clever and genuine enough to pull off such the task of "offense" with substance without being smirky or glib or self satisfied about it. Refreshingly, never once did I feel like the director was trying to "shock" me. But perhaps that's because the movie is so genuine. Kids do say the darndest things like for instance (and this is one of my favorite retorts): "Movies are for losers and art fags." They also say a lot of other things, far worse things I can't repeat lest I offend your delicate sensibilities or, worse, ruin the humor and surprise of, guess what? Something your child might be saying or ogling or doing at this very moment. That's correct -- somewhere, your child is making a rude remark about a girl's genitalia, and if he's creepy enough, directly to her face.
Here that son is the unpleasant Kyle (Daryl Sabara), a kid of no particular genre (not a nerd, not a jock, certainly not popular), a child who, like most teenagers, masturbates, but one who fancies autoerotic asphyxiation, custom pornography, and even the pleasure of watching an old, overweight pack rat neighbor undress. He's not normal-sex obsessed, he's going through his depraved phase (if it's a phase). His father is a sweet, struggling novelist and high school poetry teacher Lance (Robin Williams), a single dad trying his best to communicate with his mysterious, mind suck of a son (and his son is mysterious -- enough for us to wonder if there's something deeper lurking underneath his disagreeable attitude). Dad also really wants to get published, a desire that comes into play once the movie veers into a very dark and very surprising and very subversive place -- something I won't reveal here since the movie's twist (of sorts) is such a ballsy one.  
The entire movie, which spins into a monumental lie that reveals fakes are worse than liars (when you see the movie, you'll know what I mean) was probably too real, too close to the bone than studios thought audiences could take. Who knows?  Audiences aren't given enough credit for what they can handle (but then, audiences steered clear of another one of this year's greatest movies, Jody Hill's brilliant Observe and Report). Bobcat's picture pleases two parties: Those without kids, specifically, those sick and tired of hearing their friends drone on and on about all of the various wonders of their (ahem) unexceptional children. And those parents enduring a teenager they can barely stand to look at, to listen to, or in the most contemptuous state, even watch drink a glass of milk without disgust. As stated earlier, not all children are miracles. Sometimes they're just there, answering an interest as: "You wanna know what I like? I like looking at vaginas." (Hey, at least he admits to liking something).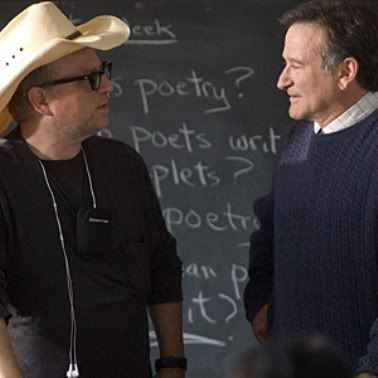 With this kind of plain speaking crassness and touching paternal frustration, Goldthwait crafted a work of startlingly honest power -- the kind of movie that feels like the book before the movie was made (even though World's Greatest Dad was not a book). Goldthwait offers the picture modulations in tone that flow from funny to jarring to sweet to purely emotional  -- he isn't making a blanket statement claiming all kids are shit-heels. Clearly, to him, some are in fact quite nice. Some stand up for a girl's honor. Some appreciate a warm gesture from a paternal figure. Some will say thank you for a new computer. Some will watch a zombie movie with their surrogate. But, some will also be mawkish frauds, ridiculously dramatic and annoyingly vapid. And parents and adults can be self absorbed jerks, irresponsible drunks and passive aggressive windbags, too. And that balance, coupled with a gentle, yet clever and simultaneously duplicitous and decent performance by a beautifully understated Williams makes the picture wholly unique.
If Bobcat Goldthwait had any modern influences (Terry Zwigoff? Wes Anderson? Todd Solondz?), he has spun this movie into his own creation. And really, Mr. Goldthwait has always been doing this, starting with his comic persona, something many either forgot about or view as a one-shtick novelty act. I never thought so. I always saw something deeper underneath Bobcat. Even as a kid, I sensed something inherently true in his primal animal/child -- angry and frustrated one second, scared and neurotic the next.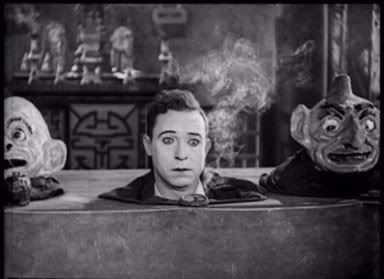 A creature who stumbled over words, his voice rising with hysteria and lowering with insecurity, Bobcat's feral act always touched me on some mysterious level, and I felt weirdly protective of him. Channeling the funny, yet creepy, repressed boy/man (and often forgotten) silent screen genius Harry Langdon, Goldthwait could be a wounded child and then, verge towards violence -- letting loose the id of an inarticulate man wrestling a multitude of unknown demons. When he famously set a couch on fire on "The Tonight Show," it was cathartic, funny, scary, embarrassing and weirdly real. Which sums up World's Greatest Dad perfectly.
This movie deserved better. It deserved more screens. It deserved more press. It deserved more praise. It deserved more viewers to watch, writ large, that crappy little kid finally say something clever: "Diving's not really a sport, it's falling." Find it on DVD.
And look back at Goldthwait's act. You won't be surprised that the man, cinematically speaking, excels at such shifting passions. A movie concerning the harshness and delicacy of adult and adolescent frustration is not a stretch for the once shaky voiced, furiously stuttering, fire-starting Bobcat. Struggling to find the balance between the appropriate, adult thing to do or say (and usually, hilariously, failing miserably), he was already an early master.
*This just in -- John Waters agrees. For his Art Forum top ten, he names World's Greatest Dad the fourth best film of 2009, asking: "Why, oh why, wasn't this blackest of comedies a hit?"