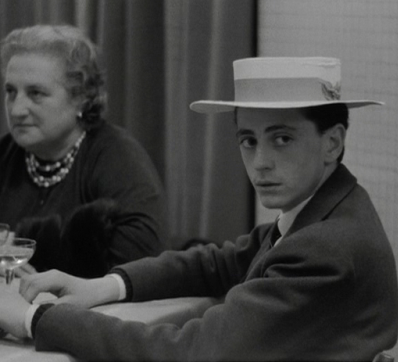 Sometimes it's all in a face. Young Sandro Panseri's visage relays so many subtle, unsure, gentle, poignant emotions that you can't believe he's acting.  Perhaps he wasn't.  He wasn't an actor. Not professionally anyway.  Director Ermanno Olmi aptly understood Panseri's vulnerable power, and worked the youth's already wistful eyes within his stunningly composed frames.  As a result, Il Posto remains one of the most thoughtful, affective and timeless studies of alienation among the drones. The Office, Italian style.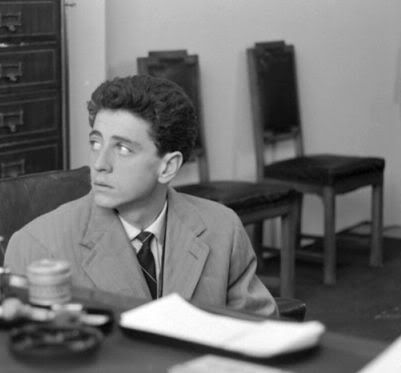 And yet, Italian Neo-Realist Olmi isn't typically the first name to pop when the average viewer thinks of postwar Italian cinema. De Sica, Antonioni and Fellini are the names we hear.  Regardless, Olmi was a highly influential and, in his own quiet way, highly infuriating director among the New Wave cinema of the '60s and into the '70s. An auteur whose attention to the small details of everyday life created quiet character studies of tedium, irony, hilarity, and sadness, he had a marked quality of making the hum-drum almost fantastical. Reality depends on how you look at it, and his aggressively common depictions also contained an element of Kafkaesque torture.
Again and again, in films like, Tempo si E Fermato (1959), Il Posto (1961) and I Fidanzati (1963), he displays those little heartbreaks that lead people to inspiration or desperation with a beguiling combination of warmth and melancholia. Such is markedly apparent in Il Posto, a film that observed a job ("Il Posto" means "The Job") through the eyes of a teenager just entering the work-force. Saucer-eyed and languid Domenico (Panseri) endures a series of tests to land a position within a company in an Italian city. The tests include fractions, but also physical dexterity, like how well one can deep-knee bend. He also must answer personal questions, like "Does the future seem hopeless to you?" Domenico is too young to know (though you see a poignant mixture of simultaneous hope and doom in his eyes), but the other figures around him would answer a disheartening yes.
 

In Olmi's world, sitting at a desk all day is no life to live. Domenico gets the job, but he's not excited by the work -- instead he's hopeful that he'll see pretty Magali (Loredana Detto), the girl he shyly spent the day with, playing grown-up while drinking an espresso together. The next day (there's an extraordinarily visceral scene where Domenico, at dawn, walks to the train with his father -- new hopes, but with dad at his side, a reminder that the grind has begun) he's happy to see Magali got the job as well, only she's in a different department. Revealing how alienating and open-ended a workplace can be (this place is sprawled out like a campus, or a prison, a veritable city of work), Domenico is assigned to a separate building as an apprentice messenger. Company policy enforces different lunch breaks and time-outs, so Domenico almost never gets a chance to even talk to his prospect. She appears once in the hallway, and they chat briefly, but her supervisor gives her the evil eye. And on a rain-soaked day, Domenico sees her leaving, laughing and happy with a group of kids -- they've got umbrellas, but Domenico must share one with an old lady at the work cafeteria.

In one of the picture's most touchingly sad, yet strangely hopeful moments, on New Year's Eve (perhaps one of the saddest celebrations of the year), Domenico ventures out alone, hoping once again he'll meet up with Magali. But he instead shares a table with an older couple, and as the evening opens up he lets himself go in a dance. The fact that he's momentarily happy, widening his usual placid face with toothy grins and jumping in a circle with other party-goers, makes the sequence all the more moving. The New Year brings a new position, as well as a potentially endless life of staring at a co-worker's head in front of him.
Olmi's genius in Il Posto is in his beautifully composed, lingering shots. Whether in a medium, hand-held, or close-up, Olmi studies a face or a scene long enough for us to see its platitudes with subtle power. Domenico's face is a landscape of emotion, though heavily suppressed -- in small smiles, dejected eyes, and embarrassed blushes, we virtually watch him grow before our eyes. Some critics couldn't stomach Olmi's passive Domenico, but there's nothing pathetic about him, he's just a shy, confused person right at the start of life. He's like the embodiment of a plaintive song by The Kinks: "I've got to be proud and stand up straight and let people see I ain't nobody's slave. I've got to be free before it's too late. I've just got to be free. Got to be free to do what I want. Walk if I want, talk if I want."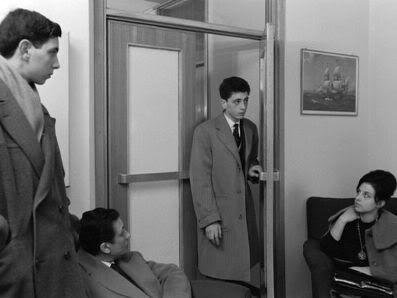 There's a lot of De Sica in Olmi (whom Olmi acknowledged as an influence) but we also see what came after. As stated in Kent Jones's essay included with the Criterion DVD, Martin Scorsese borrowed shots from Il Posto for Raging Bull, and there are similar echoes in Clockwatchers (director Jill Sprecher credits Olmi as an influence on that film), Office Space, The Office, Time Out and even Fight Club. So, it's startling, but then I suppose, not surprising to notice that, before computer cubicles, endless streams of useless emails, hours of data entry, multi-phone conference calls with faceless bosses, and whatever else, desk jobs were just as dismal 40 years ago as they are today.
I do hope Domenico got the hell out of that place. But I'm pretty sure he doesn't. And yet, just as he discovers at the New Year's party, maybe he'll find happiness in the small (and bigger) things, no matter how fleeting. After all, one's life should never be defined by their desk.