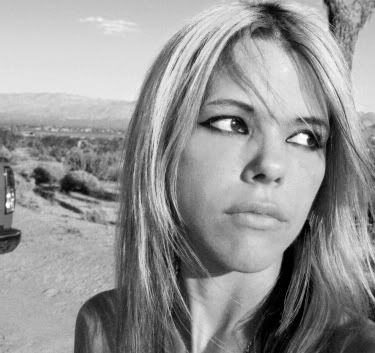 I think my car is trying to kill me. Not in any cinematic supernatural way, a la Christine or The Car. It's actually far worse than that -- my car is torturing me like an abusive boyfriend or, in the case of this crazy year, a deranged psychopathic killer. Though my sturdy muscle-mobile -- my 1971 Ford Torino, has rarely steered me wrong, my deceptively adorable Datsun has, quite suddenly, become a holy terror. But why? For years, I've tended to the thing/bad seed/cute little "Shape of Rage" Brood creature like a spoiled child and it has remained well behaved, reliable, an absolute angel. But one, two, three, four (five?) dark and desolate nights later, everything changed and that devil in disguise has turned against me -- Henry Lee Lucas style. Breaking down repeatedly, stranding me on scary streets, leaving me in high desert dereliction, and fending for myself in gas stations that make the Texas Chainsaw Massacre family pump look like a cheery Travel Center of America truck stop, life with my car has become a real horror show.

And I don't mean horror show the way Orange's Alex proclaims the dark wonders of life -- those bizarre, deviant, wonderfully perverse moments that strike you in the most unusual or, sometimes, the most banal of circumstances (and I've encountered some strangely intriguing situations while stranded on the road -- namely taking in the weird beauty of the Alien-inspired Integratron dome in Landers, California). No, I mean quite literally, the cliché of slouching towards civilization, in the black of night, losing cell phone reception, and only finding aid in a man turned aggressive creep. 

Note to self: When suffering intense second degree burns on your hand (and no, gentle gear-heads, I didn't pull off the radiator cap, I'm not that stupid), make sure your passenger door is locked after that "nice" guy helps you. Also, always wears jeans when driving at night, no matter how hot (it was 105 degrees that day).  A casual halter dress perilously close to dropping off your melting frame, mixed with a useless burned hand, and a guy thinking he stepped into either a Penthouse Forum cream dream, or a 1970's Charlene Tilton made-for-TV hitch-hiking movie, are all a recipe for disaster.

And yet, when you're almost amused by how ludicrously cinematic your life has become, you nearly forget to be scared. Nearly. Because oh, that night was terrifying.  But that's a slice of my real life, and though I'm being cagily candid here, I don't want to mine that matter any further.  After all, I could not pull a Last House on the Left and repeat, "It's only a movie. It's only a movie." I was more like Rosemary Woodhouse exclaiming, "This is no dream! This is really happening!" But there I go into movieland again -- which is quite therapeutic.  Through all this personal vehicular peril, I'm convinced my year was actually laid out by The Hitcher's John Ryder (the Rutger Hauer version), so naturally my thoughts have turned towards horror movies, and more specifically, the car in horror movies.  This settles my nerves.
In horror cinema, the car is a fierce force -- an angel of mercy, an agent of doom or a ghastly, terrorizing, torture trap -- sometimes all in one movie.  Though there are numerous pictures to discuss here, films from Night of the Living Dead (those fucking keys!);  to Race with the Devil (the great Warren Oates' line,  "I don't believe a school bus on a Sunday!" has become my mantra towards anything unusual on the road);  to Zodiac (the opening scene, set to Donovan's "Hurdy Gurdy Man" remains one of the scariest auto slaughters in cinema);  to Psycho (even the police officer is creepy towards desperate Janet Leigh, who will meet her demise at the Bates Hotel  -- and have her car ditched in a large pool of water);  to the family vacation gone to mutant hell in The Hills Have Eyes (I honestly think I saw some of that clan while driving through rural Pennsylvania a year ago --  no offense to the state);  to the astonishingly beautiful, yet horrific auto water grave Shelley Winters suffers, seaweed entwined in her hair, in the brilliant The Night of the Hunter (not technically a horror movie, but fulfills enough monster moments of the genre);  cars are a killer's dream.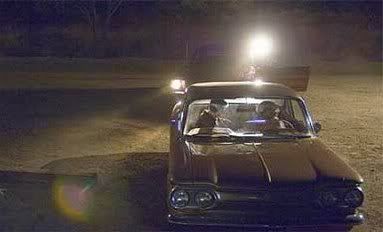 There's more to this piece, and most especially The Texas Chainsaw Massacre, a picture that achieves the auto horror trifecta of vehicular rescue, ruse and ravage. But you'll have to purchase the latest issue of Jesse James' Garage Magazine (out November) to read it. The Vanity Fair for gearheads features my latest piece and layout for my column, "Drive, She Said."  You can pick up Garage Magazine at your local newsstands and various stores including Barnes and Noble and 7 Eleven. Thanks to Jesse James and Amy Norris for putting together my layout. Pictures by K. Morgan (me). Happy Halloween! And be careful on the road...