With Quentin Tarantino's brilliant, ballsy, ode-to-the-classic (yet entirely new), Inglourious Basterds on the brain, I've been thinking long and hard about vengeance. Old school vengeance. Re-watching some of my favorite pictures, like spaghetti westerns, and dipping back into Bronson land (Death Wish, Mr. Majestyk,The Mechanic, Breakout) and wishing Lawrence Tierney could have furthered his career while wonderfully old and crusty, I've been basking in some of my favorite tough guys -- or rather, elder-statesman tough guys.
I'd get to Lee Van Cleef, but he's an entirely separate essay. Same goes for Warren Oates (and I have a very specific piece on the romantic, yes romantic, Bring Me the Head of Alfredo Garcia coming soon). Also I have to be careful when I talk about Van Cleef. Angel Eyes is such a potent character for me that I believe I admitted the wish of Lee breaking my door down one night. Nevertheless, I'm returning to and extending a piece about five tough, old guys. There are so many I could discuss, but here are some favorites. Five for the ages.
William Holden, The Wild Bunch (1969)
"If they move, kill 'em."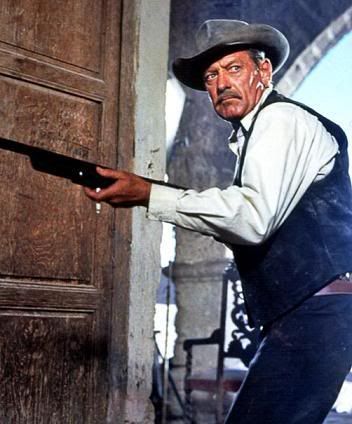 Renowned for its shocking, innovative violence, Sam Peckinpah's bloody, brilliant Western is the ultimate aged-outlaw movie, featuring stellar performances by a bevy of wonderful, older actors and a turn by William Holden that remains one of his greatest. Now past the age of Norma Desmond, handsome Holden plays Pike Bishop, a grizzled outlaw suffering the consequences of his last big score. After an ambush by bounty hunters (notably a former Pike gang buddy -- an excellent Robert Ryan) causes Pike's robbery to go terribly awry, Pike and his Wild Bunch (perfectly embodied by Ernest Borgnine, Jaime Sanchez, Ben Johnson, Warren Oates and, later, an impressive Edmond O'Brien) head for Mexico, only to get entangled with a vicious Mexican general who'll cause them to enact their ultimate valiant vengeance. Living amidst the unrest of not only the dawning 1911 Mexican Revolution but also, importantly, the Industrial Revolution (the automobile is a perfect symbol for what will be many cultural transformations), the bunch's way of life is quickly fading -- and they know it. An unrelenting and complicated vision of a shifting West as well as a fresh, shocking picture far ahead of its time, The Wild Bunch is a strangely beautiful ode to the oldster, a movie filled with wrinkled faces marked by experience in both life and movies. All these guys are oddly beautiful, but it's Holden's touching Pike who gets the gang riled up for a last gasp of glorious loyalty that overrides safety or profit. And damn if it's tough to not get choked up when noir stalwarts Ryan and O'Brien close the picture, riding off together, toward their unpredictable future.
Henry Fonda, Once Upon a Time in the West (1968)
"People scare better when they're dying."
It was a stroke of brilliance when Sergio Leone cast the hard-edged though All-American actor Henry Fonda as one of cinema's meanest villains in his Western masterpiece, Once Upon a Time in the West, which had to have created a palpable shock for audiences used to the legend in pictures like The Lady Eve, The Mad Miss Manton or Mister Roberts. And Leone didn't waste any time easing audiences into the idea -- Fonda's on-screen introduction plays shocking to this day: A young child is shot and killed; the camera pans up to gunman's face, right into the cold blue eyes of a remorseless Fonda, an actor who made us cry in The Grapes of Wrath. The entire epic picture is one elegiac, gorgeously composed scene after another with standout performances by Jason Robards, Charles Bronson (oh...Harmonica) and Claudia Cardinale (Oh..Claudia), but Fonda's sadistic Frank (no last name needed) showed not only how versatile the Young Mr. Lincolnlegend was, but also how much inner rage and turmoil he carried in other pictures (go back to his tortured performance in the noir The Long Night for a gripping example). And the fact that the actor was in his 60s only made him more powerful -- those cold, baby blue eyes staring back at us with an almost universal unease. Fonda was saying: Maybe our fathers don't really love us.
Charles Bronson, Death Wish (1974)
"Nothing to do but cut and run, huh? What else? What about the old American social custom of self-defense? If the police don't defense us, maybe we ought to do it ourselves."
Though known to many as an overly simplistic portrait of pro-vigilantism, there's more to this incredibly brutal Michael Winner picture, chiefly a disturbed look at a man who has absolutely and understandably flipped his lid. A perfectly cast Charles Bronson plays a mild-mannered architect who turns vigilante after his wife is killed and his daughter is raped. Taking to the streets of New York, he seeks out violent offenders, and makes a huge impression on the police and public after continually blowing away thugs (or positional thugs) in a sadness turned to fury. Death Wish was an important step for the fascinating Bronson, an actor who hadn't found huge success in America until this movie (he was a big star in Europe and known as "Il Bruto"). Showing that fame wasn't just a young man's game, Bronson became an unusual leading man, both in his offbeat looks (which were fantastic -- I love Bronson's face) and his ascending age. He would make five Death Wish movies of varied quality, but none was as powerful and controversial as the original. Watch it again -- it's a lot more complex than given credit for. And Bronson is violently touching.
Lawrence Tierney, Reservoir Dogs (1992)
"Dead as Dillinger."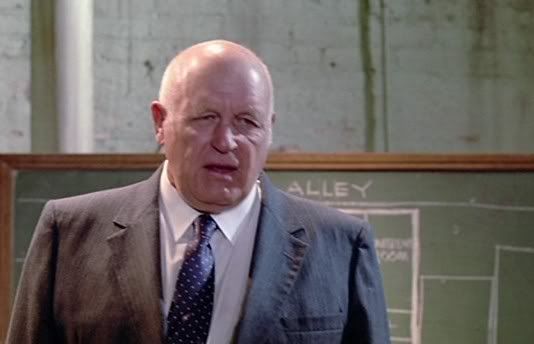 One of the toughest actors on and off the screen, hard-boiled legend Lawrence Tierney was a notorious character with an edge of danger and menace (the man had a real record) that was tremendously powerful on-screen. Though the good-looking mad dog (and he was a looker) hit it big with Dillinger in 1945 and created some of noir's most intense villains via The Devil Thumbs a Ride and the splendid Born to Kill(where his rage is so strong and real and oddly sexy, he doesn't appear to be acting) he is perhaps best known to more mainstream audiences from Quentin Tarantino's debut Reservoir Dogs. In all his bald-headed, gravel-voiced geezer glory, Tierney tore up the screen as gangster Joe Cabot, the man who was not only in charge of the various Misters' actions ("Let's go to work") but also the guy who assigned them their colors (to Mr. Pink Steve Buscemi's vocal disapproval). Tierney's Cabot was as bad-ass as they come, but still, like every good, tough old man, believed in tipping. I wish he had made more pictures, while young and old -- he was one truly frightening force of nature.
Lee Marvin, The Big Red One (1980)
"You're going to live, even if I have to blow your brains out!"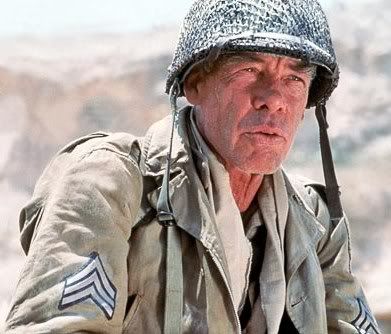 Like the crusty Robert Shaw, ultra-cool cat Lee Marvin always seemed older than he really was. From his coffee hurling psycho in The Big Heat (where he was 29) to his drunken gunfighter in Cat Ballou (41) to his laconic gunman in Point Blank (43 -- a movie I've written about here), the actor's deep voice, whitening hair and almost overwhelming one-of-a-kind masculinity belied an experience that was more than likely forged from his own, eventful life. It was perfect casting then when Samuel Fuller placed Marvin (who fought in World War II and received a Purple Heart) in his tremendous, semi-autobiographical WWII epic The Big Red One, which followed the U.S. Army's First Infantry Division thick in the tour of duty. Marvin plays the squad leader, the Sergeant (he's never given a name) a no-nonsense, tough-as-nails badass who kicks his young squad members into shape. Marvin gives one of his greatest performances as the paternal Sarge, adding to the picture's reality and tough honor. Never for one second would you question Marvin's authority in playing such a role, in part because he was so talented and subtle but also because he knew the real-life material so well. It almost makes you sad watching the great man in one of his last screen roles -- there will never, ever be another Marvin.