For some reason I am obsessed with white. I guess my life is messy and I want it to sparkle. Or I'm sick to death of earth tones. Or I yearn for a white Dodge Challenger or another white Datsun 240 Z. Or I want an Andy Warhol wig. Or one of Robin Zander's pantsuits. Or one of Nico's. Or that fantastic Tony Montana suit which I'm certain would fit me. I'd love to walk around spitting: "Say goodnight to the bad guy" with that slinky, ominous Giorgio Moroder soundtrack following me wherever I go. I'd feel love for sure.
(But please, before all this absence of color talk, check out whatever else I'm thinking at Pretty Poison which isn't all white but could be very soon.)
As for now, three white obsessions...
1. White Dog (1982)
I saw this movie a few years ago at the American Cinematheque's Egyptian Theater and it never left me. Directed by one of my favorite filmmakers, pulp philosopher Samuel Fuller, White Dog (adapted from a Romain Gary story, that was apparently true and involved a dog he owned with wife Jean Seberg) the picture is a tough, complicated, political and incredibly poignant blast of brilliance. The story is immediately involving – an adopted German shepherd that seems like a wonderful dog is tragically uncovered as something terrifying by its new owner (Kristy McNichol) when she discovers the poor thing has been trained to attack only black people. Rather than destroy the animal, she hires a wonderful, tough Paul Winfield and the always solid Burl Ives to de-program him. The picture was famously suppressed in America, but finally came out in a terrific Criterion edition late last year, which I reviewed last year for Entertainment Weekly. This charged, soulful movie is a must see. But don't let it turn you off from white dogs. Unless that dog is French and named Baxter.
2. Jean Harlow in Bombshell (1933)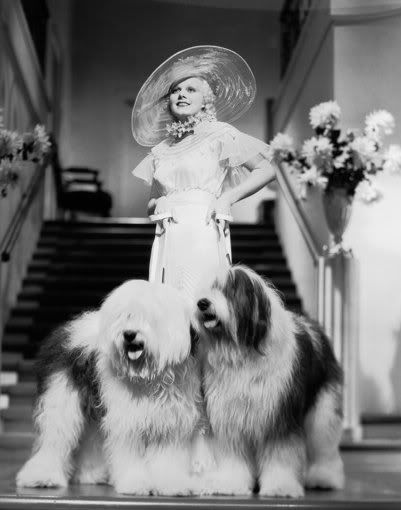 Oh how I love Jean Harlow. Her charming elocution challenged voice, her humor, her body, her femininity yet, down to earth, one-of-the-boys demeanor and her ability to wear…white. And that hair--- that sometimes white blonde. Before Marilyn, this tough-talking but entirely sweet "Girl from Missouri" was the original platinum blonde -- and more importantly the original bombshell. What other actress has two films, Platinum Blonde and Bombshell named especially for them? Bombshell, directed by Victor Fleming, is a sensational bit of Hollywood satire with a game Harlow cheerfully making fun of her swaggering, sexy persona and the nutty people surrounding her orbit. And who can forget co-star Franchot Tone's smitten declaration: "Your hair is like a field of silver daisies. I'd like to run barefoot through your hair!" It doesn't get any more white-blonde-tastic than this.
3. Wearing White
I find it fitting that white is my favorite color. For one, it's not actually a color, which means my favorite color is blue. But it is the shade of crayons, it is the paint on my walls and it is the fabric of my favorite jeans, dress, shirt and coat. For two, it's a challenge to wear, a punishing color that reveals every dust-up of dirt that crossed your path, every stain of lipstick on your collar and every drop of blood that you dug out of your nerve addled cuticles. It's the ultimate unattainable, a color that makes you want to be clean and sane but makes you feel filthy and crazy. Forget black being the menacing color – true freaks wear white. Alex and his Droogs of A Clockwork Orange, the sociopaths of Funny Games, sailors, Colonel Sanders. But like Lana Turner's ivory clad femme fatale of The Postman Always Rings Twice, they do wear it well. I recently wore all white out with a friend who held my arm as we crossed the street and all I could think was, it looks like he's escorting an escaped madwoman from the Snake Pit to lunch. Or consorting with the milkman, which is a lot nicer. I love wearing white because for about two hours in the day, I have conjured my inner clean freak -- a Joan Crawford dying to emerge, something I wish, mess that I am, would see the light of day more often. After those two hours of whiteness, I'm usually left angry, staring at the eyeliner smudge on my shirt, and glowering to myself: "I'm not mad at you, I'm mad at the dirt!" Nevertheless, here I am, happy and free and locked in my apartment wearing the "color" of self obsession -- white. So it's fitting I show it. I think those jeans got dirty about two minutes after this video was taken.