In 1973, notorious French director and provocateur Roger Vadim said "The Don Juan of our day is a woman -- Brigitte Bardot in real life." Vadim was addressing his past muse (indeed one of the very reasons he became famous) as the ultimate feminist of the last 20 years -- and he was right!
Vadim made Bardot a woman/child in the explosive sex brilliance ...and God Created Woman (1956), and 16 years later he made her a woman/man in Don Juan (or if Don Juan were a woman). Was he successful? Yes -- but really only because Bardot, the woman and star, was the true auteur of the picture. And Vadim allowed this -- smart man that he was. She was Don Juan, or rather, Warren Beatty at that point of her life -- preferring flings to marriage, sunning in Saint Tropez, allowing her second husband custody of their child (unthinkable!) and letting herself age (how dare she!). You see some of that age in a movie shot with unremarkable, almost soft-core sensibilities, though boasting some terrific 70s sets and BB nude -- and older BB is ever-sexy, ever-powerful, ever-Bardot.
Following her character Jeanne on a series of sexual conquests as she relays them to her cousin/priest (lucky priest); she coolly discusses her dalliances, first with Pierre (Maurice Ronet), a married, influential government man. When she gleefully watches a photographer snap his picture at a drunken student orgy, his personal and professional life is ruined. Next is the humiliation of the boorish  Prevost (Robert Hossein), married to the young, vulnerable Clara (Jane Birkin-- yes! Two Serge girls together!). She ensnares him through Clara, enticing the girl to bed, setting it up so Prevost discovers such a dreamy scenario, only to reject his gluttonous desire to join them. Take that, punk! I'm with Jane, thank you very much (I would be too).
A woman whom Simone de Beauvoir claimed could tempt a saint, it's not surprising that Bardot, with the assistance of her ex husband Vadim, the pimp-like svengali he's unfairly purported to be by some (I bless the lord for him -- no Vadim, perhaps no BB and no Barbarella for that matter) make Don Juan such an intriguing look at female power and one's desire to be a man. And yes, there are women who would like to be a man, at least a few days a week -- this writer being one of them. A summation of just how feminist (in the better sense of the word) Bardot really was, the film is interesting when viewed as her bawdy last gasp before cinematic retirement. She's still lovely, still forceful and still Bardot, through and through -- and one convincing Don Juan at that. She really did come a long way, baby.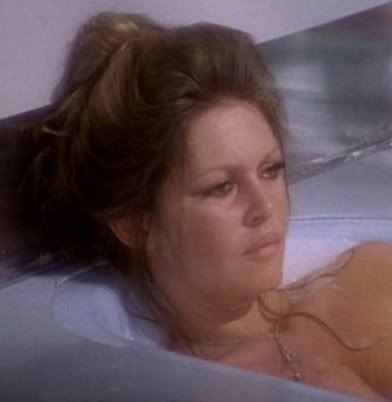 Some critics complained that Bardot appeared bored and uninspired, and amidst Vadim's somewhat flat landscape, she is a little sullen, but pouty annoyance is one of her strong points. She remains gorgeous and charismatic and cunning in her conclusion to Bardotlatry. As Vadim noted, "It was probably her last chance to keep making movies because she'd grown too old to continue playing Brigitte Bardot. But she understood that too. That's why she stopped making movies." She did. And she let herself age without surgery. And now everyone thinks she's nutty. And some even recoil at her face, even though it was that very lifestyle men so desired -- bikini on the beach, ciggies, wine, sex and song, that lined it so. Again, this is a feminist  -- not Naomi Wolf and her boring "Beauty Myth," or all those sensitive men who lust on and on about Helen Mirren (who is hot, don't get me wrong) but to the point where they simply want women to pat them on the back for digging an older gal. Mirren's easy. Tell me you want some Judi Dench action and I'll give you credit. And like Ms. Dench (though never a raving "beauty" and one whose career flourishes) in that bathtub scene during her genius performance in Notes on a Scandal, BB says, fuck you, this is me. 
I'd just love to see her all smoker's cough smiling a la Keith Richards, enjoying her age and wisdom and past beauty. Bikers gracefully grow old  -- or rather into calmer versions of craggy, kicking and screaming spitfires, and as controversial as she is, so should BB. With that in mind, I wonder what a BB, Keith reprise of the great Bardot biker ode "Harley Davidson" would be like? For now, let us take in the original (written by Gainsbourg for her off-the-charts fantastic TV special). Watching this again, and fueled with BB inspiration, if I could be a man, and Don Juan in particular, I would burn villages to know this woman on that bike. And really, I don't need to be a man. For BB, I'd commit these sins myself.