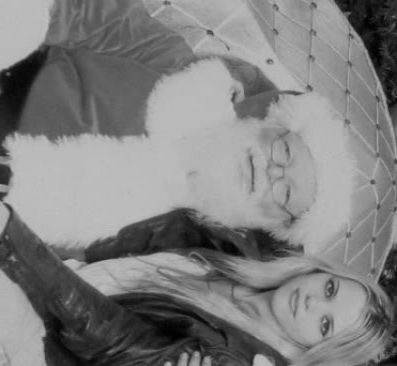 I've always loved Santa Claus, but not only for the supposed gift giving and seasonal sweetness (which is wonderful of course.) No, I love Santa, in part for frequently appearing so...disturbed. Santa Claus is just inherently creepy. Any guy who knows when you've been sleeping, when you've been awake and when you've been bad or good is going to create a little tension in your life. And though one usually thinks of Santa as that jolly old fat man in a red suit riding a sleigh stuffed with presents, in world history, he's quite a bit darker. For instance in Austria, Santa used to partner up with a devil figure named Krampus who would beat the naughty kids with switches. Santa and Satan? (Come to think of it, that would make for a really good movie -- Krampus sounds scary or...really pretentious).
But speaking of movies (and what else would I be speaking of?), cinema well understands not only the goodwill and joy that the holiday's can bring but also the anxiety and terror. Bob Clark's brilliant sorority house slasher/masterpiece Black Christmas, a movie I've written about numerous times, put me in a morbid mood, so I thought I'd look at the darker side of Christmas via, who better? Santa Claus himself. Be them drunks, sociopaths or green Grinches, here's my seven screwy (and in the case of Popeye Doyle) sexy Santas.
Billy Bob Thornton in Bad Santa (2003)
I know this comparison is rote but...is Terry Zwigoff's Bad Santa the Citizen Kane of Santa movies? I think so. It's certainly more the true re-make of How the Grinch Stole Christmas than Ron Howard's horrid attempt. The story of a thieving, drunken, lecherous, cantankerous, no good son of a bitch (etc. and so on) Department Store Santa is one of the most subversive Christmas movies ever made and also, surprisingly, one of the most touching. Billy Bob Thornton carves out a role that is now iconic -- stumbling through the movie with such assured misanthropy that at a certain point, you're actually impressed. And if any of you have felt cranky during Christmastime, you can relate. As for me, I might not get busy in a dressing room with an extra large lady (so great), but I understand the nastiness. And yet, crude humor aside, Bad Santa truly does examine the real meaning of the spirit of Christmas with a foul mouthed message that's strangely powerful. 
Robert Brian Wilson in Silent Night, Deadly Night (1984)
Thank God for outraged mothers -- if not for their, uh, valiant (and successful) efforts to ban Silent Night, Deadly Night from movie theaters, we might have forgotten this 80's slasher milestone. Because the controversy (and poster of Santa coming down the chimney with an axe) is honestly the only thing that makes this film at all memorable. That and the unusually good looking Robert Brian Wilson (who looks like he's pissed he didn't get that Calvin Klein contract) as a sociopathic Santa. The filmmakers had something with the story -- that of a little boy who, after witnessing the brutal killing of his parents by a homicidal, rapist Santa Claus, grows into a murderous department store St. Nick -- but they botch up their premise with horrid technique, zero tension and un-clever sleaze. Still, the film remains required viewing (you've got to see it once) for both the anti-Christmas classic crowd and those sanctimonious mother's who banned it in the first place. And you know at least half of them rented it eventually....and liked it.
Edmund Gwenn in Miracle on 34th Street (1947)
In Miracle on 34th Street, the question isn't just is there a Santa Claus, the question is, does Santa Claus need years of therapy and a prescription for Haldol? Because Santa might have schizophrenia. OK, that's not really the true spirit of the movie, but I always found the picture a tad weird amidst all its "belief in the imagination of the child" hokum. The wonderful, perfectly cast Edmund Gwenn plays "Kris Kringle" a Macy's department store Santa who warms the heart of the cute as a button Natalie Wood and eventually, her progressive work-a-holic Mother (played by Maureen O'Hara). But is he really Santa? And if he believes he is, isn't he totally nuts? This question causes the less fanciful hearted to nearly drag poor Kris to an insane asylum which is actually pretty funny. But it's also sad and creepy.  Because believing that strongly in Santa is a little crazy. And creepy. And sad. And beautiful. I love this fucking movie.
The Grinch in How The Grinch Stole Christmas (1966)
Creating his own version of Scrooge (and, again, a Bad Santa before his time) Dr. Suess' Grinch is one of the holiday's most enduring and powerful characters.  And thanks to director Chuck Jones (again, not Ron Howard's suck version) he lives on via Jones' brilliant adaptation of Suess' How the Grinch Stole Christmas. Utilizing the vocal talents of the great Boris Karloff (aka Frankenstein's Monster) to narrate the tale, the story of the green and mean Grinch and his plan to loot the sweet denizens of Whoville while pretending to be Santa is a gorgeous, animation classic. Effectively scary but with just enough humanity to make us believe his heart really does grow three times (after he cuts the "Roast Beast"); the Grinch is a sublime symbol that evil and good can, to quote The Shadow, lurk in the heart of men -- green men.


Brandon Maggert in You Better Watch Out A.K.A. Christmas Evil (1980)
What kind of people are obsessed with Santa Claus? Lunatics, clearly. That's what director Lewis Jackson thought in his first and only movie, You Better Watch Out. The better of the homicidal Santa pictures (Silent Night, Deadly Night got more ink), this one has a lonely man (Brandon Maggert -- Fiona Apple's real life father, another reason to love troubled, gorgeous Fiona) who thinks all will be perfect if he could only turn himself into Santa Claus. The guy starts not only dressing as Santa but spying on kids (which raises all kinds of Santa-phelia issues) and tricking out his bitchin' van with a sleigh mural. But when he finally "becomes" Santa, he takes a shine to naughty over nice and begins hacking all the badn's. Yes, you better  effing watch out. And you better take this movie seriously because Jackson did, making the film all the more amusing, over the top and at times, curiously creepy.


José Elías Moreno in Santa Claus (1959)
Santa Claus vs...the Devil? That's the dueling duo in Rene Cardona's Santa Claus, a movie that trumps Santa battling those stupid Martians in that other bit of Santa-camp Santa Claus Conquers the Martians. Santa (played by José Elías Moreno) knows if you've been bad or good via his ridiculously super-sized telescope that helps him notice all the world's children, like poor little Lupita who just wants a doll for Christmas (awwww). But Satan's been scoping out Santa (anagram anyone?) and he challenges Mr. Claus to a fight that, if you stick with the movie long enough (and you really should) is worthy of a WWF smackdown, tights and all. Amusing and eye-poppingly strange, Santa Claus' version of the tough hombre Santa is impressively ambitious.
Gene Hackman in The French Connection (1971)
Santa Claus? In The French Connection?  Of course. The William Friedkin classic in which Gene Hackman's tough NYC cop Popeye Doyle attempts to track down a massive heroin shipment, contains one of the greatest, grittiest Santa moments every put to film. The place is Brooklyn, the time, the Christmas holiday, during which hot-to-trot hothead Popeye Doyle is on stake-out as...Santa in disguise. With his partner, Buddy "Cloudy" Russo (the late great Roy Scheider) posing as a hot dog vendor (I'm making this sound like a comedy), Popeye's Santa busts out all kinds of whoop ass when chasing down a knife wielding dope dealer. It is here, that Doyle's Santa utters the movie's most iconic non-sequitur:  "When's the last time you picked your feet, Willy? Who's your connection Willy? What's his name?...I've got a man in Poughkeepsie who wants to talk to you. You ever been to Poughkeepsie?" Sigh...Oh, Mr. Hackman. (Have I ever discussed my dream about Mr. Hackman? It was in a tennis club. Maybe the next one will involve a Santa suit, which won't be kinky at all... no way.) Anyway, back on track -- a nice Christmas gift for all would be Hackman returning to pictures again. Even, or perhaps especially, in a Santa suit. 
Merry Christmas!
Also...please check out my picture page Pretty Poison: Letters from L.A.