I love the drama of teenagers. Even the over the top, bad apple, Ritalin popping insanity of them  -- sometimes especially for this (I can relate, I wasn't exactly an angel). And lately it's been hard to not think about teenagers with all of these hysterical girls lining up for the newest teen sensation, Twilight. I haven't seen the movie yet but so far I'm staunchly defending the hype simply for the fact that teenage girls are wandering the streets, not paunchy fan boys. Teen girls were the original fans after all (Frank Sinatra bobby-sockers, Elvis, The Beatles) and I am both in awe of and a bit terrified by their primal screams of ear-splitting rapture (but at least they let it go). And though it's safe and nice that girls are reading novels and nutting out over a vampire movie, I do hope they get their noses out of the books and bodies out of the theater to at least experience a little bit of trouble (only a little). With that, here's a brief history of some (some, not all, that will take another list) of my favorite troubled teens on screen -- a genre that as every teen wishes, never gets old.
Dead End (1937)
The first in the series of pictures that depicted that rough and tumble group of depression-era youths, The Dead End Kids (later known as The Bowery Boys) is also one of their best. Though Angels With Dirty Faces is their finest film appearance (They Made Me A Criminal with John Garfield is a strong contender as well), Dead End was our first glimpse of the wise-acre bunch that included Billy Halop, Huntz Hall and Leo Gorcey (you really should read his autobiography--a total gas). Beautifully directed by William Wyler, the picture stars Humphrey Bogart as a gangster returning to his old neighborhood, a slum where the boys fight, steal and generally run amuck to the concern of the nice young woman Sylvia Sidney (gorgeous) who'd like better for them. Though the boys are snarly little jerks at times, they're often very funny and touching. The film offers a sensitive look at what its title states—a dead end—and how the poor are fighting for survival. As the nice architect Dave (Joel McCrea) states about the boys: "What chance have they got against all this? They gotta fight for a place to play, fight for the likes of something to eat, fight for everything. They got used to fighting. 'Enemies of Society," it says in the papers. Why not? What have they got to be so friendly about?" Indeed.
Rebel Without A Cause (1955)

"You're tearing me apart!" As the misunderstood, sensitive, red-jacket wearing, bad boy teen practically forced to contend with violence, James Dean became the ultimate symbol of teen rebellion in Nicholas Ray's stunningly beautiful Rebel Without a Cause. Boys wanted to be like him, women wanted to date him (or save him) and parents understood some of what their kids were going through -- perhaps. We know how the story goes -- Dean, new to his California school, tries to fit in but ends up facing off with the bad kids via that famous deadly chicken run. Showing his bond with a confused Natalie Wood and a deeply troubled, puppy killing Sal Mineo (who is clearly in love with Jim), the film remains a touching portrait of alienated kids acting out mostly because they'd like just a little more love, attention and understanding from their (gulp) parents -- especially if one of your parents is Jim Backus wearing an apron.

The Blackboard Jungle (1955)

Richard Brooks' studied look at teen rebellion, race relations and teacher-student friction in a tough high school has been somewhat underrated over the years. Maybe for the fact that the more classic film, Rebel Without a Cause, was released the same year and has gained classic status. But Jungle is nearly as good, and more of a social commentary on teachers, race and rebellion. Glenn Ford gamely steps in as the new teacher at a school filled with thugs, the meanest of the bunch being a terrific Vic Morrow. The one kid with promise is the conflicted Sidney Poitier (in one of his earliest roles) which leads Ford to seek out any kind of future the young man may have. It's an effectively dark film, rough-looking and dangerous, featuring two excellent performances by Ford and Poitier and it has the distinction of helping popularize rock and roll music by featuring Bill Haley and the Comets' "Rock Around the Clock" (in its opening credits). Teens were so excited by this movie that reportedly fights would break out in theaters, showing how much modern day teen rebellion was alive and kicking on and off the screen. 
 
Pretty Poison (1968)
I will never, ever stop talking about Tuesday Weld. I love her so much, that as I've said numerous times, it almost hurts. Lord Love a Duck, Wild in the Country, The Cincinnati Kid, Play it as it Lays, Thief and on and on... But my favorite Weld performance? As Sue Ann Stepanek in Pretty Poison. Pretty Poison is the definitive Tuesday Weld movie. Playing the beautiful but deadly high-school majorette to Anthony Perkins twitchy, creepy fire-starter, she is the deliciously deviant underbelly of America's heartland. Where blondes are supposed to be good girls but, in her case, are most definitely not. Made in 1968 and directed by Noel Black, the picture was something of a dud upon release (too sexually disturbing? too strange?) and has achieved cult status ever since. And deservedly so. With it's violence, pitch black comedy and sexy viciousness (watch Tuesday commit murder and immediately want to have sex after) the picture is wonderfully subversive and deeply strange. And Weld...she is charming, scary, beautiful and sickly erotic. Need I explain the plot? The manipulation of Perkins (who thought he was doing the manipulating)?  The killing of her mother? The crazy, beautiful, psycho intensity of Weld? No. You really should watch it for yourself. Again, Tuesday, Tuesday. As Tiny Tim sang, "If only Tuesday Weld would be my wife."
A Clockwork Orange (1971)

What's teen rebellion in the future like? According to Stanley Kubrick's A Clockwork Orange, really, really scary. But then the whole world is pretty effing scary in the Anthony Burgess-adapted picture that was so controversial it was banned in England (Kubrick's choice) for decades. Malcolm McDowell 's Alex, sociopathic teen leader of the "Droogs" gracefully terrorizes citizens in his snazzy all-white get-ups (and fantastic hats) while enjoying extra enriched milk, ultra violence, the in-out-in-out and the inspiring elevation of Beethoven (the one thing that gives him something of a redeemable soul). After a horrifying /hilarious attack on a lady fond of cats and phallic artwork, he's arrested, sent to prison and put through a series of brutal psychological experiments that will make him (as we all remember) nauseated by the sight of violence. Basically, extreme Prozac or that terrifying anti-smoking program from the '80s (remember the Schick aversion therapy?). Since Alex narrates the film, we're in the odd predicament of almost being charmed by this violent offender, leading us to seriously question the B.F. Skinner inspired methods of "curing" him. Horrifying, brilliantly filmed (the first half hour is a mini-masterpiece in itself), morbidly funny and graced by the delicious deviance of McDowell (who had a hard time shaking his character through the rest of his career) A Clockwork Orange is not only a masterful study of rebellion but also of the problematic systems that attempt to squash it.
Over the Edge (1979) 
The Cheap Trick songs get me every time. An under-looked teen classic (I first saw it on TV as a young one and it never left me) directed by Jonathan Kaplan, Over the Edge is not only one of the most realistic movies about teenage rebellion it's also a scathing indictment against some of the more ill advised methods of Urban planning. The story has young Carl (Michael Eric Cramer) moving to an ugly subdivision called New Granada (somewhere in the Southwestern United States) where kids are doing what they do best when bored, alienated and disgusted: rebelling. Smoking dope, carrying switchblades, fighting, taking acid in school (one of the film's funnier moments), these kids aren't dropping out simply because they're thoughtless, they are in fact, deeply unhappy with how sterile life is turning out. New Granada is a shit-hole, a place where even the nice houses look like you could put your fist through a wall, and their varied families (Carl's appears a liberal, which underscores the frustration going on with his sell out, though sympathetic parents) seem to be kidding themselves. It's a depressing place, a depressing new world and the teens are the only ones who can truly verbalize (or act upon) this. Kaplan completely gets why kids need to find an alternate world within their icky planned community, even if it's a destructive one. Check out both a young Matt Dillon and Vincent Spano who are especial stand-outs here. If you hated junior high, hated high-school, swilled Boone's wine and bummed around abandoned houses while rocking out to Cheap Trick, you will relate.
Foxes (1980) 
And we think young girls today are over-sexed, coked up and wild. Please. Take a look at Adrian Lyne's entertaining yet telling and I think incredibly realistic debut film Foxes, an intriguing picture for having such a sympathetic take on female rebellion. Starring Jodie Foster, Marilyn Kagan, Kandice Stroh, and Cherie Currie (appropriately famous for helming the great all-girl rock band The Runaways), the movie follows four San Fernando Valley girls as they venture into the mean streets of Hollywood for parties, boys and concerts. Some, like Foster, have a pretty good head on their shoulders while others, Currie, are on the road to ruin. It's a sexy movie (remember, it's Adrian Lyne of 91/2 Weeks, the underrated Lolita and Fatal Attraction fame), but again, quite sensitive towards these troubled girls --  they are never depicted as a bunch of airheads and are restless for a reason. Maybe they're just too smart. And truly, Cheri Currie was the (cherry) bomb. I love these girls.
The Outsiders (1983)/ Rumble Fish (1983)

Francis Ford Coppola directed two of the most gorgeous, poetic and in moments, ingenious teen rebellion movies ever made with his back to back classics, The Outsiders and Rumble Fish (both adapted from S.E. Hinton's popular young adult novels). The Outsiders, about early 1960's "Greasers" in Tulsa, Oklahoma, is the more melodramatic of the two, a movie about boys that some believe was made really for girls. These are Greasers read Gone with the Wind, know Robert Frost poems by heart and talk an awful lot about their feelings. But the film's melodrama is what makes it so magical, evoking not only a stylish era, but also the nostalgia we feel for pictures like Rebel Without A Cause. It also cast actors who would later become big stars like Matt Dillon, Patrick Swayze, Ralph Macchio, Emilio Estevez, C. Thomas Howell, Rob Lowe and of course, Tom Cruise. Rumble Fish, by contrast was the more experimental and darker of Coppola's Hinton adaptations. The story about teen rebel Rusty James (Matt Dillon, again) and his hero worship for older brother/local legend Motorcycle Boy (a gorgeous, brilliant Mickey Rourke in one of those performances that marks you as a kid) is a beautiful meditation on what it means to actually grow up. While Rusty sees the coolest guy who ever lived, Motorcycle Boy knows he's not worth much outside his big-fish-in-a-small-pond world. Shot in black and white with only the eponymous fish of the title shown in vivid color, Rumble Fish is as socially relevant and lyrical as it is artistically beautiful.
Freeway (1996)

Reese Witherspoon has become one of the most popular, revered and highest-paid actresses working today  -- and I guess for good reason. She's a wonderfully versatile performer who can skillfully move from fluffy dumb comedies like Legally Blonde to pointed satires like Election to serious, full-bodied biopics like Walk the Line. But there was a time when Witherspoon was extra daring, extra subversive (and I miss this part of her).  Take her role in this little blast of comic pulp craziness, Freeway, in which she plays the trashy daughter of a prostitute who hitchhikes her way to grandma's house. Based on the The Little Red Riding Hood fairy tale, Reese encounters all sorts of dubious characters and situations along the way, chiefly a Big Bad Wolf type played by a wonderfully deviant Kiefer Sutherland. What's so powerful about Freeway (directed by talented Matthew Bright who really ought to make more movies) is that while we're laughing at many of her darkly comical situations, we also grow to care about this girl, no matter how much a rotten apple she may be. Also, how can you not find the girl adorable when, shocked that Sutherland isn't dead after popping him with a gun, she proclaims: "Mister, I shot you a whole lot of times!"
thirteen (2003)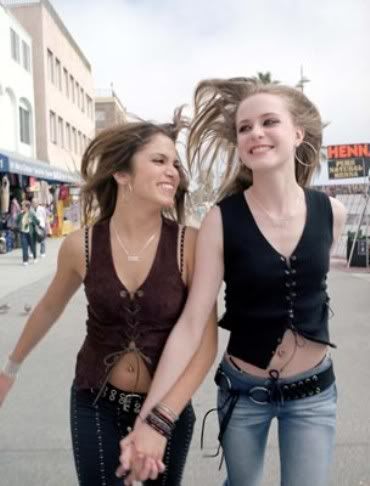 thirteen is the perfect title for this jagged little pill (sorry for that very teen girl reference) of a movie since it works, in many ways like a horror movie -- a Friday the 13th for parents. Directed by Twilight's (ever heard of Twilight?) Catherine Hardwicke with gritty, melodramatic weight the picture finds thirteen-year-old friends Tracy (Evan Rachel Wood) and Evie (Nikki Reed) becoming way too out of control for their own good. They buy sexy clothes, experiment with drugs, get piercings, hang with bad boys, shoplift -- you name it these girls are doing it. Some parents should watch this hard-hitting film -- it's more sobering than going through your teenager's diaries (unless your daughters are Pauline Parker and Juliet Hulme, in which case you should be impressed and scared for your life) and though it does play over-the-top at times, teenage girls are over the top, dammit. And good for them injecting extra drama into our, as Lina Lamont intoned, "humdrum lives." If not for the film's honesty (the film was co-written with Reed when she was 13) and the lead actresses' talent and realness, it could have been a hokey mess. Instead it's a scary cautionary tale and a weirdly good time. (Oh god...I used to play slap with my sister.) Lock up your daughters! Or your sons -- not sure who is worse off.
"A kid who tells on another kid is a dead kid."