Deborah Harry was born for fame; it just took her a little longer to achieve it.
Which makes one think: In our current youth-obsessed culture, it seems insane but quite possible that a woman as talented and gorgeous as Harry might not have been given a chance these days. She was pushing 30 (gasp!) when she formed her legendary, influential punk/pop group Blondie -- far older than all those pseudo pop tarts like Avril Lavigne (who, as we all know, has no business even uttering the word "punk") -- and had lived a full life already, from a stint as a Playboy Bunny, to singing in a 1960s folk rock band, to her time as downtown NYC urchin.  And yet, one gets the feeling that the plucky, street smart, bleached-blond goddess with pipes that could move from soulful and sweet to rough and nasty in mere seconds would have taken a chance on herself no matter how popular she would have become.  Again, some are simply born for fame.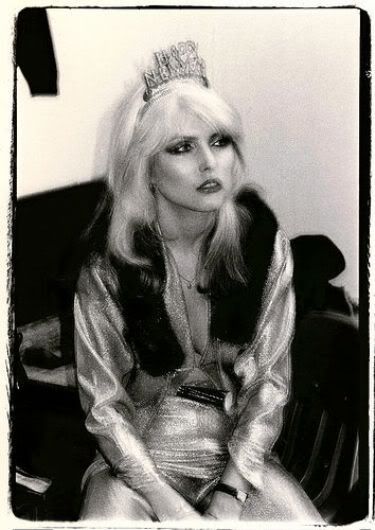 But, talent aside (and with all due respect to Miss Harry's contribution to music), no one as stunningly attractive as Harry can ever be ignored. A punk rock Marilyn Monroe long before Madonna boy-toyed with that image, Harry might possibly be the most beautiful woman in rock history.  This beauty helped create her band's name, not simply for her iconic blond mane, but for the wolf whistles and "Hey blondie" hollers she endured from men on a daily basis. And so with guitarist (and then long term boyfriend) Chris Stein, drummer Clem Burke and keyboardist Jimmy Destri, Blondie was born -- creating some of post-punk's most beloved and inspired tunes, including the tough-talking "Rip Her to Shreds," the plaintive "Union City Blue," the spacey "Atomic," the disco-inspired "Heart of Glass," the reggae-infused "The Tide Is High," the lovely "In the Flesh," and the rapper delight "Rapture," a song many rappers credit as one of hip-hop's earliest innovations.
And we can't forget her acting. From David Cronenberg, casting her perfectly in his ultra prescient masterpiece Videodrome, a movie in which Harry didn't even know if she was actually a real person (just another part of TV as "retina of the mind's eye").  There was John Waters' original Hairspray of course, in which she nailed bitchy Velma Von Tussle. She was wonderful in Heavy, as a world-weary waitress, and also in the wonderful, underrated, methed-out Spun, allowing herself to be significantly de-glammed. But one of my favorite Harry roles is her appearance in Alan Rudolph's crazy/fun/bizarre and underrated Roadie (starring Meat Loaf) in which she sings a stirring cover of Johnny Cash's "Ring of Fire." Debbie can do it all.
And yet, as much range and talent she possesses, Harry, for various reasons, managed to be slighted once the mid-'80s slipped into video vixen MTV hits. A shame -- she was one of the innovators, a stellar singer and songwriter, and (dammit) a real gritty downtown girl (no poser here, she lived with rats and roaches and was known to sex up then husband Stein in dirty punk club bathrooms).  Harry showed that dazzling looks needn't override true talent.  Madonna, Gwen and Avril can try all they want, but they'll never touch the magic of my hero Miss Harry -- in music and movies. After all these year, I'm still touched by her presence, dear.
Also...please check out my picture page Pretty Poison: Letters from L.A.