I love dolls, I dislike dolls, dolls can sometimes scare me. I cradled them while playing mommy and daddy, I dressed their plastic bodies in ridiculous get-ups, I shoved their little parts into Campers, Dream 'Vettes and Action Jeeps, I read about their loneliness in Dare Wright's books (which are brilliant), but when staring at their stiff faces from across a dark room in the middle of the night, the thought would occur to me: Barbie might be an agent of evil. And dear god, what if the thing starts talking to me? This fear made me throw a talking Bingo bear into the shed and then continue to obsess that the bandanna wearing teddy would emerge one night with an ax, viciously imploring: "Do you love me?"
I still have dolls and puppets and one old deer head and A.I. Teddy and too many stuffed animals (that damn claw machine) so the paranoia has been replaced with intrigue (I wish the dolls would talk), but the one item I don't own is a ventriloquist dummy.  I want one -- I want a wisecracking wood piece of wonder, delight, humor and…horror but, they still scare me.   Could it really all stem from that one Twilight Zone episode?
Perhaps. That famed, shocking 1962 episode, entitled "The Dummy", featured Cliff Robertson as an alcoholic ventriloquist who believes that his dummy named Willy, the more gifted and crafty of the team, is tormenting him. He packs Willy away and takes up with a new dummy named Goofy Handles (why are even the names terrifying?) but can't get over Willy's real or imagined abuse, something that provides the episode's unforgettable and horrifying ending. "The Dummy" terrified many of us as children, but this wasn't the first picture to wring terror out of dummies. 
Luckily (or unluckily) we can work out some of this paranoia through cinema, leading me to five movies that show dummies (not dolls, like the first The Devil Doll, Child's Play, Trilogy of Terror and more -- that's another list)  as something decidedly not delightful but rather, dreaded and in some cases, deadly.
The Unholy Three (1925, 1930)
So creepy that the movie was made twice and with the same cast. Though these movies (one Tod Browning's silent, the other most famously Lon Chaney's first and only talking picture, directed by Jack Conway) aren't technically dummy stories, ventriloquism plays such a key role in the picture's dirty deeds the wooden one can't be ignored. The ventriloquist here is named Echo (Lon Chaney) who forms the triad of unholy thieves with Hercules (Ivan Linow) the strong man, and Tweedledee (Harry Earles) the midget, after their carnival is closed down. Disguising themselves to scam people, Tweedledee dresses up as a baby (so creepy), with a pretty pickpocket named Rosie (Lila Lee) playing his mother  and, in the picture's most impressive twist, Echo disguises himself as a little old lady named Mrs. O'Grady. Working a pet shop, Echo, among other misdeeds, throws his voice to sell "talking" parrots -- talent. Though the silent version is long considered the superior film, the talkie is nearly as good, graced by the presence of that innovative genius Chaney. Still, it's the silent version that boasts the picture's scary/sad ending in which Echo's dummy bids an incredibly intriguing farewell.
The Great Gabbo (1929) 
A notable entry into the demented dummy sub-genre, The Great Gabbo (directed by James Cruze) isn't exactly a horror film; it's simply a movie about a seriously flawed, egotistical man. But since that man is a ventriloquist, the story is made all the more creepy, and since the wood talker is played by the infamous director and actor Erich von Stroheim, the character is made all the more unforgettable. The story finds arrogant, dummy manipulator Gabbo (Stroheim) in love with his beautiful assistant, Mary (Betty Compson), a sweet woman who thinks the poor dummy (named Otto) is the nicest, most humane thing about the man. She leaves Gabbo and eventually Gabbo and Otto become wildly successful. But success can't change Gabbo, not even for the better, and he remains cruel and demanding til the bitter end, dragging nice little Otto behind him (interesting that some people will actually relate to sad dysfunctional Otto). Spiked with musical numbers, some of which are downright bizarre (especially when Otto sings) the movie is almost accidentally frightening, giving it an odd kind of despondency. If your dummy is a better person than you'll ever be then, you're definitely beyond repair.
Dead of Night (1945)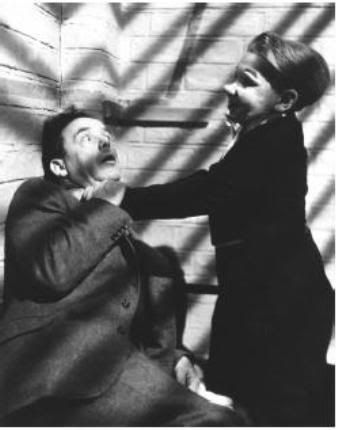 Some consider this British Ealing quintet of horror tales one of cinema's most chilling -- especially the final film, "Ventriloquist's Dummy" (directed by Alberto Cavalcanti) -- the scariest of the bunch.  That terrible tale concerns ventriloquist Maxwell Frere (played by a remarkable Michael Redgrave) who believes his dummy, Hugo, is out to get him -- like really, distressingly, sneaking out of the box, out to get him. Since Maxwell's act is based on disparity between him and Hugo, the realization that Hugo is running the show more than Maxwell makes their banter extra disturbing. When Maxwell suspects Hugo's ambition is not only causing him to look at other dummy masters for partnering but purposely sabotaging his shows, his fears result in one truly terrifying hotel room confrontation. The picture's structure (flashbacks and even flashbacks within a flashback) is expertly handled with Hugo's horror equaling Redgrave's potently freaky nuttiness.
Devil Doll (1964)
Devil Doll isn't the best addition to dummy movie-dom (Tod Browning's The Devil Doll from 1936, starring Lionel Barrymore about a man who creates miniaturized humans is far superior) but director Lindsay Shonteff's 1964 picture is an interesting and certainly memorable picture.  The intriguing twist finds human souls living in the bodies of dummies (hmmm). When American newspaperman William Sylvester sets out to do a story about a hypnotist-ventriloquist (Bryant Halliday) who might be a fake, the ventriloquist successfully hypnotizes the journalist's girlfriend with the evil intention of transferring her soul into the body of a dummy. But like every good demented dummy, the wood-man has other ideas. But what's truly scary about Devil Doll is that the dummy (named Hugo) was played by a person --the un-credited female midget Sadie Corre. 
 
Magic (1978)
Some regard Magic as the Citizen Kane of demented dummy movies, and though the film (directed by Richard Attenborough) deserves high praise, it's almost a masterpiece (which is pretty damn good). Holding up wonderfully after nearly 30 years, the movie remains sad, scary, tense and sad again (thanks to a wonderfully tortured Anthony Hopkins, Ann-Margret and a brilliant Burgess Meredith). Hopkins plays Corky, the distressed puppeteer who manipulates the smiling, smug, a-hole named Fats (ugh, shudder). Fats and Corky wear matching clothes and have vocal outburst that Corky may, or may not be uttering. Things go from bad to worse when, for whatever reason (a crippling fear of success?) Corky runs away from his shot at the big time. He reunites with old girlfriend Ann-Margret and attempts to get his head screwed on straight but Fats (ugh, shudder) just won't let that happen. Or maybe Corky won't let himself. It's all depressingly ambiguous, making the picture especially frightening.  And, again, Fats…shudder.