With the passing of the great Jerry Reed last week, I've been thinking more and more about a prominent genre of the 1970's -- the good ol' boy movies -- a genre that's all but vanished. Depicting wily, rough and tumble men (and some women) usually of the Southern persuasion working occupations that ranged from race car drivers, moon shiners, truckers, stunt men and sheriffs, there was something extra special and charming about some of these pictures -- even the lesser ones. Filled with characters who usually had a beef with someone -- either the law or those not abiding by it -- their numerous action-packed sequences frequently revelead some sort of journey -- a journey to rectify their situation, or maybe drop out completely.
Though many elitist types might simply label pictures like these "redneck trash," there's a grittiness and subversive lawlessness you don't see in movies these days -- not for the rural poor anyway. In films from Smokey and the Bandit to White Line Fever, law enforcement was often either stupid or corrupt -- things to mock, attack or evade. And justice, towards cops or criminals, could work collectively or vigilante style depending on your predicament. You could carry a big stick or rally a convoy of trucks. Either way the TCB message, even if sometimes rendered cheesy, was distinctly American and frequently thrilling.
Really, these movies glorified rugged individualism, even a certain kind of counterculture, and given their wonderful lack of slickness (can you imagine Michael Bay directing Macon County Line?) they feel all the more compelling. I miss these movies and I miss stars like Jan-Michael Vincent, Joe Don Baker, Kris Kristofferson and Bandit-style Burt Reynolds. But for reasons I'm not entirely sure of (a change in fashion to more '80s tomes like Star Wars), the films ran out of steam and only a smattering popped up in the 1980's and '90s.
To honor the lost genre of really, white-sploitation, and Mr. Reed's iconic Snowman, I'm listing my ten favorite good ol' boy movies. And keep in mind, these are distinctly good ol' boy movies -- so you won't see great Southern films like Deliverance, Cockfigher, Cool Hand Luke or Prime Cut gracing the list. This is strictly CB's, fist fights, pissed off sheriffs and fast, dirty cars.
Thunder Road (1958)
A wonderfully complex (and fun) Robert Mitchum starred in this depiction of the trials and tribulations of Appalachian moon shiners. The setting is evocative, the chase scenes exciting and the performances are sympathetic and regionally proud. A precursor to the good ol' boy movies of the '70s, Thunder Road is hillybilly heaven. And Mitchum wrote the theme song and, by many accounts, co-directed the picture. Also, one is required to watch any movie Robert Mitchum stars in -- no matter what. A drunken jewel
White Line Fever (1975)
There's so much going for this picture that I'm not sure where to start. First, the title, perhaps one of the greatest in all of good ol' boy cinema (truckers or...cocaine? And on those long rides, the two can go together perfectly). Then there's director Jonathan Kaplan, who made one of the greatest teen pictures of all time, Over the Edge. And oh yes...Jan-Michael Vincent as Carrol Jo Hummer (you could be named Carrol Hummer in the '70s and no one batted an eye) a young trucker who stumbles into a dirty trucking scheme after borrowing money to purchase his big rig. Once his wife (Kay Lenz) is threatened, vengeance will be his -- brutally so. Rounding out the cast is the perfect Slim Pickens, L.Q. Jones and Dick Miller, among others. Violent, somewhat shocking and even, at times, bizarre, White Line Fever is a youth movie in many ways, On the Waterfront meets Every Which way But Loose (minus the chimp) -- with whippersnapper Jan Michael up against a bunch of fat cats. The moral? Never trust anyone involved in the trucker business over 30 -- unless he's Clint Eastwood or Jerry Reed, of course.
Walking Tall (1973)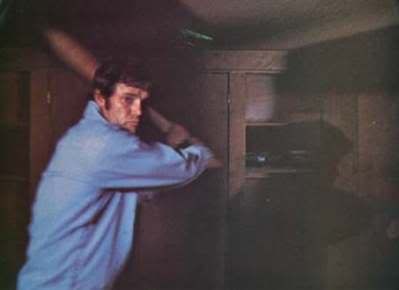 Based on the real Tennessee sheriff, Buford Pusser (love that name), the irrepressible Joe Don Baker dominates in a hard edged look at violent social justice. Taking a stand against bully gambling syndicates in his precious hometown, Baker's Pusser resorts to some serious brutality in this gritty, popular film. Controversial for its message, Walking Tall makes an indelible impression on anyone who watches it -- and Baker, with 2 by 4 in hand, is a perfect, populist, potent Pusser. (John Waters helped me with that one...)
Hooper (1978)
Burt Reynolds stars in the great Hal Needham's (yes, I said great) take on a profession the director knew a lot about -- stunt work. Dealing with injuries, pill popping and a young nemesis (the sometimes brilliant Jan-Michael Vincent), Reynolds' aging stuntman Sonny Hooper has a heap of obstacles interrupting his jumps, falls and explosions. Throw in lots of country music, James Best pre-Roscoe P. Coltrane, Sally Field and copious beer drinking and here's a good ol' boy classic.
Every Which Way But Loose (1978)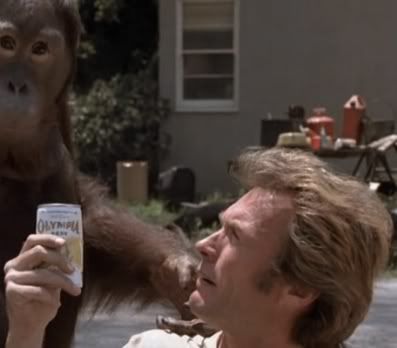 Ah yes, the trucker movie -- a genre long gone but certainly not forgotten. Especially when it comes to Clint Eastwood (or, ahem, Oscar winner Clint Eastwood) as the chivalrous, fist-fighting, Orangutan-befriending, country music-loving truck driver in Every Which Way But Loose. Looking for his country music singing gal pal he and Clyde (the ape) roam the country with bikers in pursuit. A sweet tough guy movie that also features the unforgettable Ruth Gordon as Ma -- it's hard not to be fond of it, even if frequently ridiculous. And dig the opening Eddie Rabbit theme song with handsome Clint casually driving his haul -- goddamn, it's so touching...
Convoy (1978)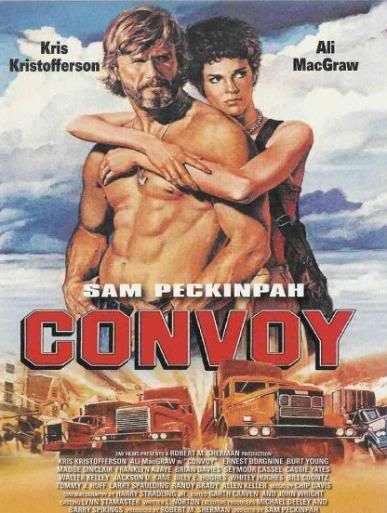 Sam Peckinpah, he of (obviously) The Wild Bunch, Straw Dogs and my favorite, Bring Me the Head of Alfredo Garcia, directs this rough-and-tumble trucker movie in which, next to the great Kris Kristofferson, the trucks are the real stars. A movie for big boys and their big wheels, Convoy showcases some of the greatest trucker action sequences in the history of the genre peppered with a continual stream of car crunching (cars are useless when it comes to trucks), CB radio usage and tough, tough talking. And you have to love a movie in which truckers put together a mile long "convoy" as a sort of hands across America backing of a trucker's feud with a shifty sheriff. Gritty and nutty, Convoy is an unforgettable Peckinpah oddity. (Back door to the rubber duck?)
Macon County Line (1974)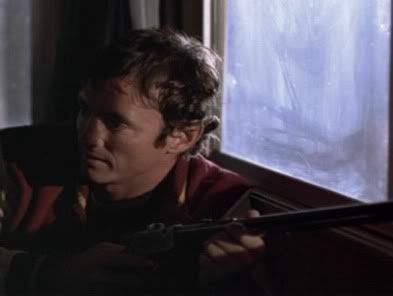 A year after Walking Tall, Richard Compton's Macon County Line deals with similar issues (a supposedly factual story about a Southern sheriff intent on justice after his wife is killed by two drifters) and similar amounts of violence. The acting is extraordinarily effective, notably Max Baer, Jr. as the sheriff and real life brothers Alan and Jesse Vint playing nice, Yankee drifter brothers (as opposed to the bad ones who show up). A breakout drive-in hit Macon, a high point in low budget filmmaking, is some powerful Southern fried ferociousness.
White Lightning (1973)
Burt Reynolds begins his run as Gator McKlusky, the moon-shiner anti-hero of White Lightning. Another story with a corrupt sheriff (played by Ned Beatty), this one finds Reynolds pitted against the lawman who killed his younger brother. Loads of action doesn't get in the way of some genuinely interesting, emotional characters and the Arkansas locale is refreshingly rugged. The movie ads don't lie: "Meet the Bayou's baddest good ol' boy!"
Last American Hero (also called Hard Driver ) (1973)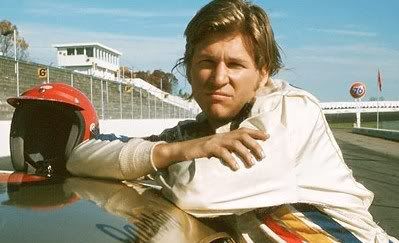 Based on writer Tom Wolfe's famed articles on stock car racer Junior Johnson (Wolfe deemed him "The Last American Hero"), Lamont Johnson's look at moonshine, racing and good old American rugged individualism works an insightful, engrossing and thrilling charm . A terrific Jeff Bridges stars as Johnson, a sweet guy who moves from running moonshine to stock car racing as a way to help his jailed father. A tight, wonderful script, top notch acting and superb racing footage place this film in the lost classic category. And the always impressive Bridges imbues the film with a fine mixture of necessary Southern roughness and poignant, poor boy charm.
Smokey and the Bandit (1977)
Undeniable fun abounds in the king of the good ol' boy movies -- Smokey and the Bandit. Bo Darville nicknamed Bandit (Burt Reynolds) recruits his pal Cledus Snow (my weird crush, Jerry Reed -- who sings the movie's unforgettable hit theme song) and his eighteen-wheeler in the job of transporting 400 crates of beer from Texas to Georgia. But along the way, wily Bandit picks up a runaway bride hitchhiker (Sally Field) who ditched her wedding to the son of the foul-mouthed, ornery Sheriff Buford T. Justice (a brilliant Jackie Gleason) who's none too happy about the situation. As the boys attempt to deliver the beer quickly, Justice is on their tail resulting in hilarious highlights with Gleason, excellent car chase sequences (thanks to director Hal Needham) and a bona-fide, but funny romance (and real life chemistry) between Reynolds and Field. For a southern fried comedy actioner, this is as good as it gets.