More long overdue obsessions (and an overdue new post for that matter. Excuse? This has been a terrible two months...lots of desert drama). But I'm not one to get personal here so I'll switch over to the numerous DVDs released while my blog suffered ghosts, heat, insanity and Comic-Con. Anyway, it's the blues titles -- Blues in the Night and Jack Webb's fantastic Pete Kelly's Blues that I ran out and bought, ASAP. After that, there's too many more to cover.
As always, you can read all my DVD and Theatrical reviews at Strange Impersonation and check out whatever else I'm thinking at Pretty Poison.
As for now, Three Obsessions:
1. Bette Davis as Regina Giddens in The Little Foxes Ms. Davis has played some cold-blooded, malevolent shrews in her time, but her ruthless Southern matriarch Regina Giddens from The Little Foxes (directed by William Wyler and adapted from Lillian Hellman's play) is the ultimate Bette with a B (as in bitch). A woman with nary a trace of sympathy, Regina is a turn-of-the-20th-century schemer who can't stand not getting her way. After her ailing and honorable husband (Herbert Marshall) shows little interest, in fact disgust, in her newest entrepreneurial venture (with her two equally greedy brothers), she turns on the full-throttle heartlessness. She needs his money, he's got a bad ticker and, in the picture's most famous moment (spoiler alert), she watches him, stone cold and without assistance, collapse on the stairs while begging for his medication. Pinched, powdered and stiff, with a cruel mouth and swath of red lipstick that looks more like a blood smear, Davis was only in her early 30s when she played this older, severe woman. Being Bette Davis, an actress who insisted on her ghastly makeup for What Ever Happened to Baby Jane?, she pulls off her evil Southern belle from hell beautifully, or rather, with beautiful hideousness. And on a side-note, you gotta love that this was the great Dan Duryea's screen debut (1941) in which (imagine this ladies!) he gets slapped! He never let that happen again.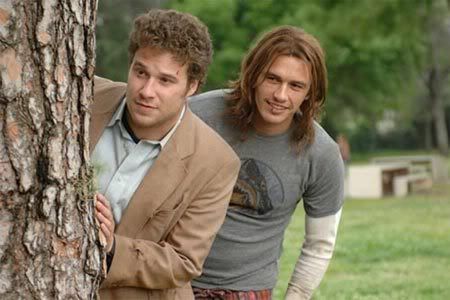 2. Loving The Pineapple Express I saw The Pineapple Express for the second time and it held up. Even better. As I've written before, after reading so many negative reviews, I realized that I loved many things critics didn't like about the picture -- the shaggy pacing, the lack of quippy-joke-a minute banter, the aimlessness (which is both fitting for pot-heads and at the same time, something I don't necessarily agree with since these guys, at least James Franco's wonderfully touching drug dealer Saul has some goals). I love the '80s touches from the music (Bell Biv DeVoe!) to Seth Rogen's car to the hit men's clothes and yet, it takes place in current times. And the pop culture references are real rather than hip. So great. Though the picture is clearly sending up '80s action movies within the stoner genre, I find it interesting that no one (from what I've read anyway) has mentioned any kind of deeper message regarding drugs laws in this country. Not sure if Apatow (and the great David Gordon Green) were making such a comment, but after (spoiler alert!) the entire barn blows up and Kevin Corrigan really can't make it to dinner on time, because of essentially, a plant...this idea came to mind. The criminalization of pot is as absurd as Rogen dueling Gary Cole with a marijuana light. Also, Franco, Franco, Franco. I've been stumping for him ever since I witnessed his range on Freaks and Geeks. Too long he's been the smoldering bad boy of the big screen (and don't get me wrong, he's good at that), but here, he's a sweet, understated goofball you absolutely fall in love with. Without him, the movie wouldn't have worked. He's the heart and soul of the picture. When he says he wants to make parks with septic areas for kids to shi* in, I effing believe him. With this, you totally get why Rogen comes to love him -- and truly, this movie plays like a love story between these two men. I damn near choked up when they were frolicking in the woods. No one really wants to grow up...And again, legalize it.
3. Fred Williamson I ignore most celebrities I spy walking around L.A. (well, aside from the great Faye Dunaway but she started that) but when the glorious Inglorious Bastard Fred Williamson (a.k.a. Black Caesar and all those Charley movies that'll never be released solely for their titles) is just standing there on the sidewalk, you have to say hello. Added bonus, I now own one of the Hammer's personal silver lighters designed as...guess? A fist clenching a hammer (I should post a picture of that actually). Right on. I may be a honky but...come now brothers and sisters. Fuel the revolution! And dig this...the man is over 70-years-old. With respect to his police Captain in Starsky and Hutch, he sure as hell doesn't look "too old for this shit." Damn.