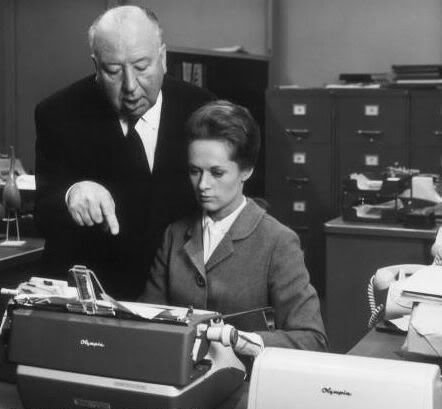 I've always enjoyed this especially sexist, but hilarious quote uttered by Spencer's Tracy's drinking buddy in Woman of the Year: "Women should be kept illiterate and clean, like canaries." Funny, but...au contraire you jerk. What kind of movies would be made about them?
Whether sleeping one's way to the top, kidnapping a boss for progressive office improvements or embezzling wads of cash, women in the workplace have always made for intriguing cinematic fodder. They also reflect changing, evolving or, sometimes, de-evolving attitudes and actions concerning career gals in society, something that's been relevant since the beginning of film. And Hollywood never tires of the topic. With March's Women's History Month in mind, I'm returning to memorable cinematic depictions of working girls. Some might be considered role models, some quite questionable at their jobs and some just plain mentally disturbed. But all of them are fascinating -- here's my pick of six.
Network (1976)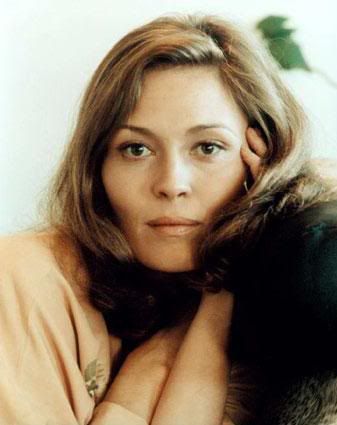 Name: Diana Christensen (Faye Dunaway)
Job Title: TV executive
Strengths: Ambitious, brassy, ballsy, idea-driven, helps create modern television as we know it.
Weaknesses: A power-hungry bitch, bad in bed, encourages Howard Beale (Peter Finch) to continue his nervous breakdown on TV, helps create modern television as we know it.
Final Analysis: Is this what the modern-day working woman would become? For some work-a-holic ladies, yes. Dunaway's blistering, brilliant performance as Diana shows how climbing the ladder and allowing career to take precedence over every other aspect of one's life could be, well, a tad limiting in terms of leading any kind of nourishing personal existence. Though some view this character as misogynistic, Dunaway's power-hungry future media mogul is just like any human, man or woman, who's entirely caught up in personal ambition -- she's just given some additional symbolic layers as a woman. Deservedly, Dunaway won a Best Actress Oscar for her role.
His Girl Friday (1940)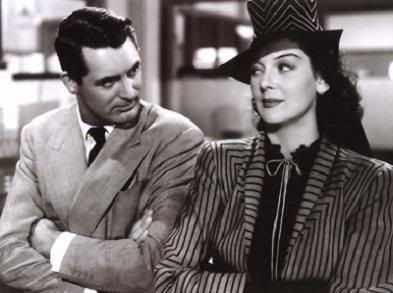 Name: Hildegaard 'Hildy' Johnson (Rosalind Russell)
Job Title: Newspaper reporter
Strengths: Crackerjack newswoman, super clever, ultra quick with the quip, has ex-husband/editor Walter Burns' (Cary Grant) heart.
Weaknesses: Insensitivity to her fiancée (played by Ralph Bellamy) whom she certainly won't marry. She'll never have any kind of typical family life, but then, when you're with Cary Grant, who cares?
Final Analysis: Working in the boys' club of the newsroom, Russell's character isn't an overly ambitious shrew full of swaggering show; she's completely on the same level as every guy tapping out his copy. And the men not only know it, but wholly embrace it. What makes her interesting as an example of working women is that she feels it necessary to begin a "normal life" and attempts an ill-fated second marriage to pushover Bellamy. But ex-editor Grant can smell the play-acting a mile away, getting under her skin as only an ex-husband you're still in love with can (or really, Cary Grant, who has to be the greatest ex-husband a woman could ever put up with). His Girl Friday says, with positive grit, that we need Hildy, not in the kitchen, but in the newsroom, full of rat-a-tat banter and, sometimes, heartless scoops. And you've got to love a movie in which an ex-husband teases, "Why, Hildy! You've got the old-fashioned idea that divorce is something that lasts forever, 'til death do us part.' Why, divorce doesn't mean anything nowadays, Hildy, just a few words muttered over you by a judge." This was made in 1940? Right on.
Woman of the Year (1942)
Name: Tess Harding (Katharine Hepburn)
Job Title: Political columnist
Strengths: Savvy, worldly, multi-lingual, exceptionally intelligent, has immensely sexy chemistry with Spencer Tracy.
Weaknesses: Questionable mother with her short-term adopted child, neglects husband, can't make a proper breakfast.
Final Analysis: Can women really have it all? According to Woman of the Year -- no. But then men don't necessarily get everything they want either, especially if married to Hepburn's Tess Harding. She's a revered columnist who's not just a working woman but a national icon. And the film reveals realistic chinks in one celebrated feminist's armor. Sure, she can engage in a whirlwind romance and marry sports writer Tracy, maintain all of her jobs, travel the world, entertain illustrious friends and adopt a Greek orphan, but, like any mere mortal, there's not a chance in hell she can give all these areas equal attention. Especially the orphan, whom Tracy returns (can you imagine this happening in a movie today?) due to his wife's poor mothering skills. Still, neither the film nor Miss Hepburn ever demonizes Tess. She's frustrating to her husband and imperfect, but no one's telling her to change -- just slow down a bit -- and learn how to use a toaster properly. It's something everyone should do.
The Apartment (1960)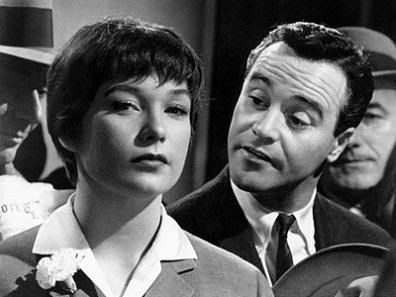 Name: Fran Kubelik (Shirley MacLaine)
Job Description: Elevator operator
Strengths: Personable, a lovely button pusher.
Weaknesses: In an office affair with a married man. Clearly a bad idea.
Final Analysis: Though Billy Wilder's Oscar-winning picture is really more about the male office world, with Jack Lemmon's amiable, struggling nice guy C.C. Baxter sleeping his way to the top (bi-proxy), its vision of women in the workplace is too intriguing to ignore. Especially those women who aren't necessarily climbing the corporate ladder, but are instead attempting to find a husband -- or break up a marriage. In the process of allowing his bosses the use of his apartment for various amorous dalliances with young ladies, Lemmon stumbles on one affair that rubs both him and the audience the wrong way. The company's cute, clever elevator operator, Fran Kubelik (MacLaine), is having a major fling with personnel big-wig Sheldrake (Fred MacMurray), a married man and certifiable cad who's never going to leave his wife. What's intriguing about this depiction is how darkly but ultimately non-judgmentally Fran's character is drawn. She makes some bad choices (as do many ladies working for him), but clearly it's tough for the lower-rung working girl, especially if she actually finds herself in love. And, other than staying away from lecherous superiors, the movie really supplies no answers aside from this: Try falling in love with the right guy. In this case, Jack Lemmon, which ain't half bad. And yet...I always wonder if they're really going to work out in the end.
Baby Face (1933)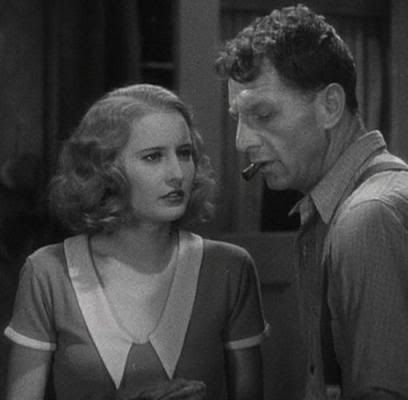 Name: Lily Powers (Barbara Stanwyck)
Job Title: File clerk and...
Strengths: Strong enough to pull herself out of a speakeasy life, terrific powers of, uh, persuasion, hangs out with her maid.
Weaknesses: Problems with ethics. Big problems with ethics. But who can blame her?
Final Analysis: Among Stanwyck's other sizzling pre-code pictures, including Night Nurse and Ladies They Talk About, Alfred E. Green's Baby Face was so brazen that censors snipped five minutes out of the picture (some having to do with Nietzsche -- so glad those are back in), hoping viewers would leave a little less shocked by the experience. The trick didn't work, as the movie (thankfully now restored with extra minutes intact) is still considered one of the raciest pictures of the '30s and remains controversial even today. Stanwyck is Lily Powers, a young woman who leaves an abusive father and a small-town speakeasy for a job in a New York bank. In a very obvious depiction of sleeping her way to the top, Stanwyck ascends the stories of the office building, leaving scores of used men behind her. She ultimately becomes a kept woman -- happily so -- until a tragedy gums up the works. But she's still hard-hearted and out for herself, something that's surprisingly sympathetic, almost glorified in the film. Commenting on the Depression -- how desperation can crumble one's morality (if morality really matters) -- she's both a victim of her time and nobody's fool. Stanwyck, always game, dived right into the scintillating material with her special brand of plucky, hard-boiled sex appeal; she's likable, awful and totally understandable all at once.
Marnie (1964)
Names: Marnie Edgar/Margaret Edgar/Peggy Nicholson/Mary Taylor (Tippi Hedren)
Job Title: Secretary
Strengths: Attempts to stay away from any kind of romantic entanglements with men in the office. Clearly efficient. Smart dresser.
Weaknesses: I'll have to go with the massive theft from various employers. Also, her nutty problem with red ink.
Final Analysis: You might wonder why Alfred Hitchcock's psycho-sexual thriller Marnie has graced this list, but I think it's not only a fascinating study of repressed childhood memories, Freudian psychology and odd sexual hang-ups (and turn-ons), but a remarkable depiction of a troubled, perhaps insane working woman as well. Hedren is Marnie, a cool blonde goddess and compulsive liar and thief so traumatized by her past that her only arena for both escape and personal gain is work. Moving from city to city, she nabs jobs with her expert demeanor and skills (she is an efficient secretary) only to embezzle from employers along the way. She meets her match at the Rutland Company, where Mark Rutland (Sean Connery) recognizes her for the crook she is. And like so many men facing the siren call of the crazy chick, he wants her -- bad. Though the film covers a lot of ground concerning Marnie's fractured psyche, it's nevertheless a telling representation of just how bitter a woman can turn from men: enough to rob. And I love Hitchcock's fetishistic detail of Marnie scheming and stealing. I could watch Tippi open an close her handbag for hours.