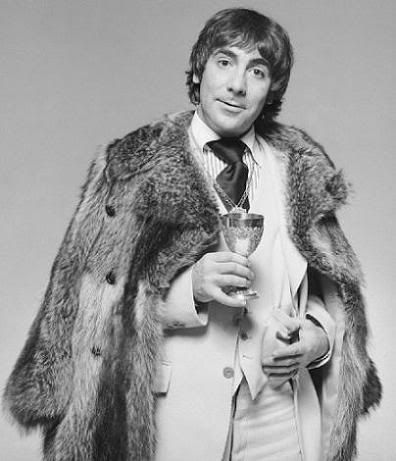 Apologies up front…I'm going to get all classic rock on you here. But it's The Who and to me, The Who are evergreen.  Especially when it comes to a one-song performance (and not even a headlining performance) -- that moves an excites me and makes me all crazy in my bones. It's their sonic slam dunk of "A Quick One, While He's Away," which they rocked to the hilt on The Rolling Stones Rock and Roll Circus -- a live taping for an ill-fated 1968 TV special that was supposed to promote the Stones' brilliant record "Beggars Banquet" as well as showcase friends and musicians like Marianne Faithful, Taj Mahal, Jethro Tull (ugh…flute) and the Dirty Mac group of John Lennon, Keith Richards, Eric Clapton, and Mitch Mitchell. (And then there was the freaky fantastic Yoko Ono, who, sorry, I love here -- Yoko's caterwaul is worth watching if not for the hilarious expression of violinist Ivry Gitlis alone.) The special never aired, though thankfully, it did eventually make its way to video in 1996.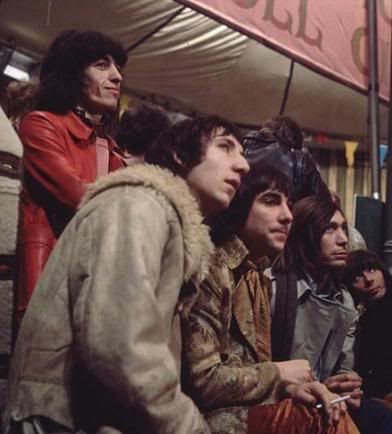 But why was the broadcast halted? Many (especially Who fans) speculate that the Who's inventive, crazy, beautiful eight-minute "A Quick One" proved to be the proverbial straw that broke the rockers' backs. They almost put the Stones to shame.
This isn't to say that the Stones performed terribly; to be fair, they played last and were visibly tired. And I revere The Stones, early career to Mick Taylor to "Tattoo You" to…even "Undercover of the Night." But in 1968, with Brian Jones on board, they were showcasing one of the greatest moments of their career (and damn they all looked good -- especially Mick in his maroon pants and red shirt ). And yet, next to the mind-blowing (and I almost hate to us this word but it applies) awesomeness of "A Quick One," Mick Jagger and company -- even in their slinky, sexy, "pleased to meet you" decadence -- seemed a little…out-shined. One might say boring. And the Stones would all probably agree.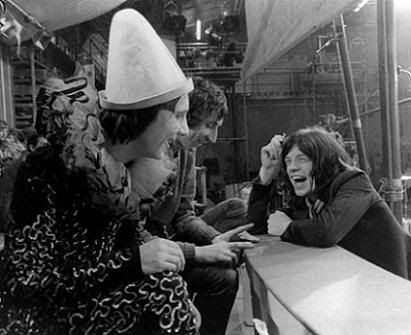 There was just something extra-inspired and particularly magical about the Who's moment that sets it apart from anything they've done before or since (anything I've seen or heard, at least). The song has a lot to do with it: a mini-opera that tells the story of a woman who is touchingly forgiven by her lover after having a fling with an engine driver named Ivar. It moves in a series of wildly different directions that makes it feel like six tunes in one.
And every single element presented here is flawless. From Roger Daltrey and Pete Townshend swapping roles of lead singer, to John Entwistle's glorious falsetto, to Keith Moon's riotous though perfectly timed crashes and rolls (ohmygod when he throws the floor tom! I love him!), to Townshend's windmill guitar chops (when he stomps his foot and raises his arm -- I always think, this is why guitarists get laid), to the powerful "Dang, Dang, Dang, Dang" section (used so memorably in Wes Anderson's Rushmore) -- the song manages to be almost insanely reckless and yet tight as a drum.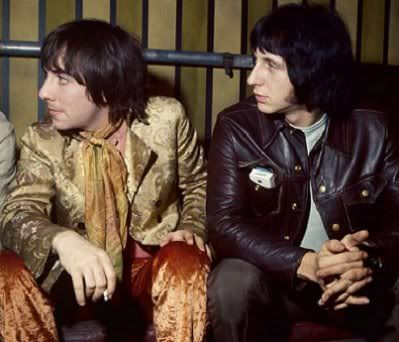 Even the band's disparate personalities and mismatched clothes (Roger Daltrey's tan suede fringe getup, Pete Townshend's white bell bottoms and shiny vest, John Entwistle's Prince Valiant-goes-S&M attire and Keith Moon's glittery though oddly dingy jumpsuit -- you know he was wearing that thing for weeks on end) manage to heighten the sound (if that's possible) and performance. Watching Daltrey swing that microphone in all his fringe-flying-future-Pinball Wizard glory is a quintessential rock-god moment. The entire performance is something from the deities, the perfect song for the show's slightly demonic circuslike setting -- a complicated, exuberant work of breathtaking brilliance that makes me want to…I don't know…do something very, very good or very, very bad. Like Max Fischer, Bill Murray and those bees. Ask for marriage or commit a murder. Kiss or kill.
With that, as Keith Richards said, "And now ladies and gentlemen, dig The Who."