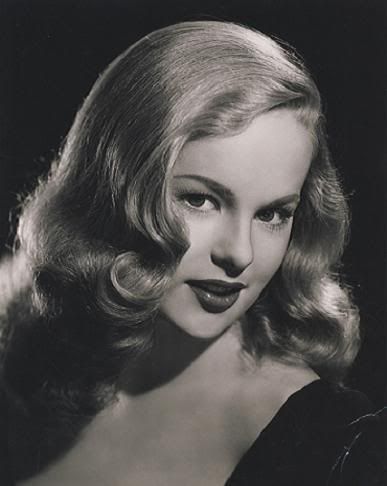 Peggy Cummins. Kill, baby, kill. She's something (something else), but she's something movie lovers need to be reminded of in our Kill Bill, Resident Evil, The Brave One, Death Proof and dear lord, those Charlie's Angels movie-watching times: Tough babes have been gracing the big screen for a long time. Though fewer furious femmes (or rather, more obvious furious femmes, watch some noir and you'll see them) saw the light of celluloid in the earlier days of cinema than they do now (and I do love Mr. Tarantino for creating a real female action hero icon via Uma and Kill Bill), they were indeed around -- some with more grit, gusto and attitude than their modern kick-ass sisters.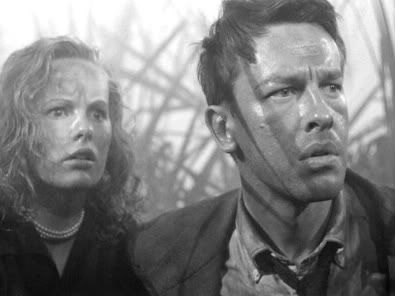 Examples? Try curvy hand-to-hand combat killer Tura Satana in Faster, Pussycat! Kill! Kill! or karate-chopping Pam Grier in Coffy or swaggering Joan Crawford and her Johnny Guitar or beautiful crazy Tuesday Weld in Pretty Poison or tuff Babs Stanwyck in Forty Guns or Faye Dunaway's iconic tommy-gun–wielding Bonnie Parker in Bonnie and Clyde. Even Bette Davis is something of a bad-ass in the spectacularly underrated Beyond the Forest in which she's an ace shot, knocking down an innocent little porcupine because, as she says: "porkies irritate me." But one of my favorites, a womanly wonder of big screen sexiness, branded our brains in 1950 when the unforgettable Peggy Cummins shot her way through the classic film noir Gun Crazy.
With the more explanatory alternative title of Deadly Is the Female (Gun Crazy is a lot more hard edged and evocative, I think), Joseph H. Lewis' seminal noir features a mild-mannered but gun-obsessed John Dall falling for ultimate bad girl Cummins after watching her sharpshooting skills at a local carnival. When you see this scene (which could also rank as one of the sexiest in cinema), you can't blame his immediate infatuation. Clad in a cowgirl outfit, the mysterious blonde hits her targets, even, in the film's most obviously erotic moment, between her legs (oh yes). An ace shot himself, the lanky Dall challenges Cummins, and the two gun nuts fall swiftly in love, marry, and to their demise, go astray after the hotheaded babe convinces Dall to couple up on some robberies.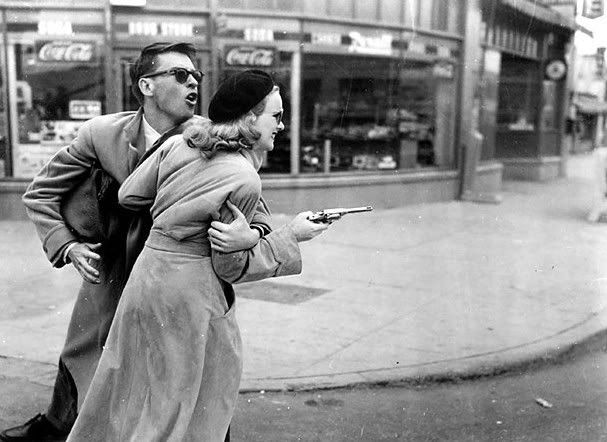 Though it certainly helps that the movie is so brilliantly filmed (that gritty back seat long take in the car to and from the robbery is stellar and had to have influenced the French New Wave), is violently romantic, features nonstop action and, of course, loads of shooting, it's the presence of a female who, though toxic, asserts such authority, that's especially intriguing here. Beautiful femme fatale Cummins, whose affair with guns equals anger, sex and power, is a potent symbol of female frustration and eventual rage: you might not be able to beat a guy with your bare hands, but you sure as hell can fire off a round -- no muscles, no therapy, no self defense classes necessary. In this way, it makes more sense for a woman, and not a man, to feel so empowered by a gun.
And at the risk of sounding like a typical turned-on man (which might sound strange coming from a woman -- but I often feel like a man or perhaps, want to be one), Gun Crazy oozes with both blatant and mysterious eroticism. And not just from the kiss kiss, bang bang of guns, but guns in the hands of a troubled, beautiful, intelligent, unhinged, possibly deranged woman. Cummins' character is complex and ultimately tragic but, oh...the crazy ones. I love a girl who goes out in a blaze of glory.